Effective light decoration is one of the best ways to make your apartment or home beautiful and cozy. Get inspired with our curated list of unique lighting ideas for a stunning interior design. And if you are a designer, also checkout these seamless texture ideas for your 3D design project.
1. Room Wall Lighting Ideas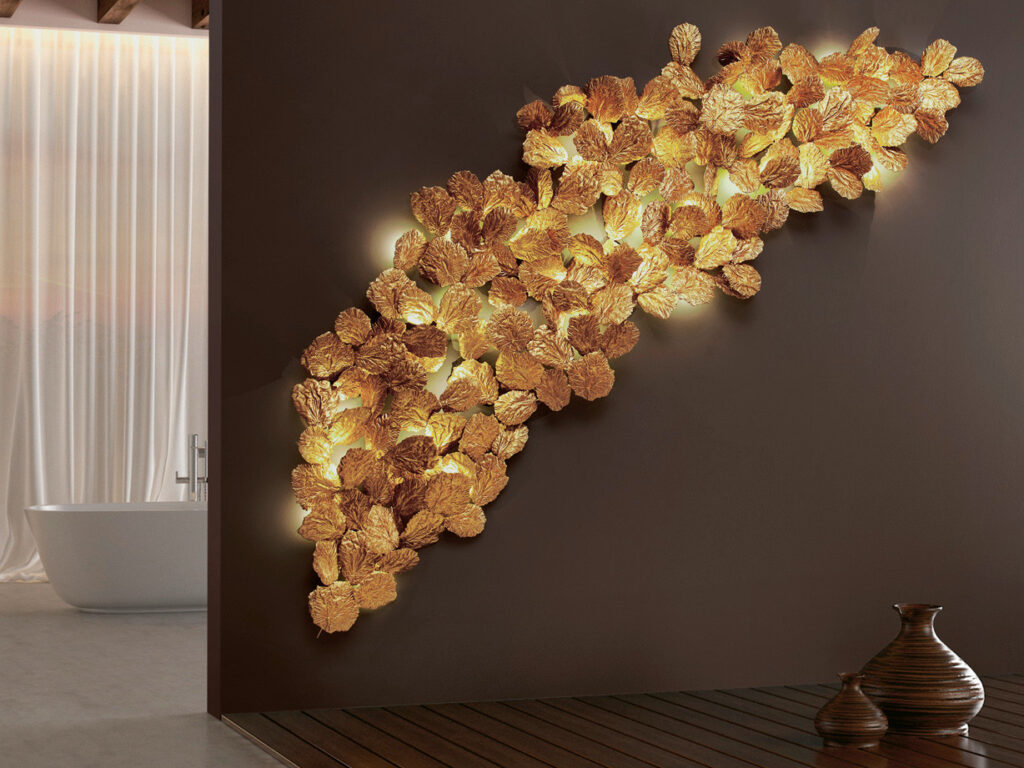 Tree petals or butterflies? For instance, you can see in this interior the 3D lighting of the wall. It creates a feeling as if butterflies would fly in different directions if you walk near the wall. It's very beautiful wall lighting, which adds zest to your home.
An unusual location of lamps on the wall. Such creative design will undoubtedly attract the eyes.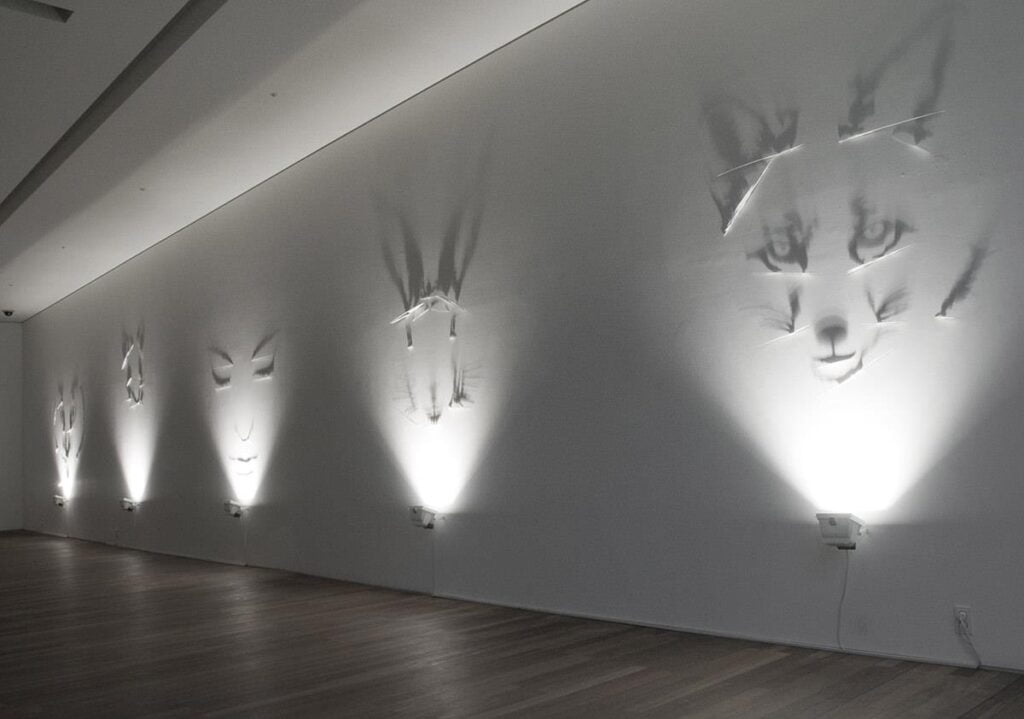 In this case, the designers used light to create an entire work of art. People's faces and animal faces are created by shadows, which is very unusual because such a design is really rare.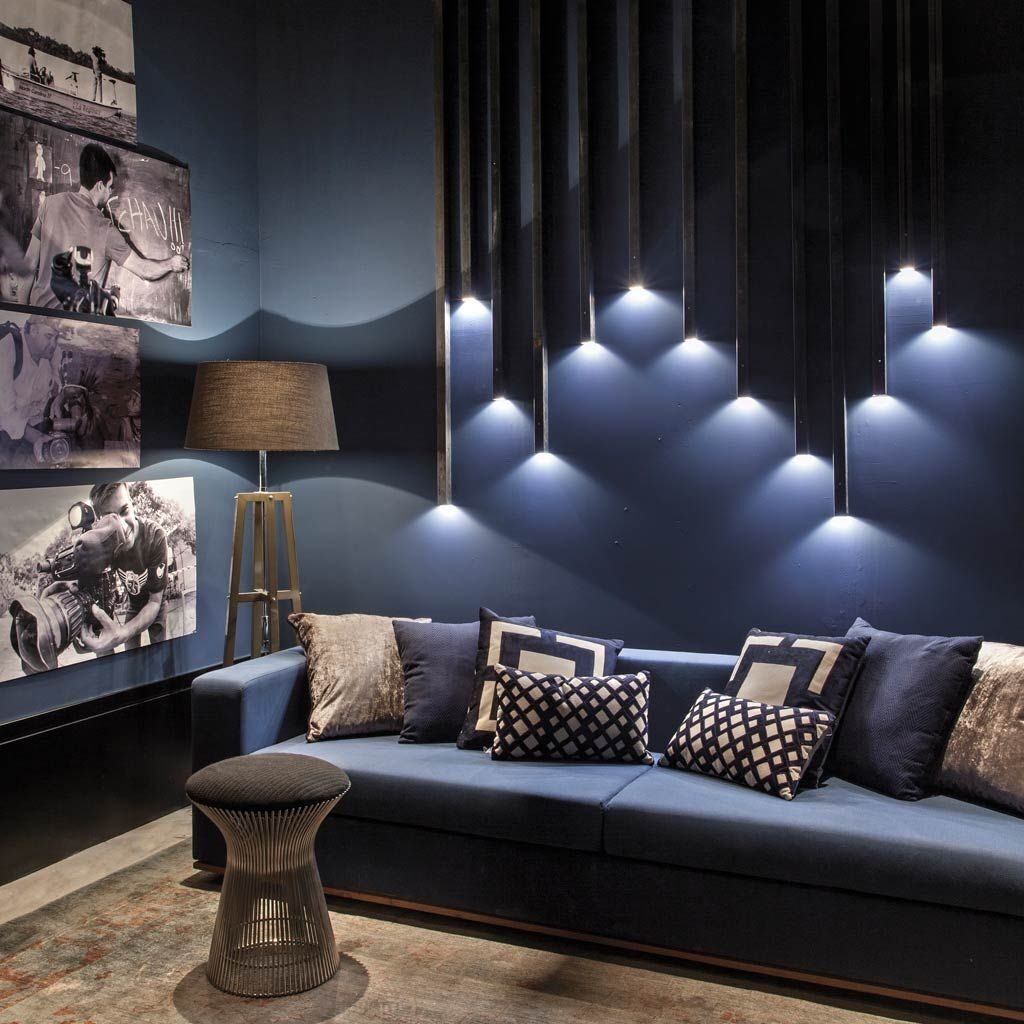 Strong metallic decoration on the wall, which adds a luxurious look to your interior.
2. Living Hall Light Design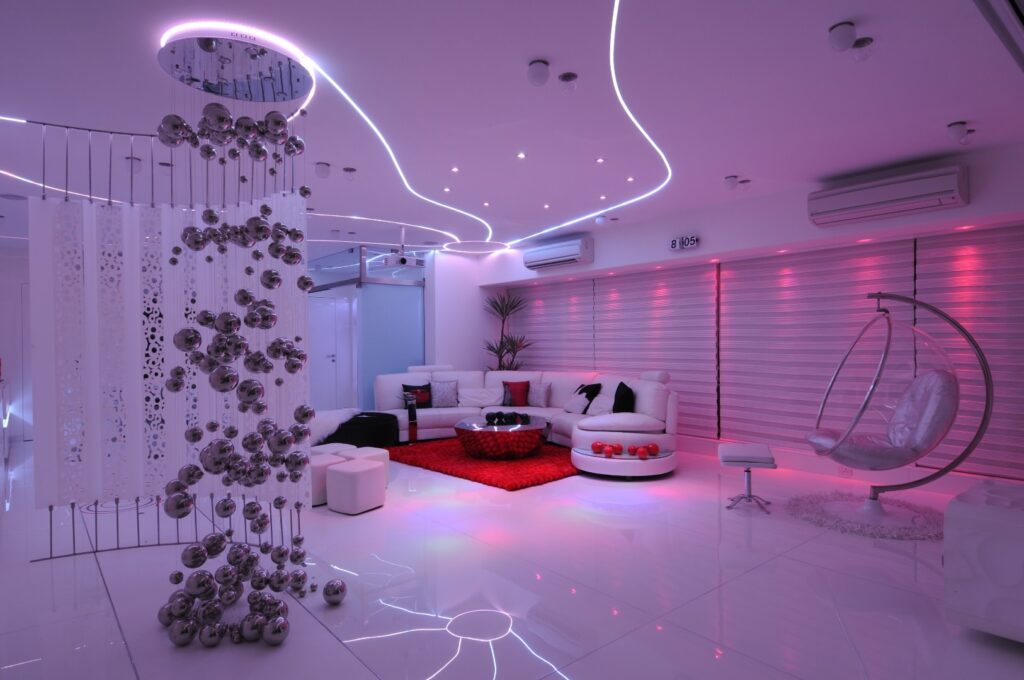 A large chandelier with a metal ball decor hanging to the floor is an excellent design solution.The delicate LED ceiling lines to the chandelier make it even more unusually attractive.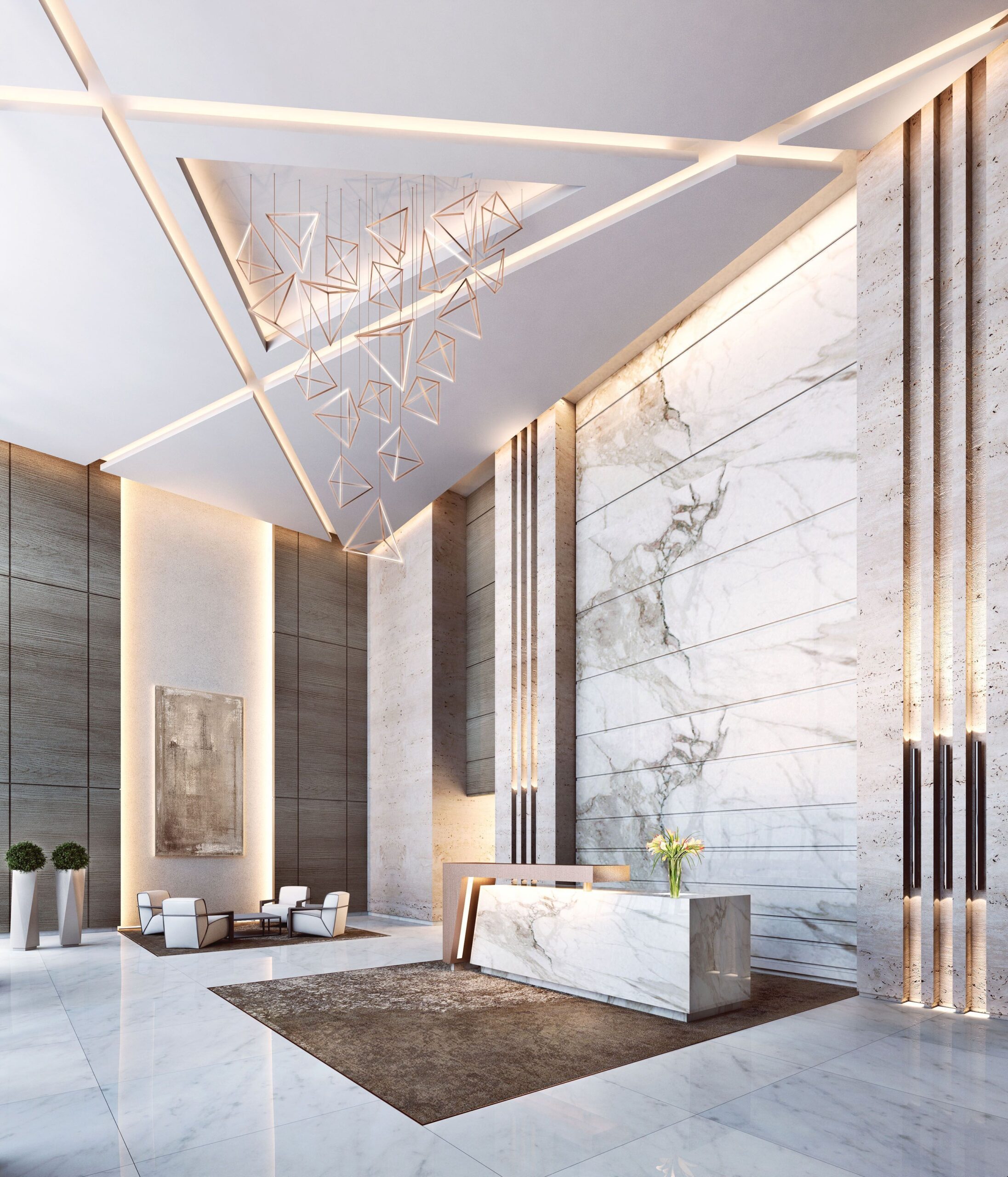 The ceiling is cut with strict straight LED lines, which look modern and fresh. The entire space is lit with warm ambient wall lighting.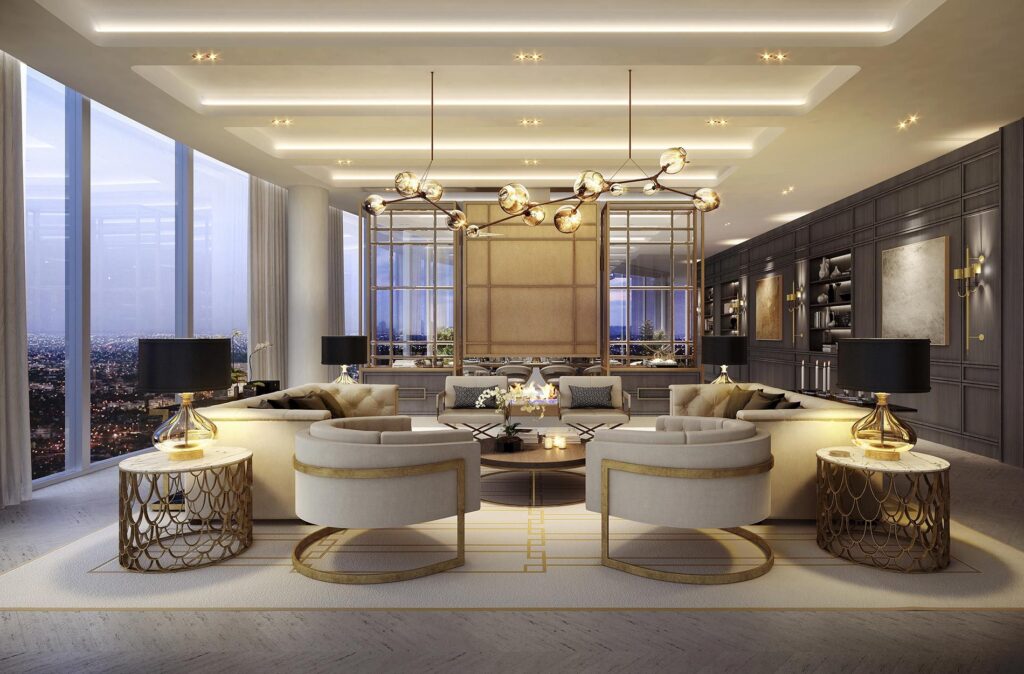 Deep recessed lights and two big pendant lamps with round ceiling lights can achieve gorgeous atmosphere for luxury spaces.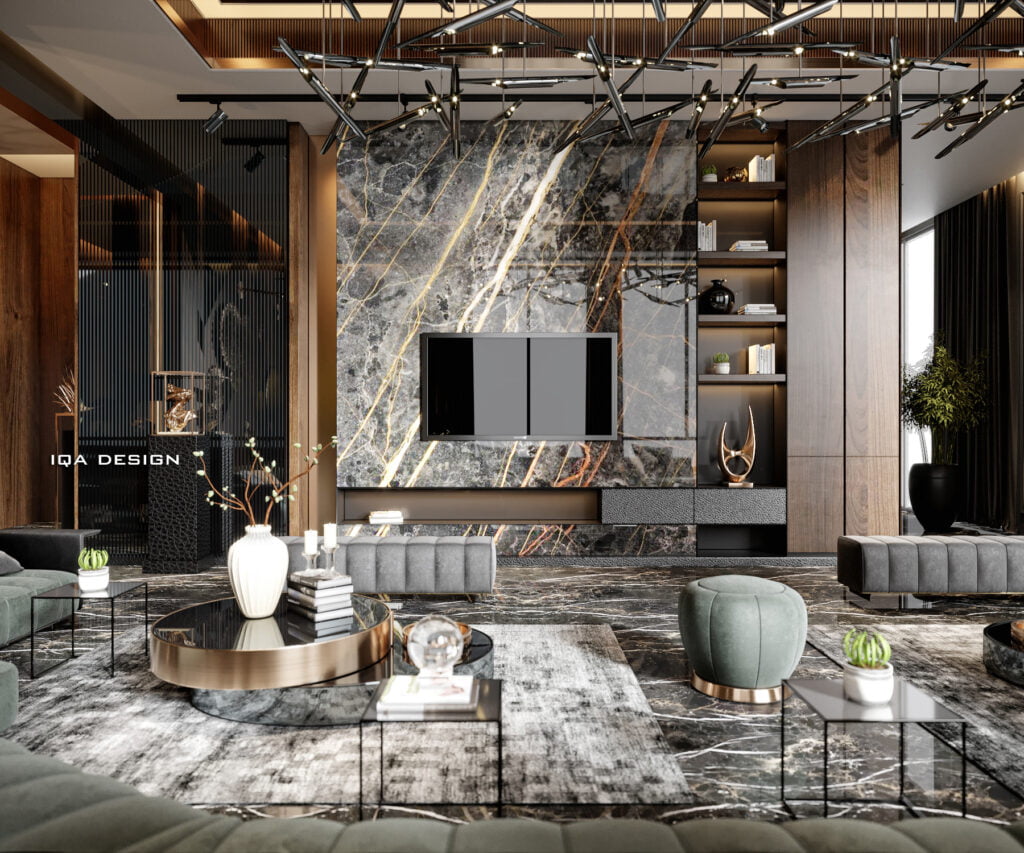 There are more than 15 hanging lamps on the ceiling, all of which are arranged randomly. This is a highly unique and inventive lighting concept.
3. Coving Lighting Ideas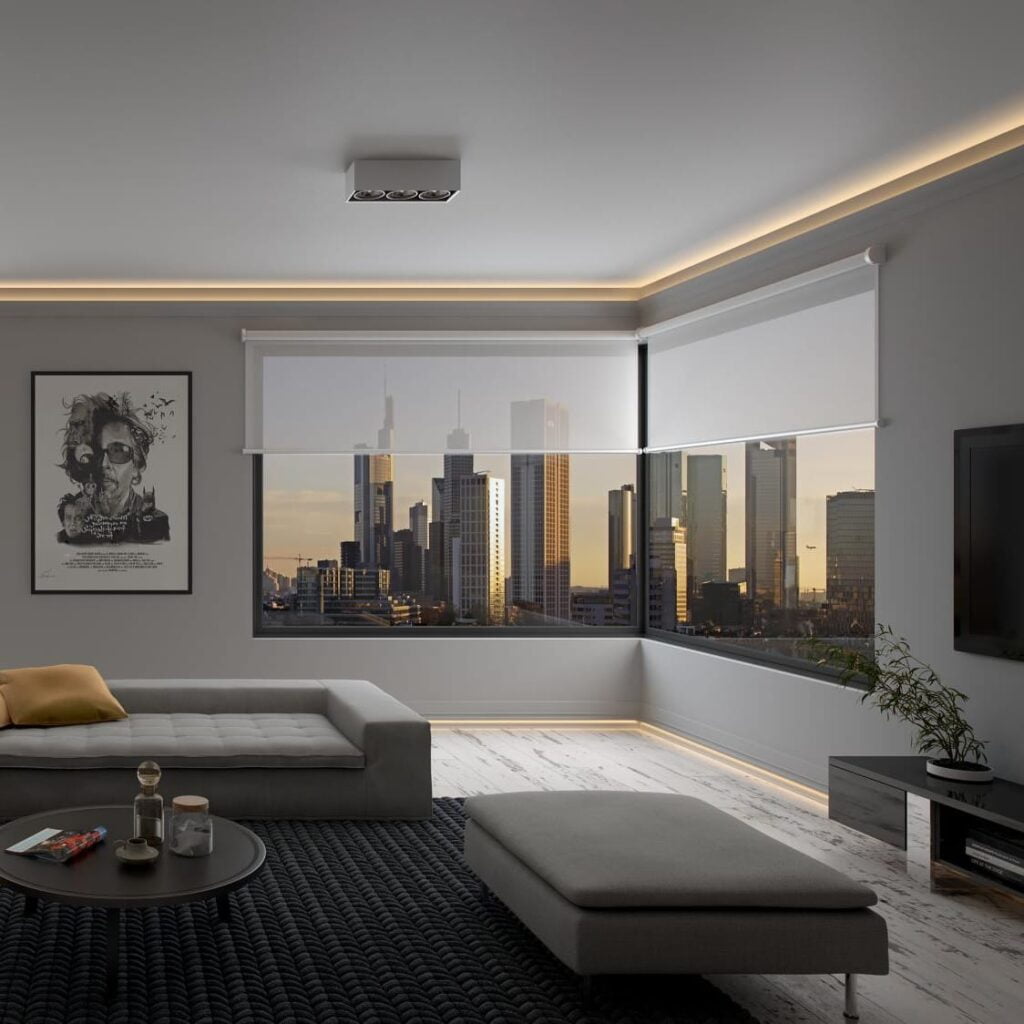 Coving lighting is a special option for any decor since it adds a unique element to the room with subtle but noticeable effects.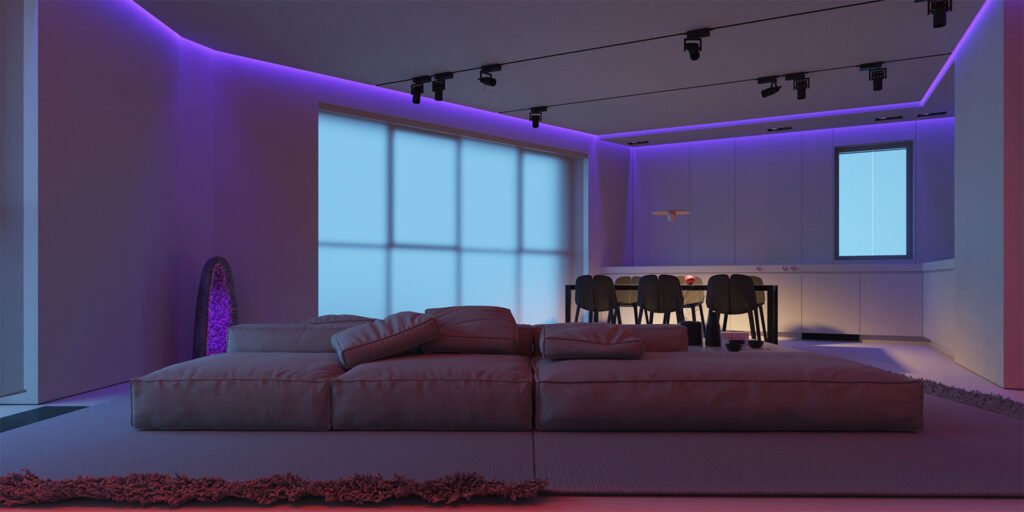 If you want to have an intimate environment in your living room, you can use LED coving lighting for it.
4. Roof Lantern Lighting Ideas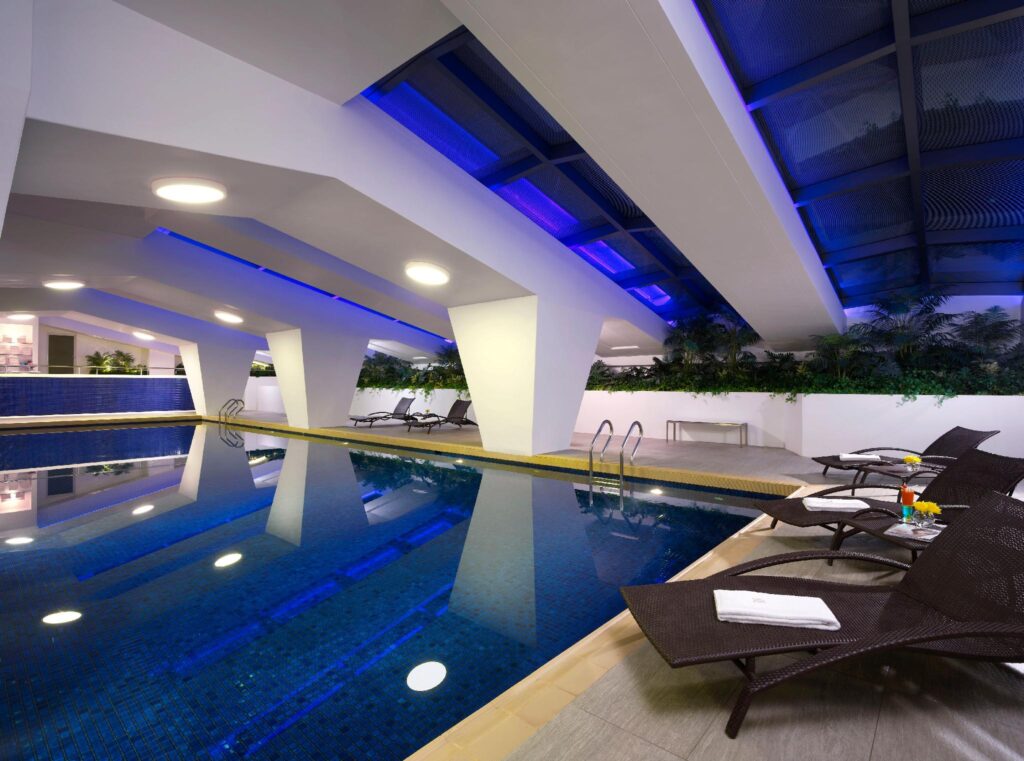 Unusual and interesting lighting is roof lantern. It produces a good combination of daylight and blue LED.
The beautiful, delicate turquoise color for a big roof lantern makes the space airy.
5. Charming Pelmet Lighting Ideas
This technique yields a calm and milky atmosphere for family gathering, or evening party with friends.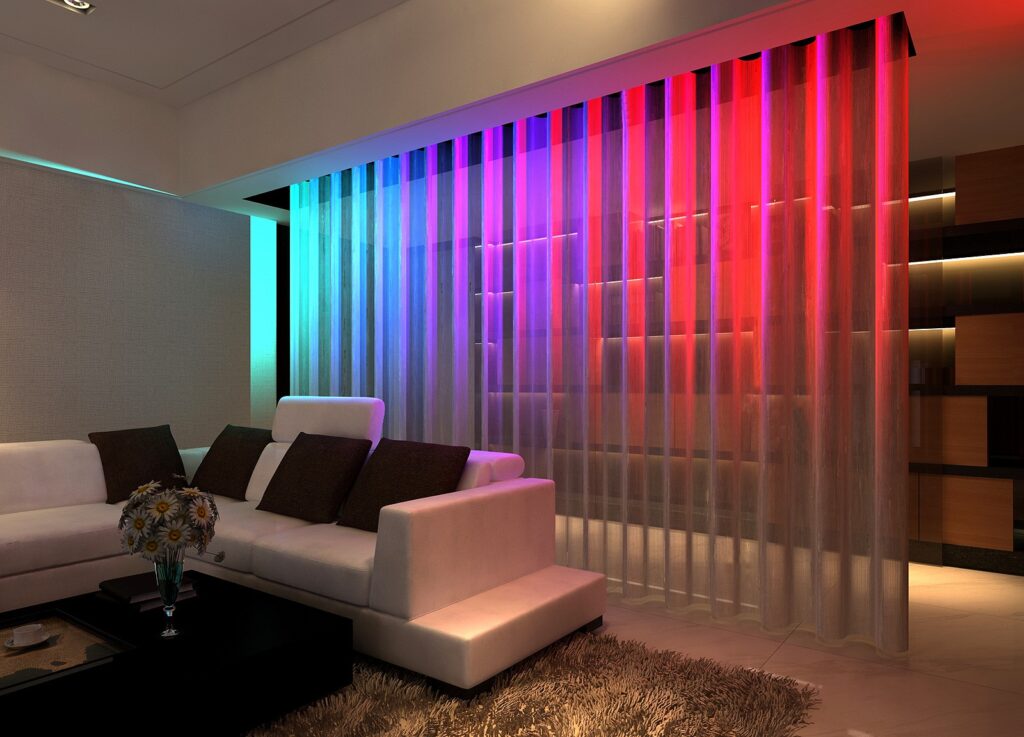 You can dilute the pastel-shade interior with the help of multi-colored pelmet lighting.
6. Bedroom Lighting for Teenagers
Creative Ideas for Boys Bedroom
Here are some cool ideas, with a gaming theme: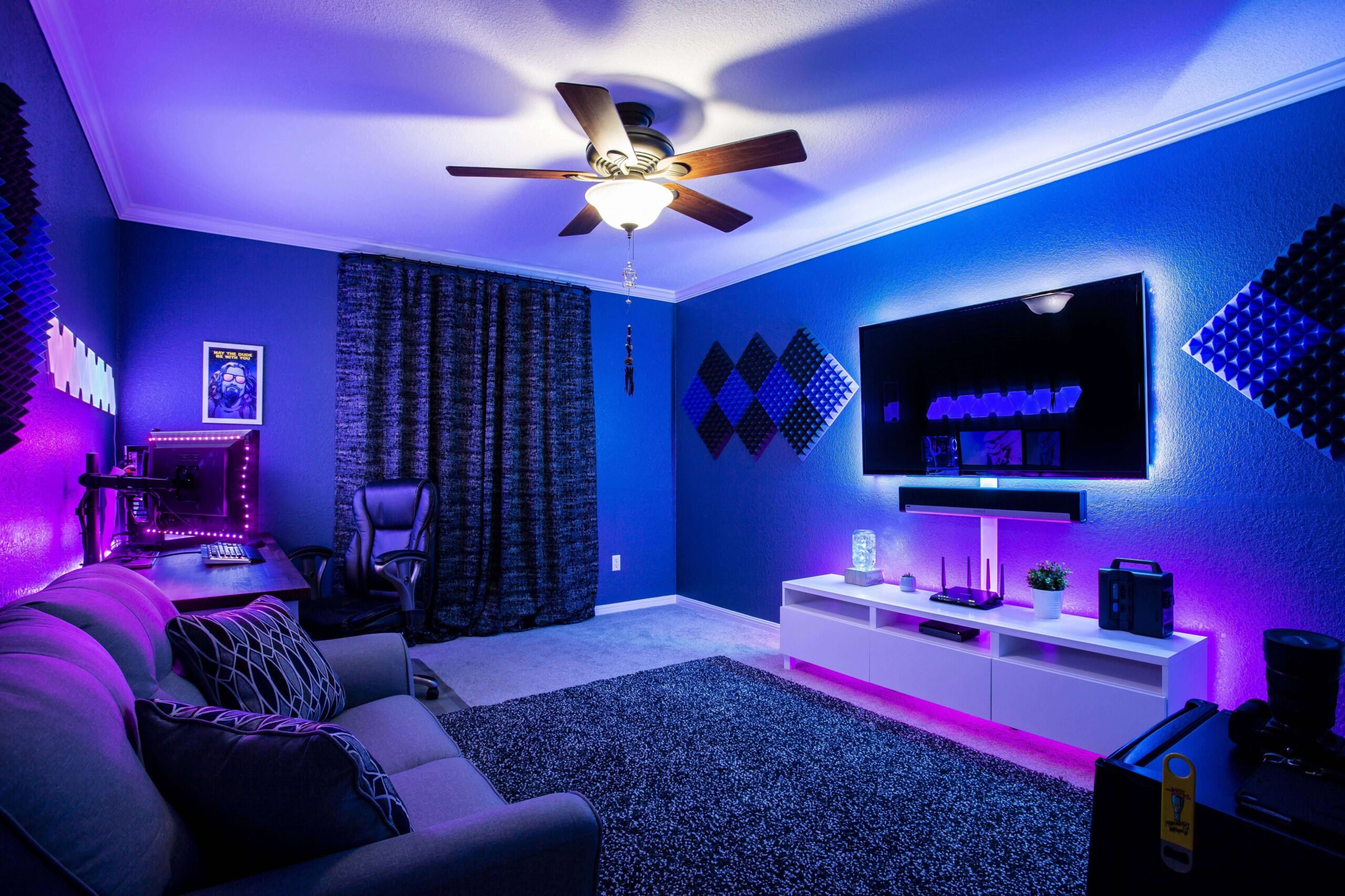 Unwind after a long day and watch a movie under the soothing and soft neon lighting:
If you are a fan of fiction, robots, and flying spaceships, then you will definitely like this room. The lighting is made in the form of LED strips.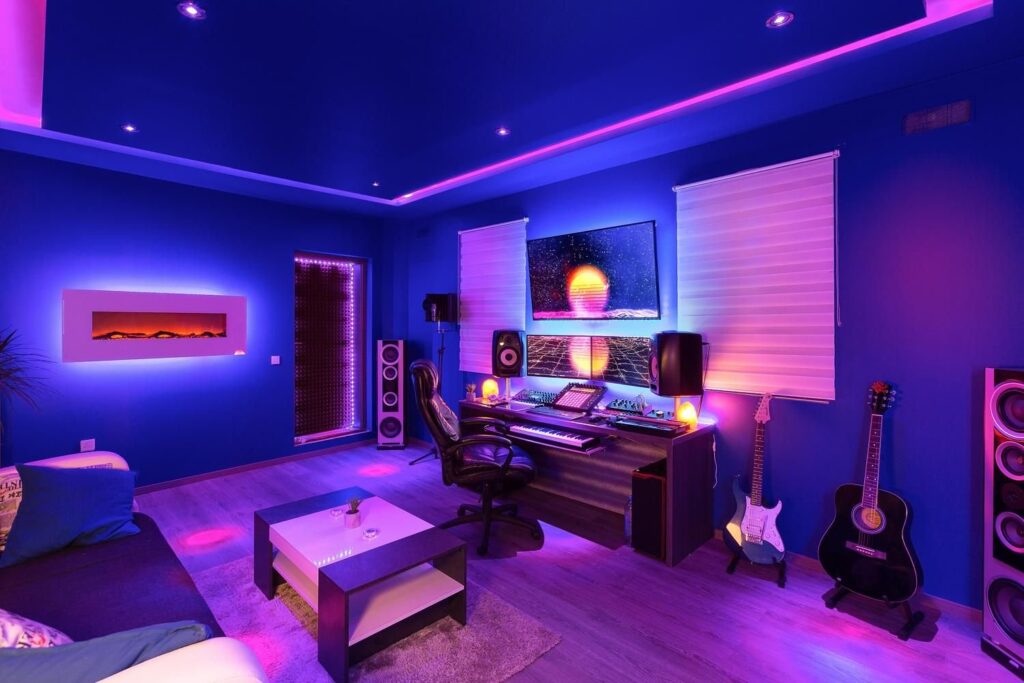 Look at purple light on the floor that reflects from the deep recessed ceiling light. Such a cosmic room inspires you to create something new.
Beautiful Lighting Ideas for Girls Bedroom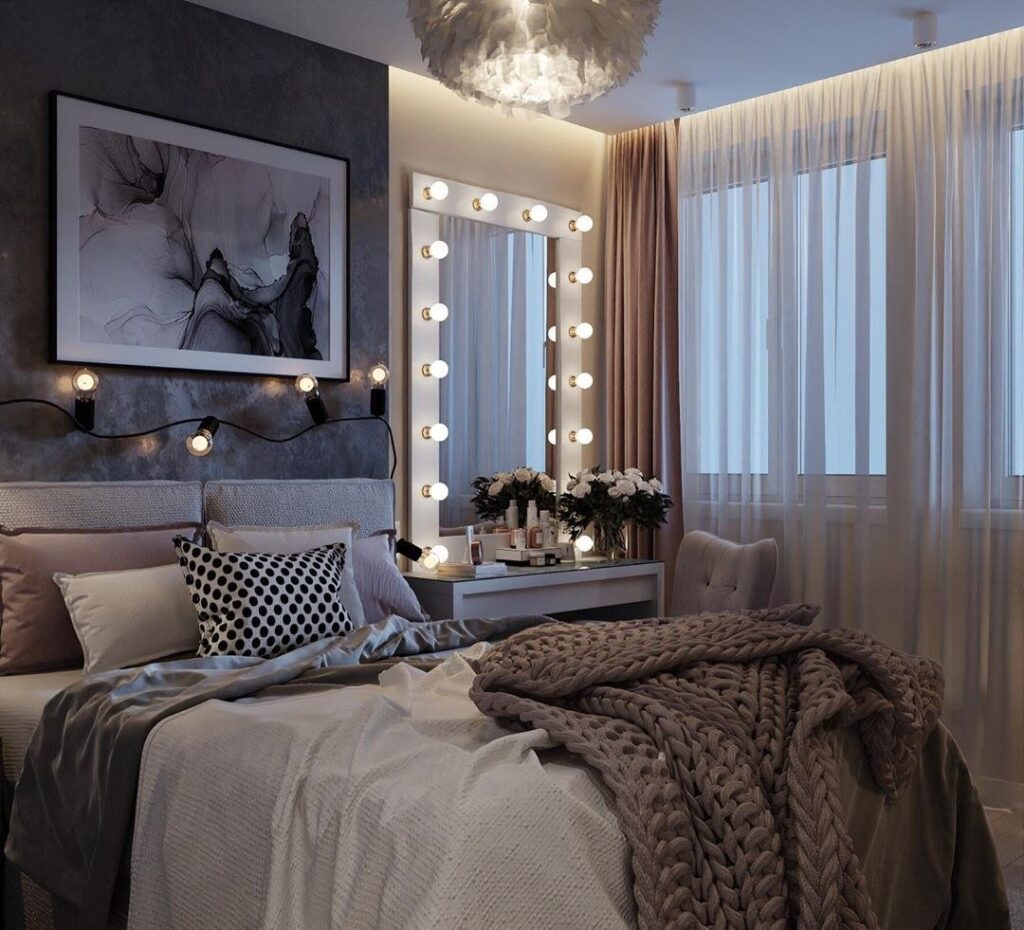 What type of girl wouldn't want a mirror with a lovely backlight? Here you see a beautiful mirror, which lights all the room. In addition, a stylish pendant lamp provides a nice diffused light.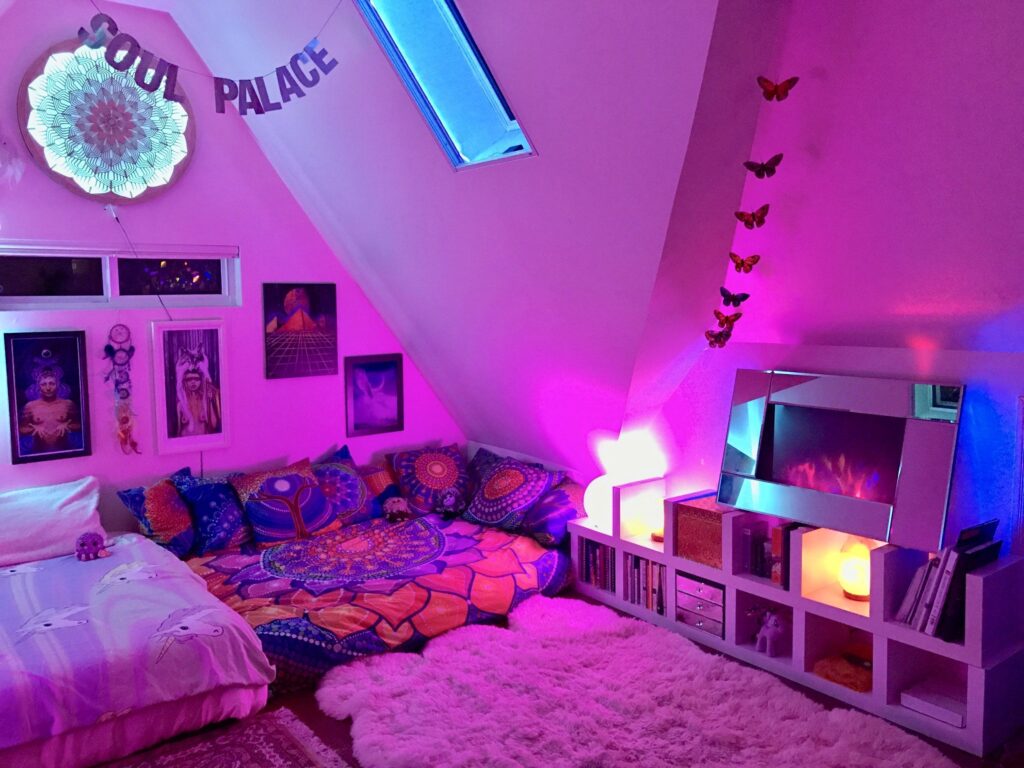 Beautiful room with blue LED and table's pink lamps. Moreover, there's an elegant wall lamp that fascinates with its patterns.
7. Light Blue Aesthetic Room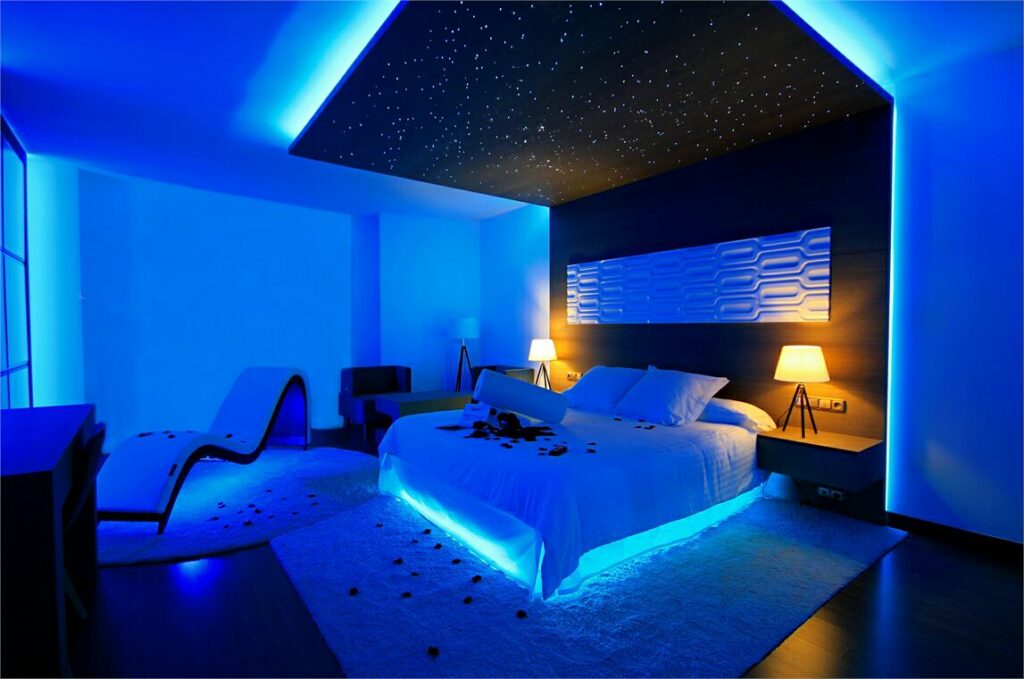 A lovely bedroom with stars above the bed and exciting blue LED lighting. In this interior, the white color walls have harmony with the black starry sky.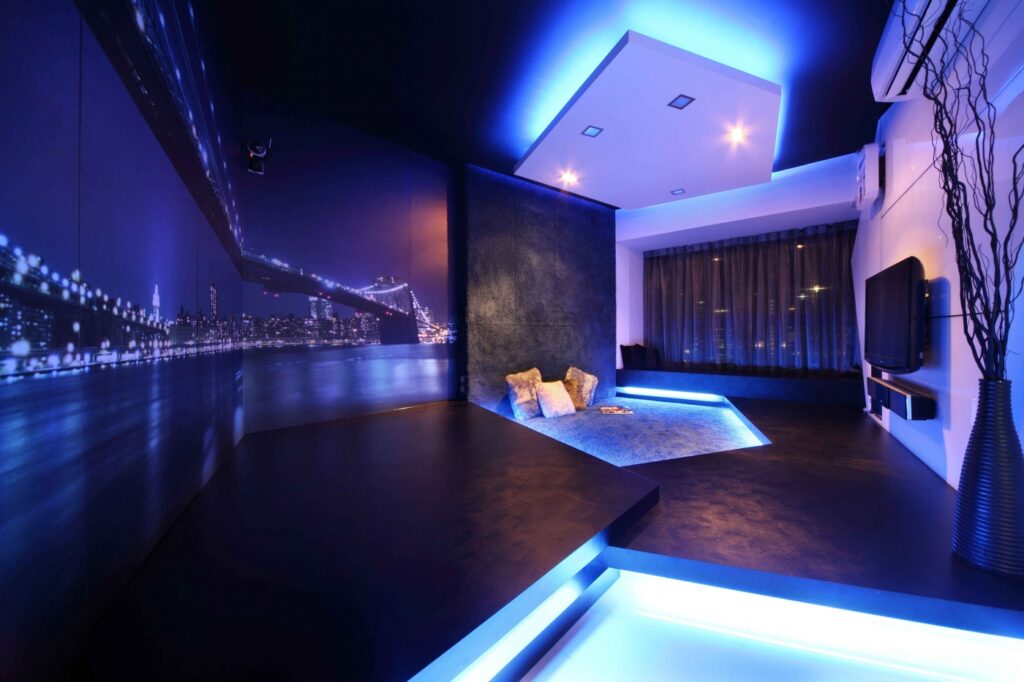 Luxury aesthetic room with built-in LED blue lighting on the floor. and ceiling.
8. Pyxis LED Floor Lamp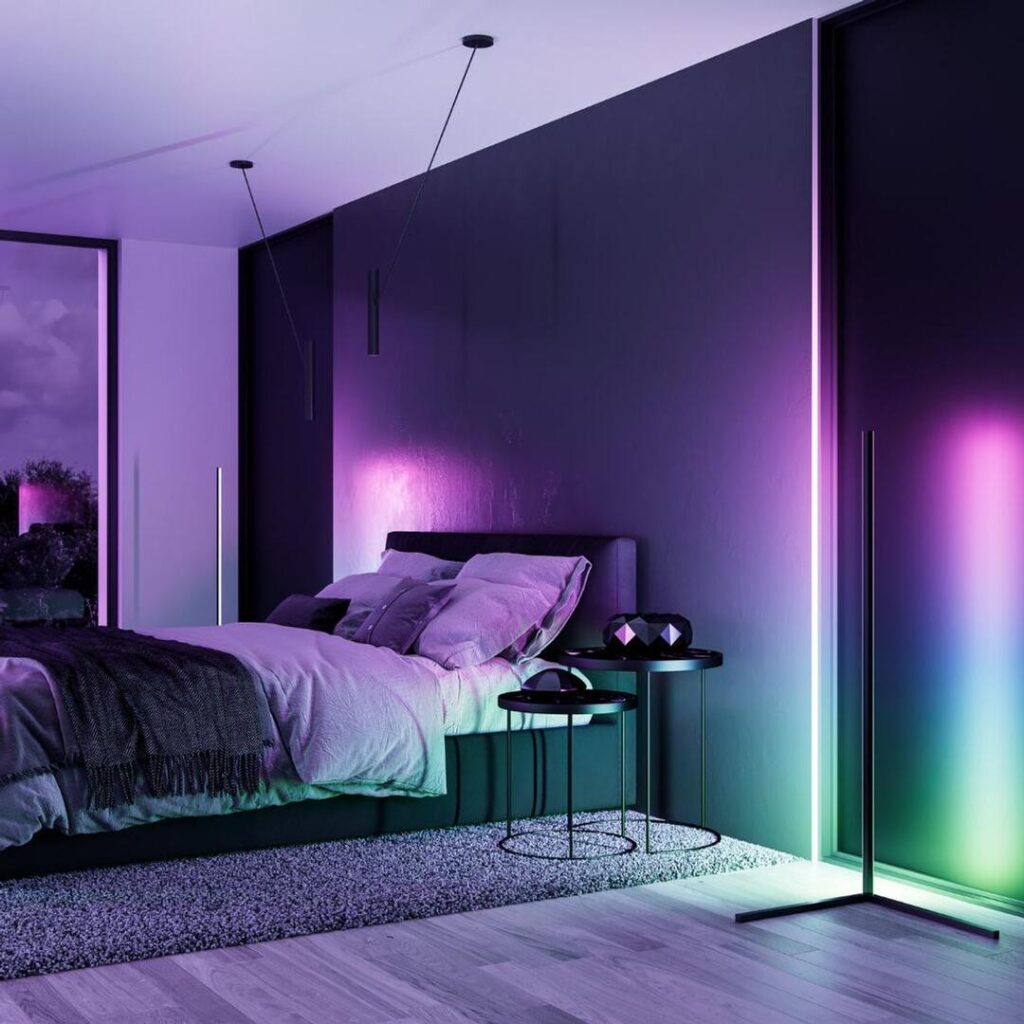 Pyxis is a multi-colored and convenient LED night lamp. It does not take up much space and can be placed in a corner of the room.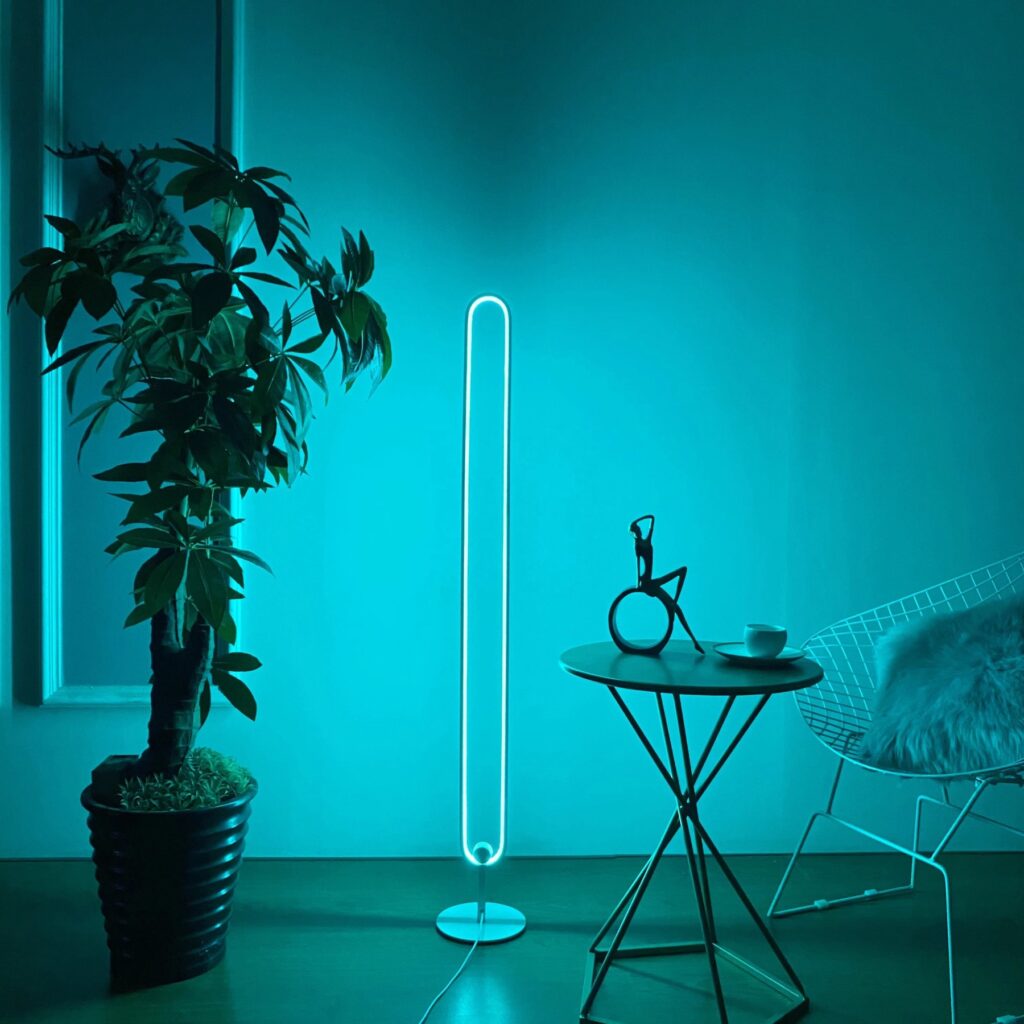 Look at this soft blue light from the LED floor lamp. You can use it as a night lamp. For example, if you want to carry out a photo session with friends. That soft blue light will be a cool idea for photos.
9. Tacahe RGBW Nightstand Circle Table Lamp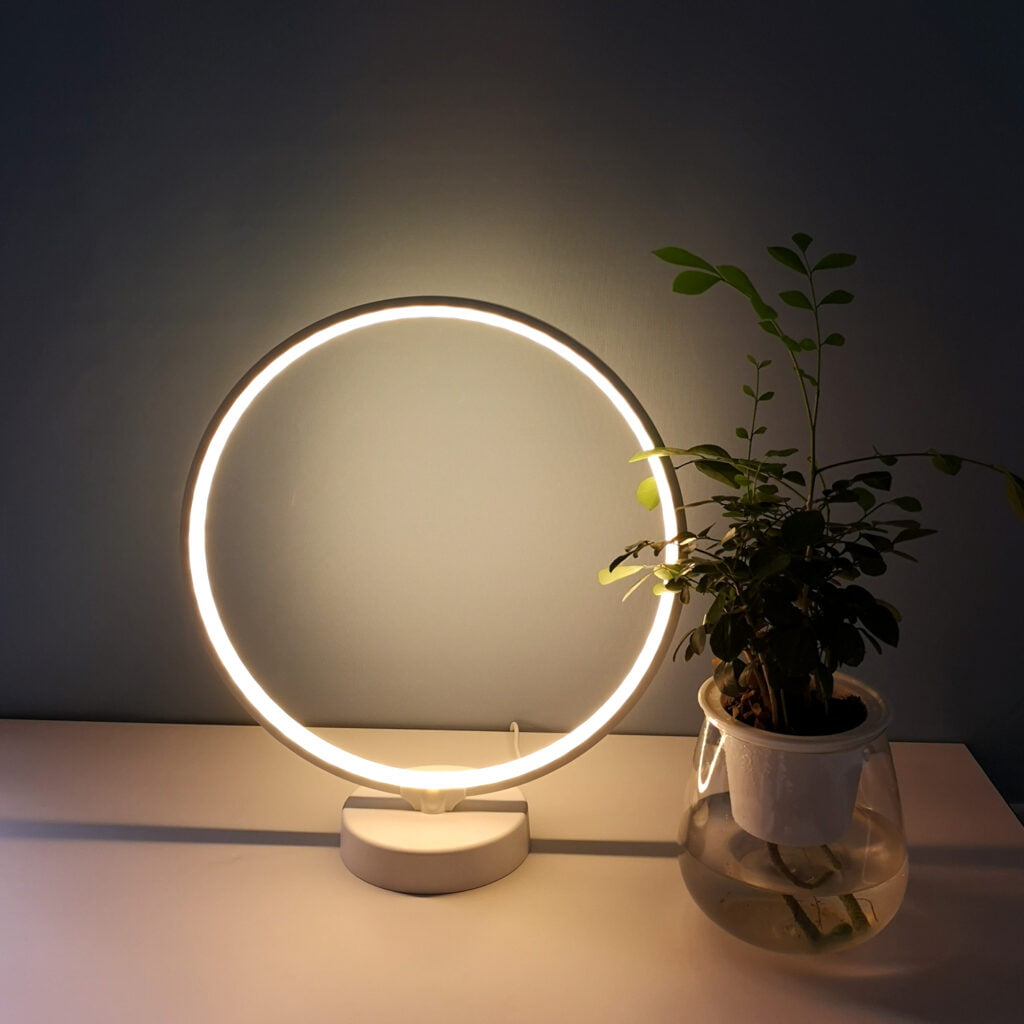 Choosing a Tacahe lamp is a simple way to give warmth and comfort to your home.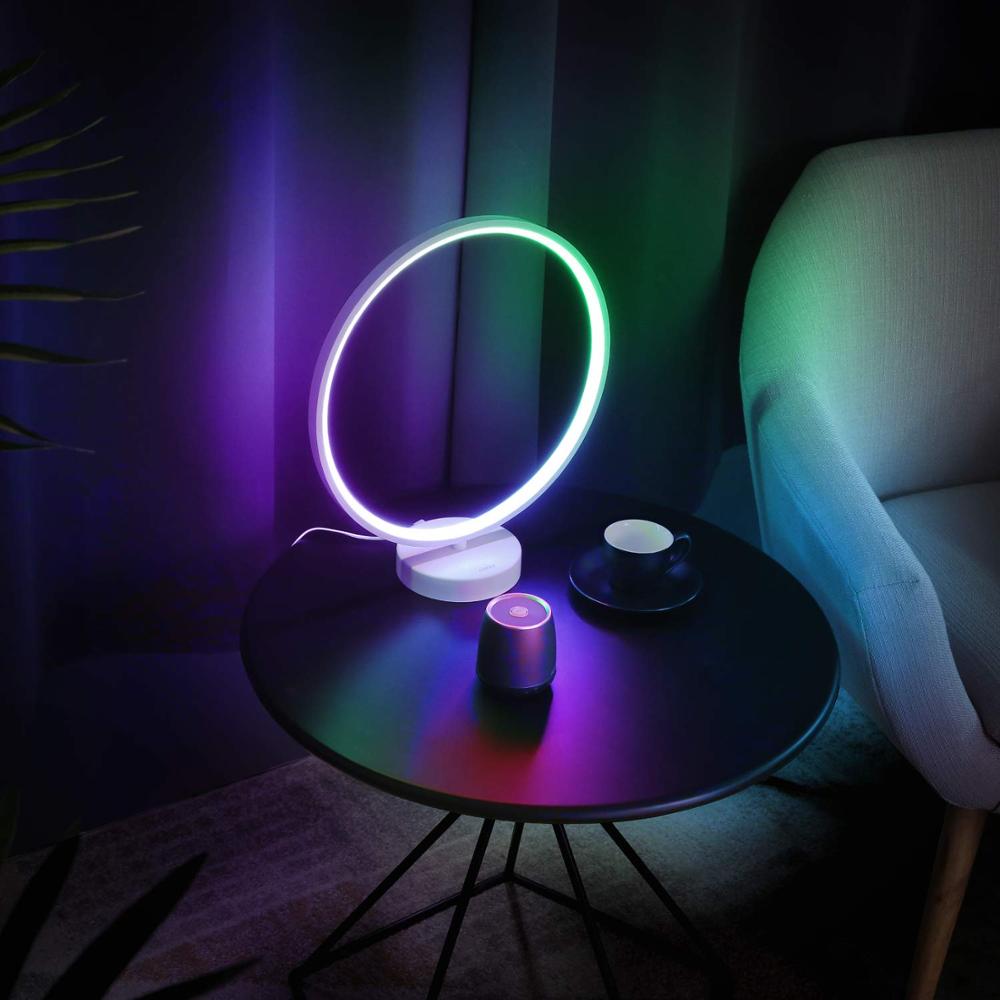 For example, this LED lamp will be an ideal addition to an evening tea party. There's a possibility to choose any LED color you need with a special lamp remote controller.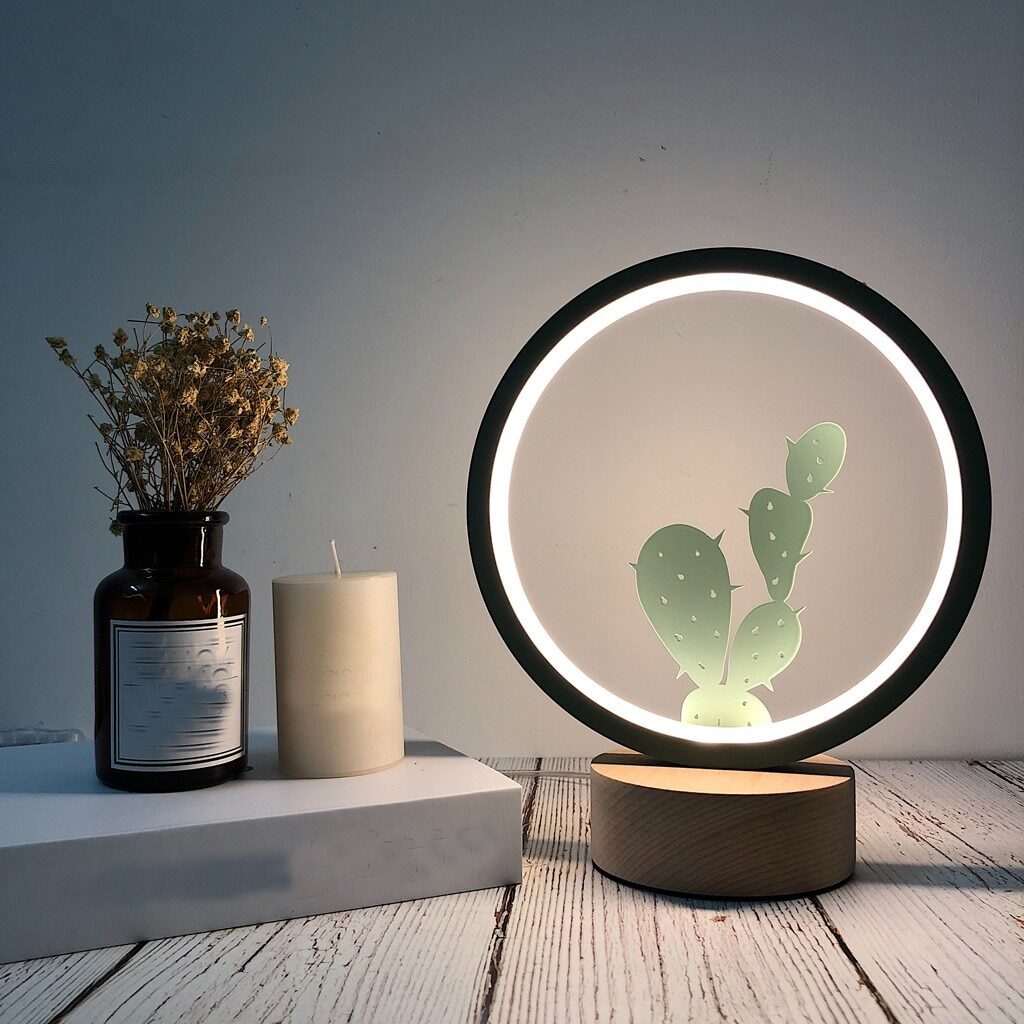 It's a beautiful decorative RGBW nightstand circle table lamp with little cactus that makes your room cute.
10. Lightbox Text Ideas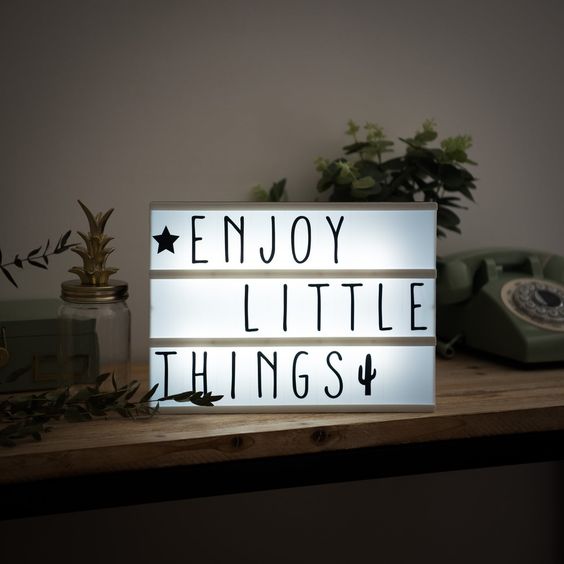 Lightbox with different texts is a creative way to decorate your interior. For instance, you can leave a message to your relatives or uplift their mood with funny or cute text.
DIY Lightbox in cube form with interesting text or pictures that you can customize yourself.
It's a great idea to use light boxes for holidays. As you see in this example, it greets your guests with a pleasant message, welcoming everyone with a good mood.
11. Funny Lightbox ideas
Sometimes you just want to bring something unusual into your life as well as make it fun for you and your loved ones. How about, ass-lamp lighting ideas? Why not?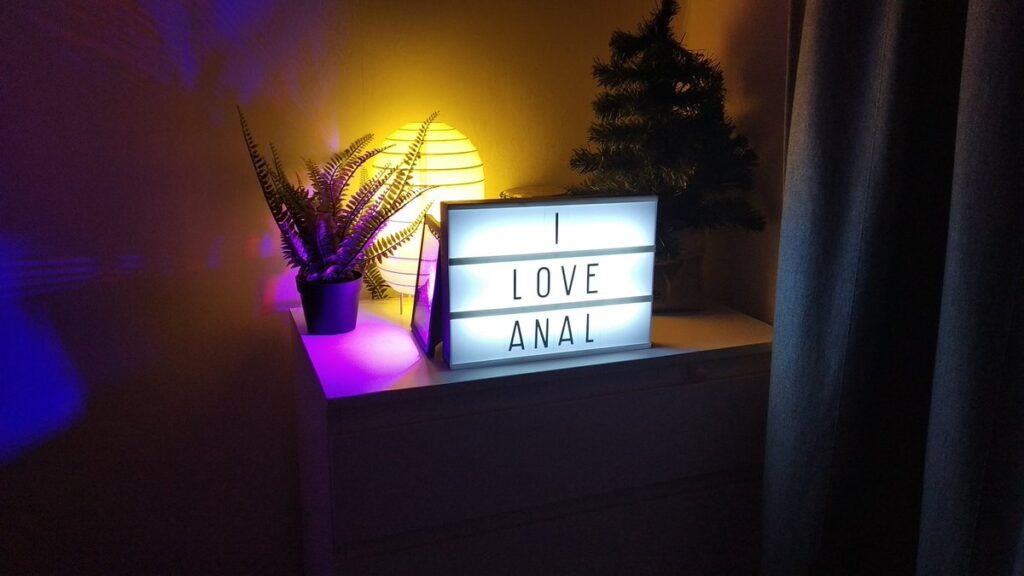 Can't you be straightforward and say whatever your heart desires? So, use the lightbox lamp to achieve it.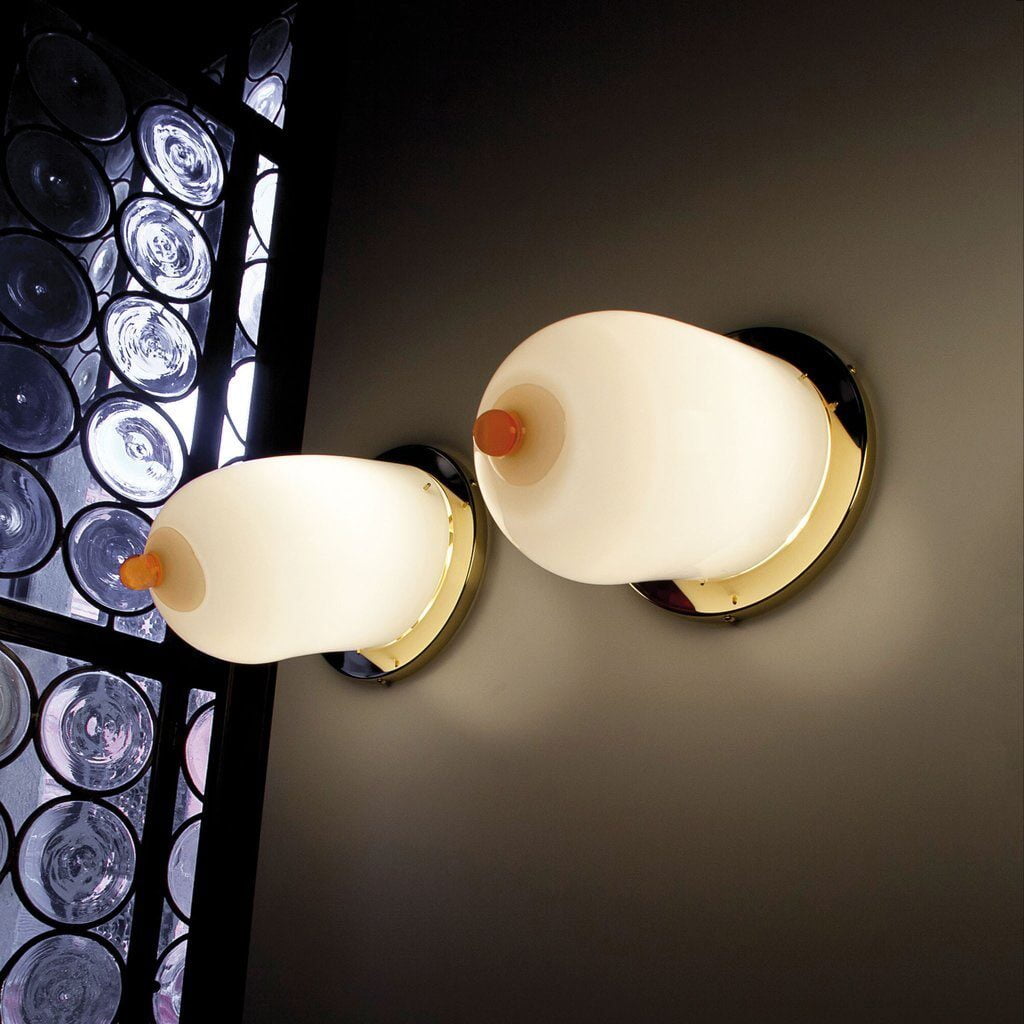 If you are not deprived of humor and love the natural beauty of a woman, then you will definitely pay attention to such light box lamps.
12. Bedroom Spotlight Ideas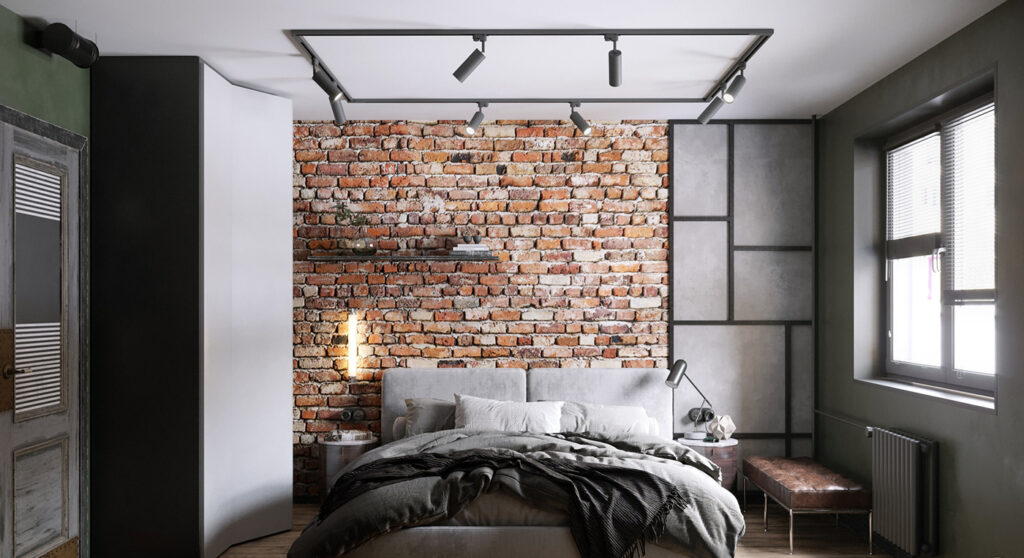 Here are some ceiling spotlight lamps, which make different light accents in the room. Moreover, you can change the direction of light.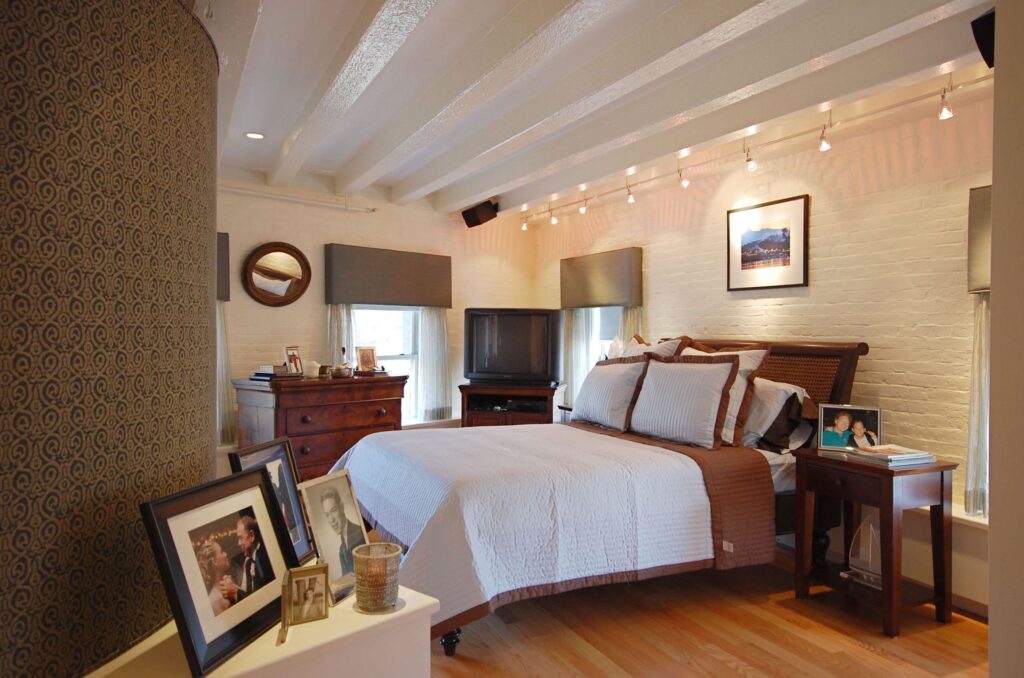 For example, here, the spotlight lamps make an accent on the picture, as well as at the wall itself.
13. Moroccan Style Bedside Lamps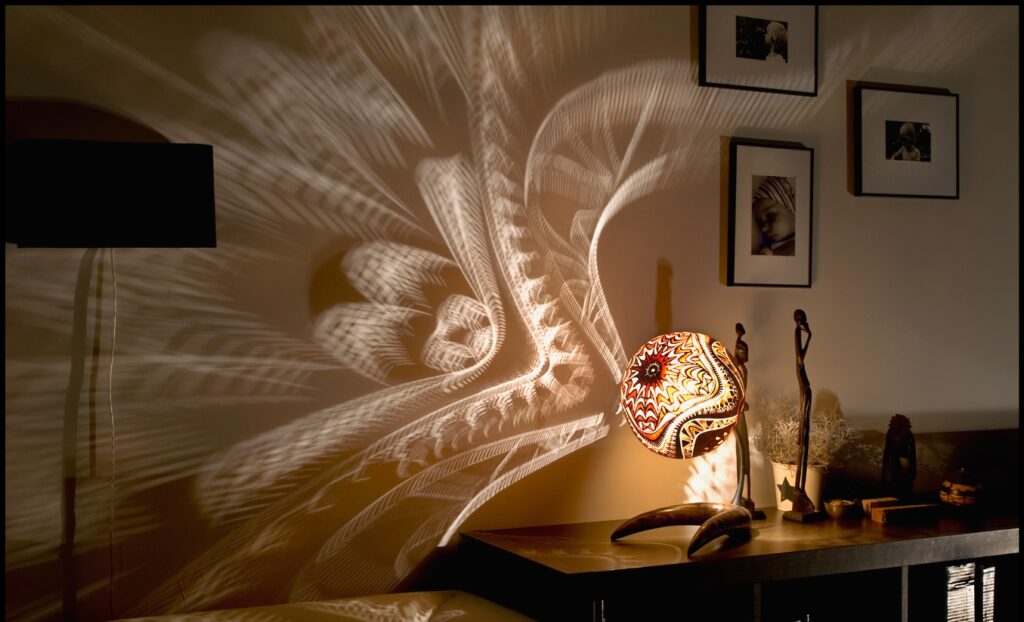 Indulge yourself in the Moroccan style's magnificent traditional patterns. In other words, this bedside lamp projects patterns on the wall, that decorate your evening room interior.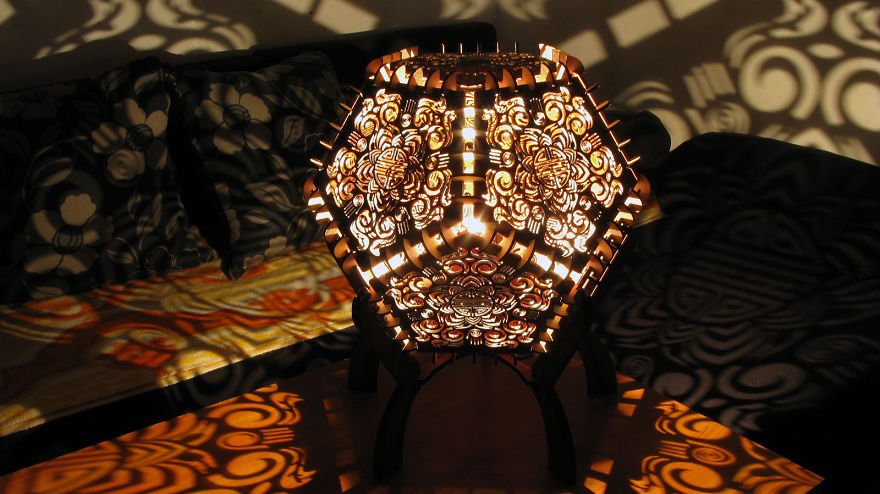 This stylish bedside lamp will fill your home with warmth and comfort. If you have difficulty falling asleep, the lamp pattern can help easy fall into beautiful dreams.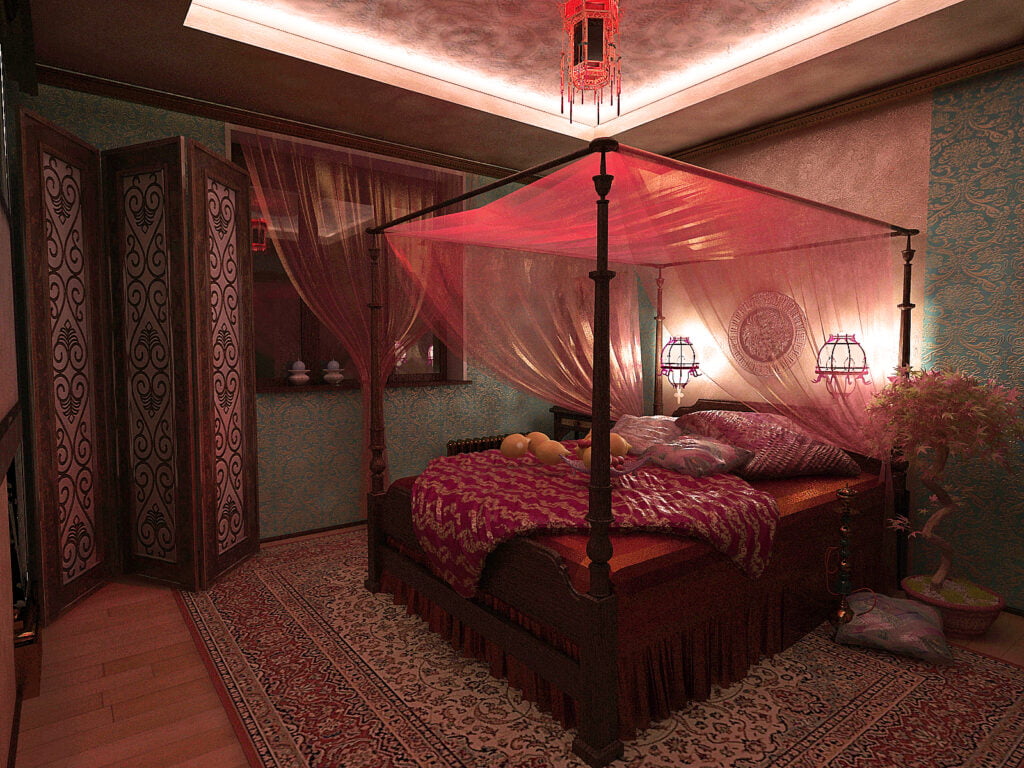 Moroccan-style lamps do not have a bright light. Therefore, their subdued light is excellent for the bedroom.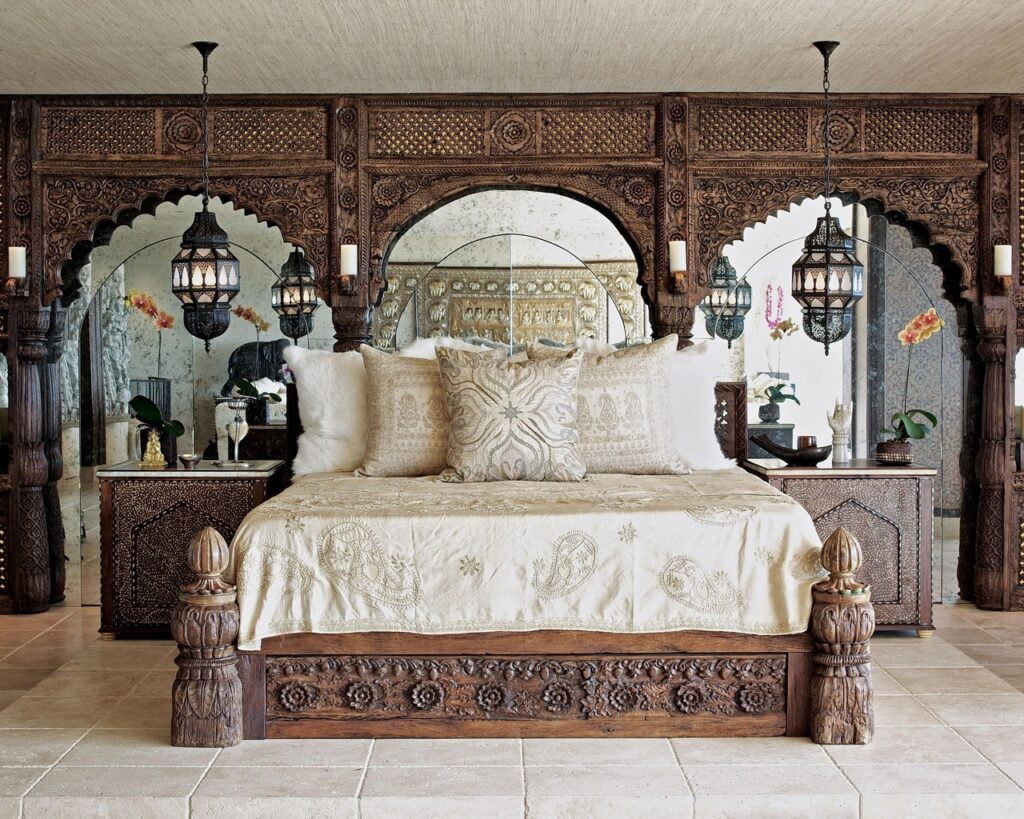 Moroccan pendant bedside lamps are a good choice for a rustic bedroom interior.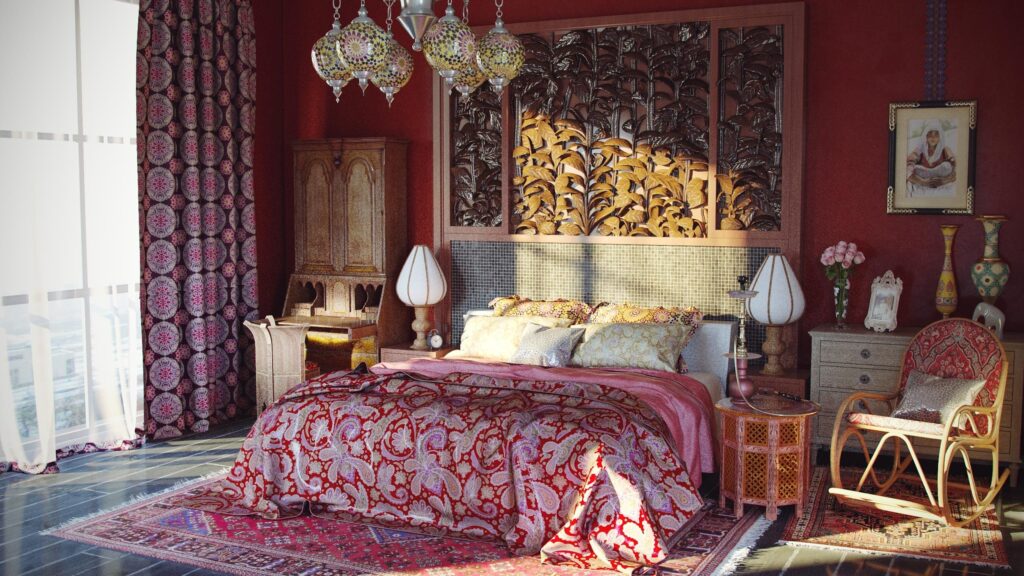 These bedside charm lamps look like Muslim traditional hats. Owing to its filter, it has warm diffusing light.
14. Large Drum Ceiling Light Shade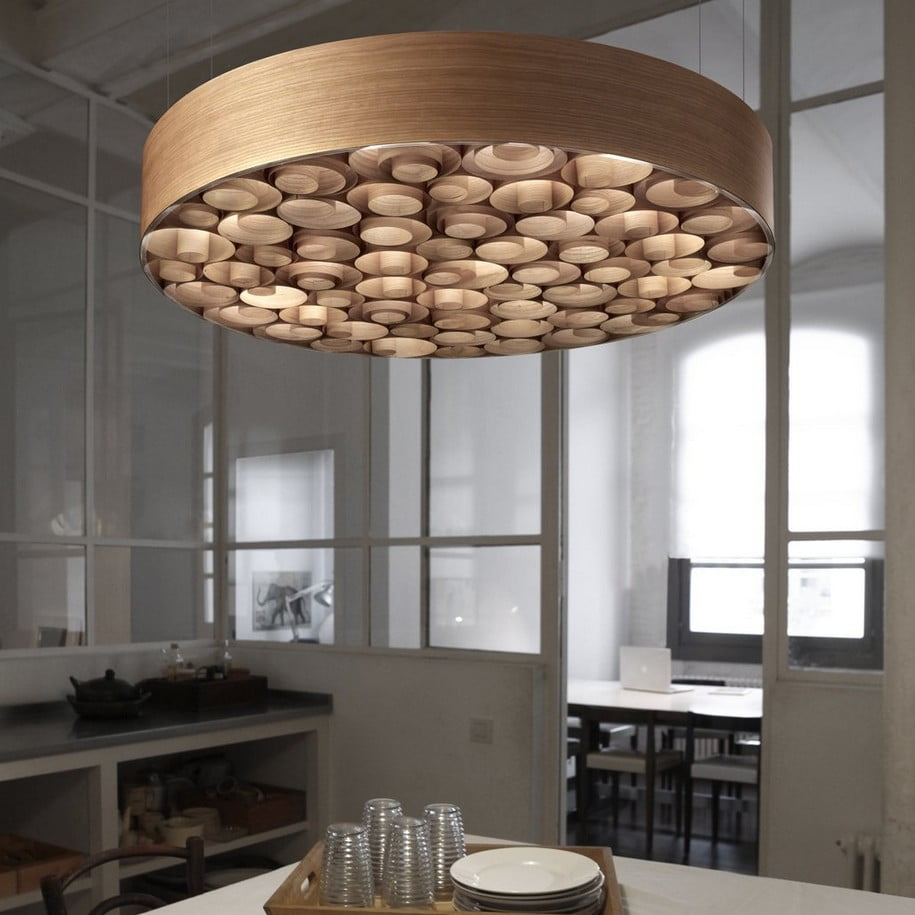 Take note of this one-of-a-kind lamp. It seems like it's composed of wood chips that have been planed and glued together. This could be a great way to recycle wood and create unique interior pieces.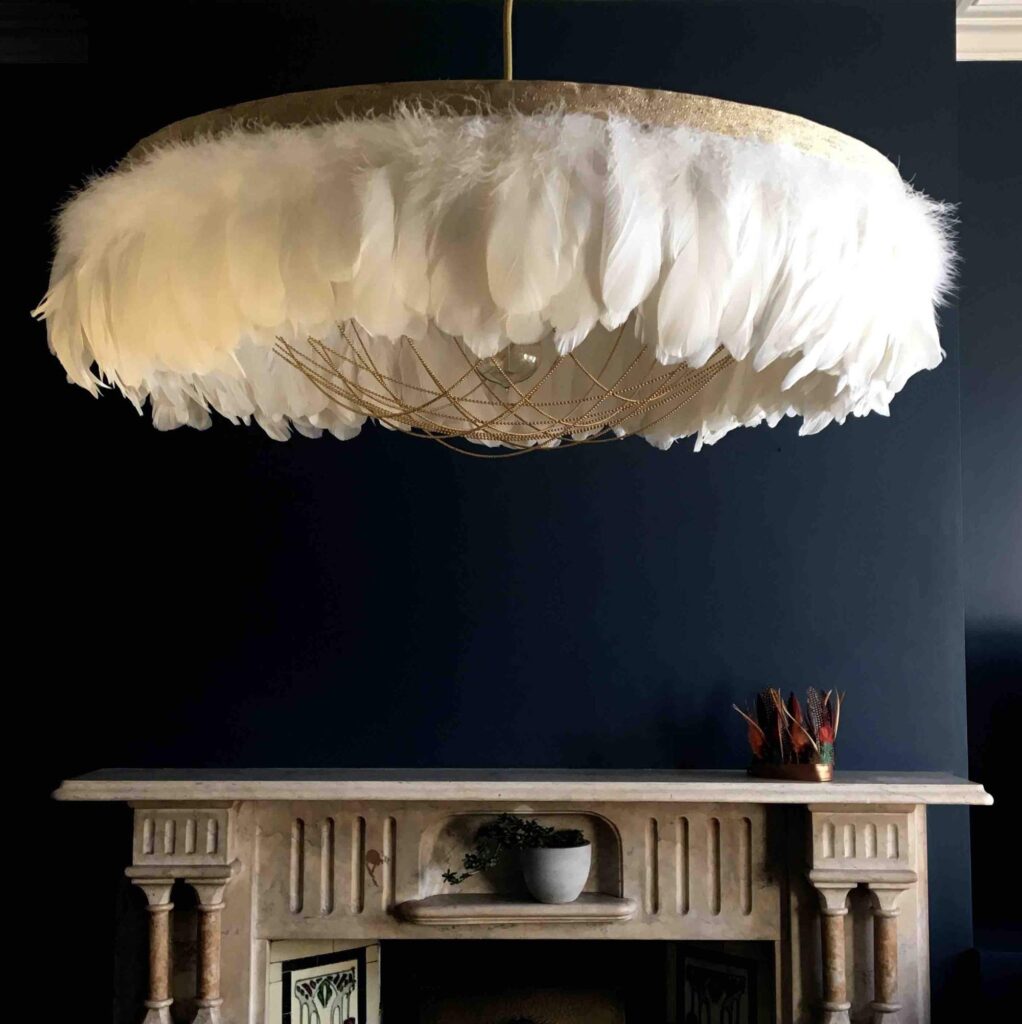 A pendant lamp made of delicate feathers. Due to its innocent appearance, it perfectly combines with dark walls, so they complement each other, creating a pleasing contrast.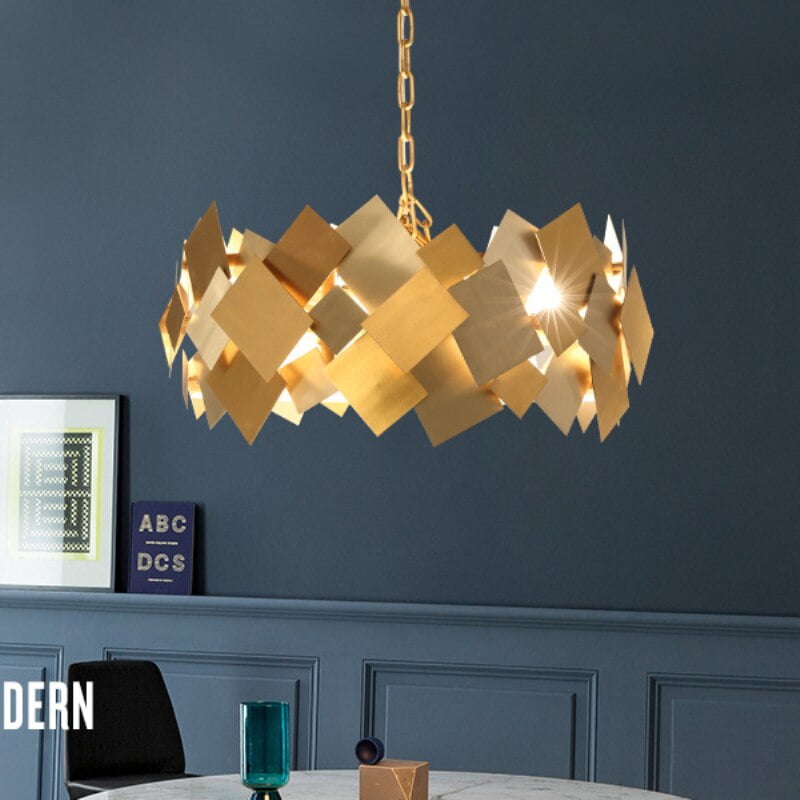 If you want a DIY creative lamp, choose wooden pendant lamps. For example, this drum ceiling light will be a good option.
15. Ceiling Drum Shade with Diffuser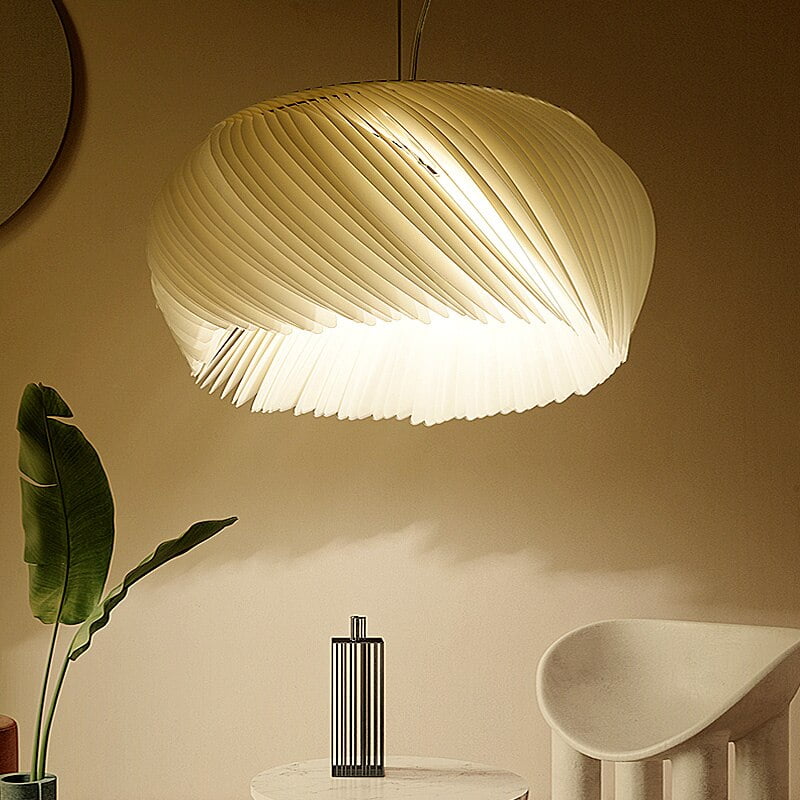 Pastel colors with diffusing light will gently fall on the walls and floor. This white hanging chandelier adds softness to the room.
16. Rattan Ceiling Lampshade
For proper interior design, you should pay great attention to the chandelier. This straw chandelier perfectly emphasizes the wall decor, as well as ceiling skirting boards in oriental style.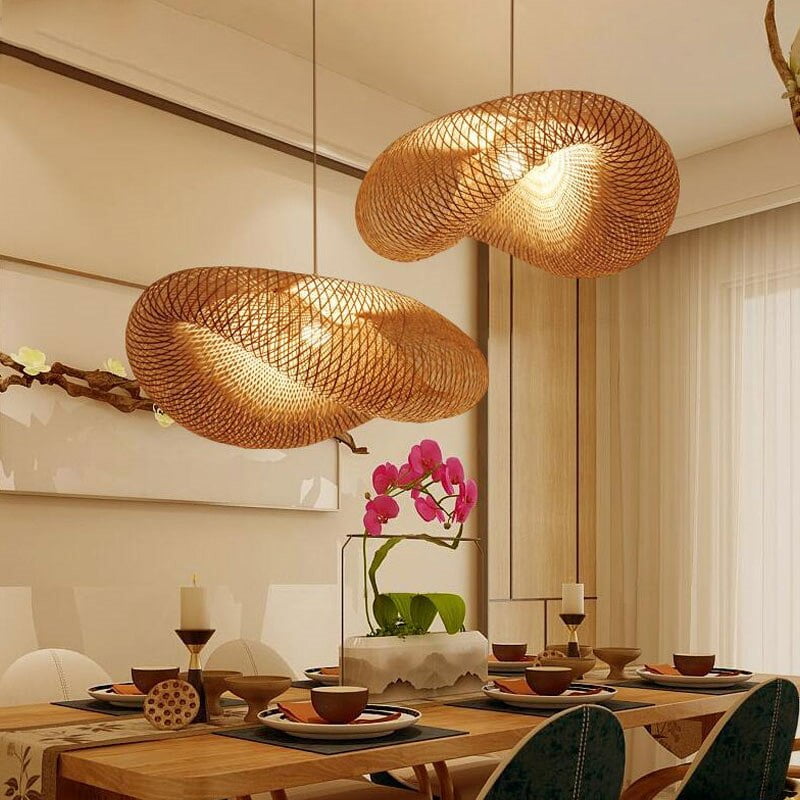 Due to its form, such rattan ceiling lampshade creates a homely atmosphere in the house.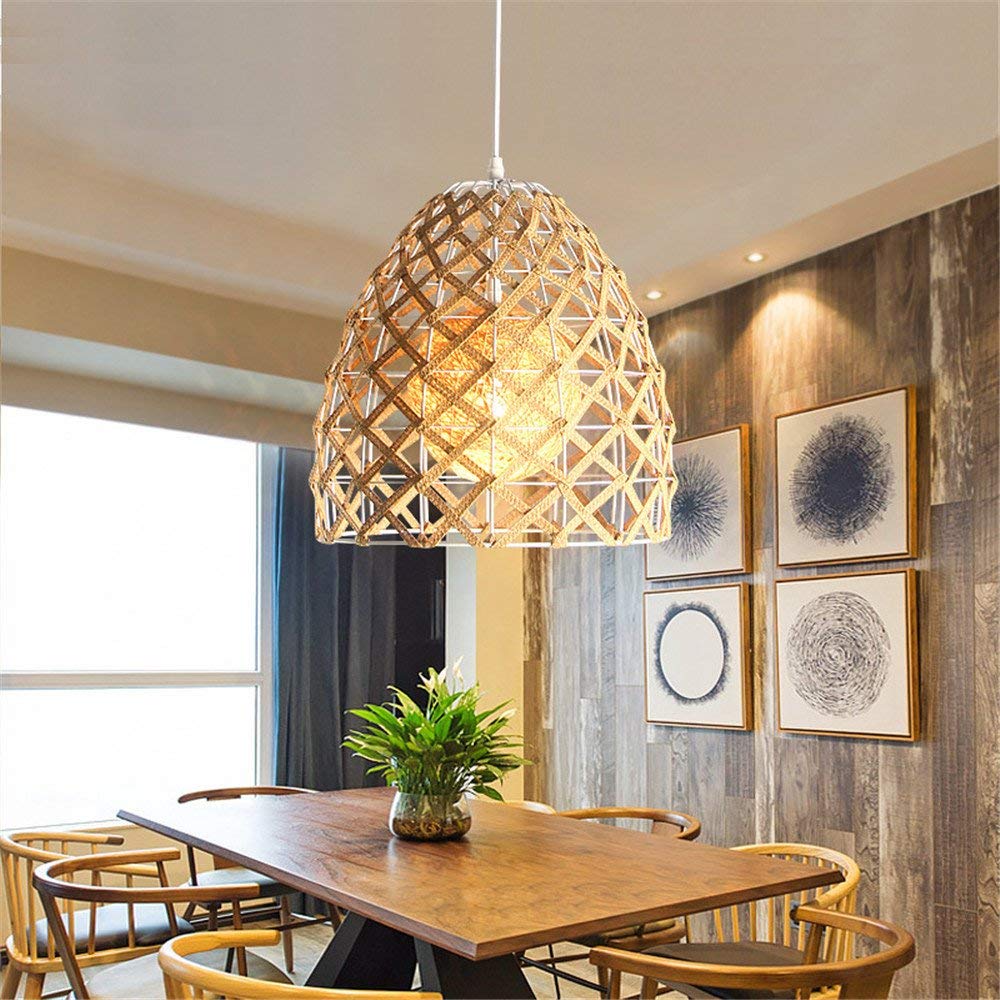 If you would like a simple and discreet interior, then you can emphasize it with a wicker rattan chandelier.
17. Homemade Light Decoration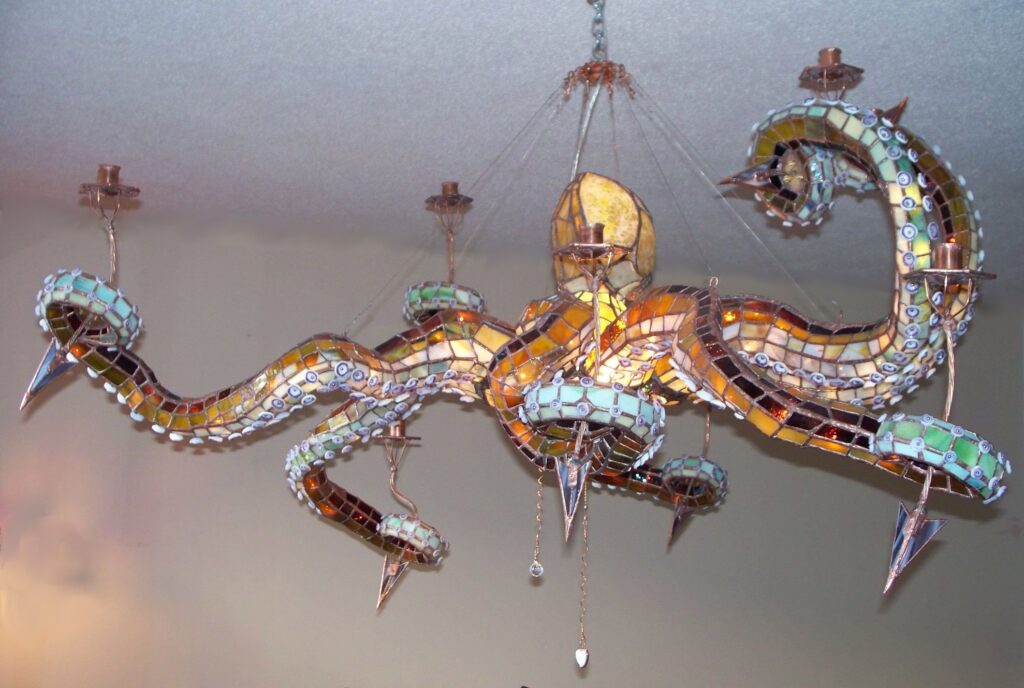 Did you ever see the octopus-lamp? It's a wonderful light decoration. This lamp is a creative handwork. It seems that an octopus is sitting on the ceiling. Funny, isn't it?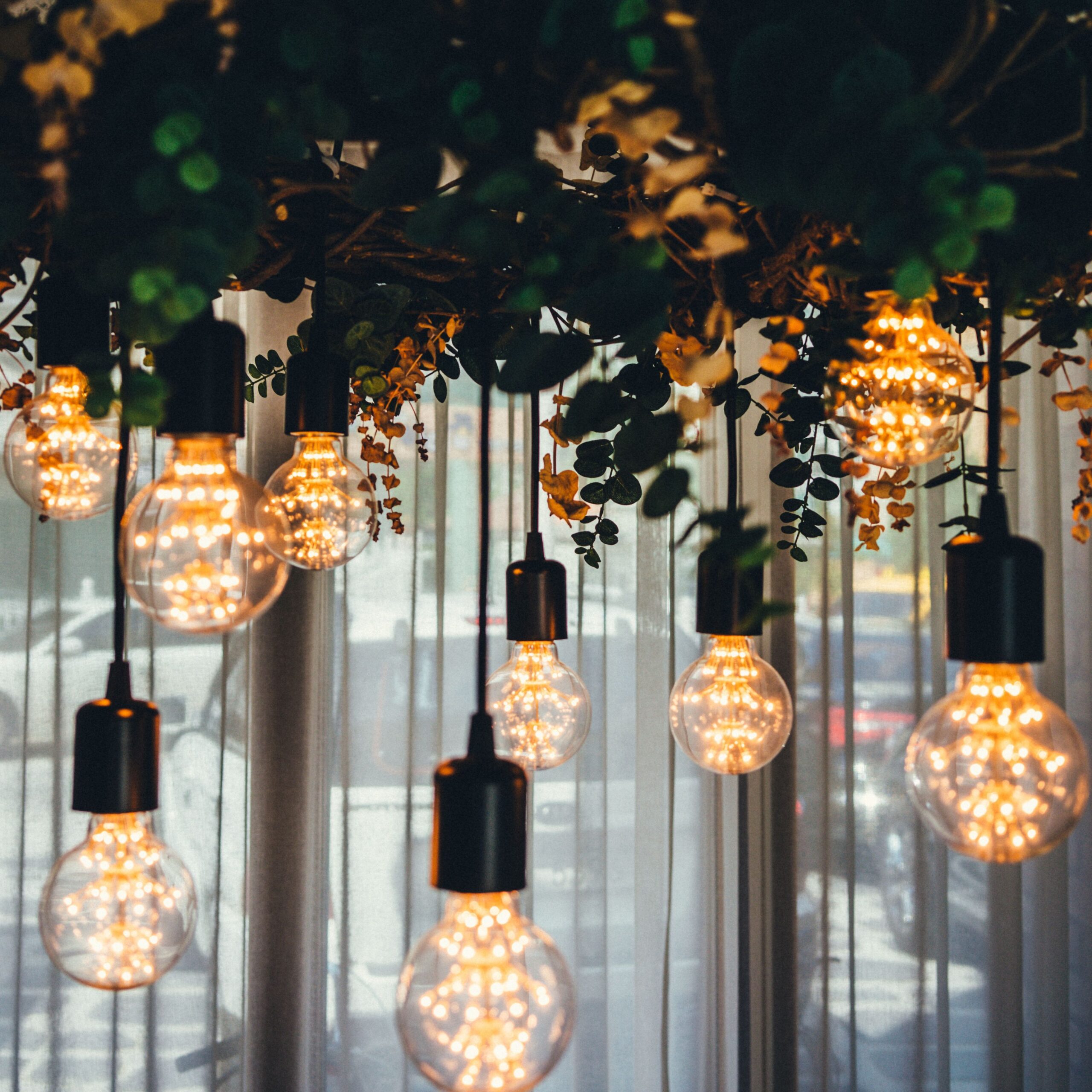 You can create a real garden above your head with some plants and hanging lamps. As a result, your room looks fresh and fairy.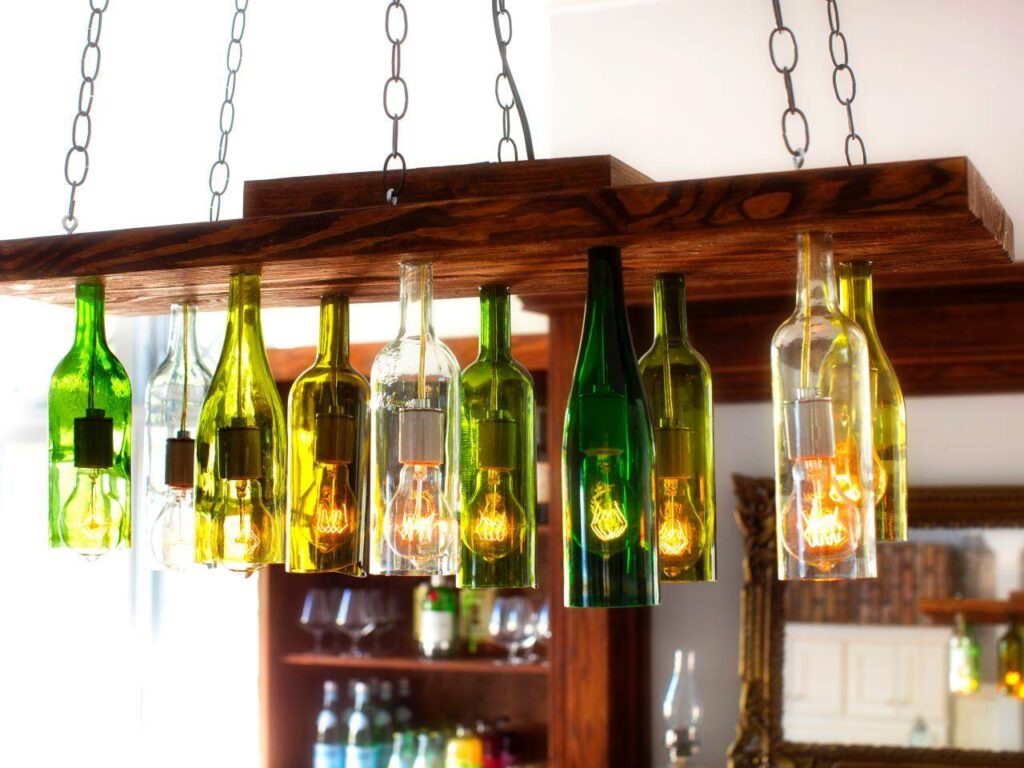 Do you like a bar atmosphere when you're sitting in a tap house with your friends and drink some cocktails? You can achieve the same feelings being at home, thanks to an original pendant lamp, which is made from empty bottles.
18. Homemade Night Lamp
Imagine that you have caught the most beautiful butterflies and dragonflies and put them in a cage to temporarily observe their beauty. Only in this case, the butterflies are made of beads and sit on a handmade lamp.
In China, the dragon is a sacred beast that everyone respects and reveres. So, if you would like to have a souvenir with a dragon, then why not make a large lamp in the form of it?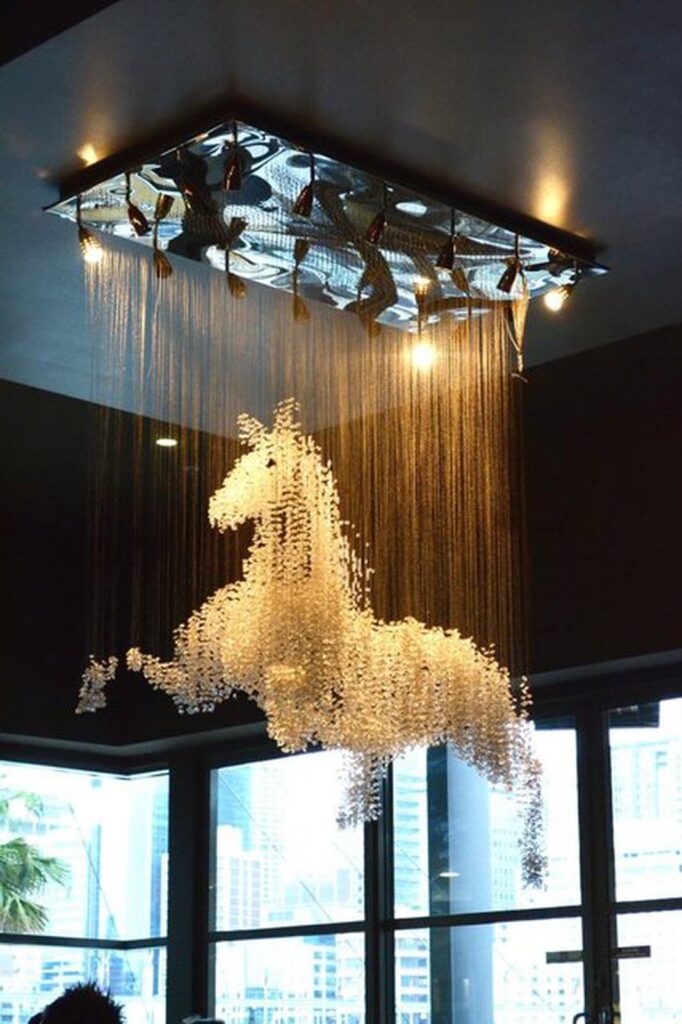 This handmade lamp perfectly suits those who love horses, as it is in the form of a brisk horse. The whole composition consists of many small details. That is the reason why the lamp will definitely bring variety to your interior.
19.A Thundercloud Lamp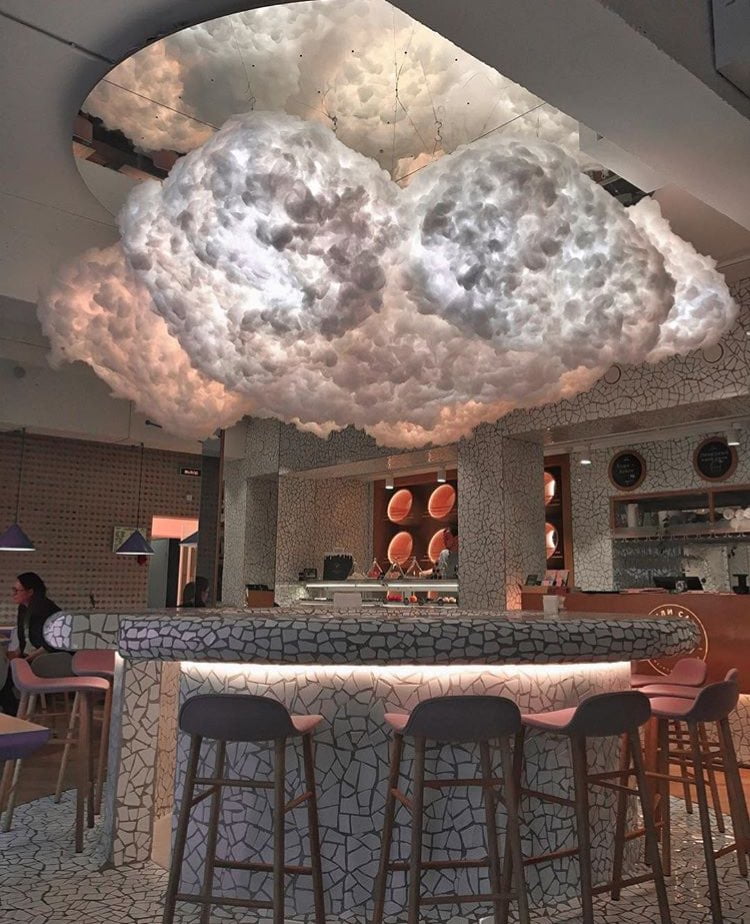 Many of us enjoy thunderstorms and heavy rain. So, assume you're sitting in a warm blanket, sipping coffee and gazing at the clouds. Only these clouds aren't ordinary clouds; they're a huge chandelier that flickers like genuine thunderclouds.
20. Led Neon Cloud Light
The beautiful LED thundercloud pendant lamp looks natural and will serve you like a nightlight.
21. 3D Mushroom Cloud Explosion Lamp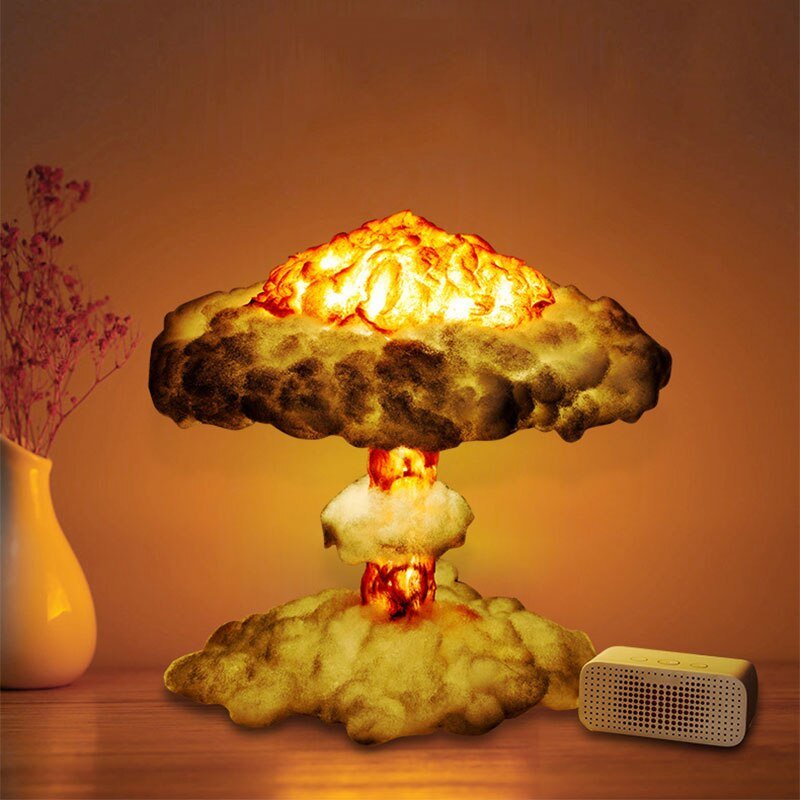 Do you want an explosion of a nuclear bomb in your room? Of course, nope, but how about the mushroom cloud explosion lamp? It's a really unusual form of a table lamp, so it looks creepy as well as exciting.
22. Decorative Lights for Dining Table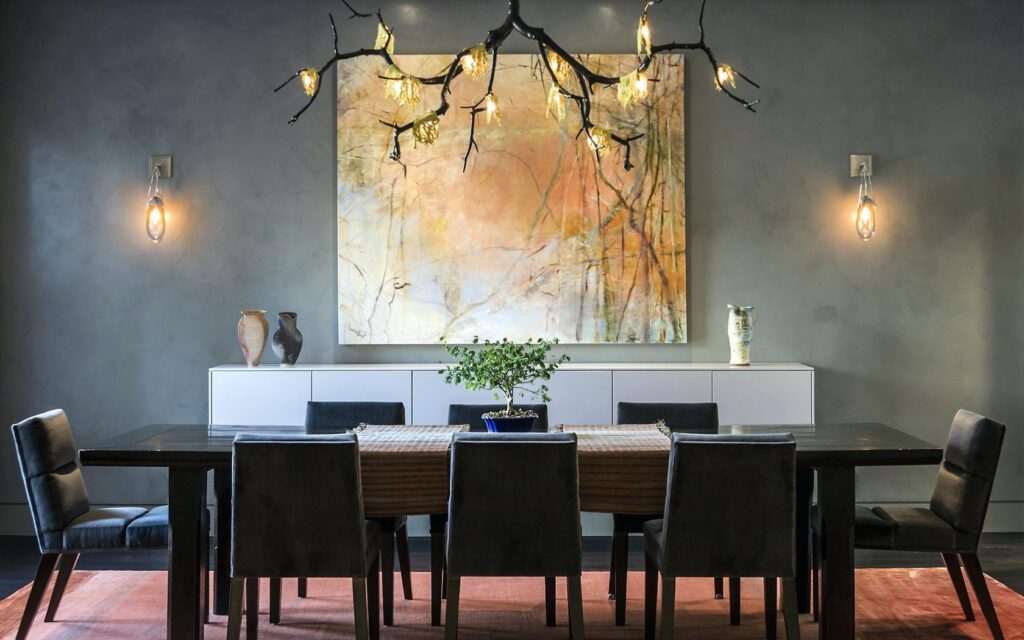 Wall lamps can complement the main lighting for a greater effect. Here the main lighting is presented as a decorative option, so wall sconces are just right.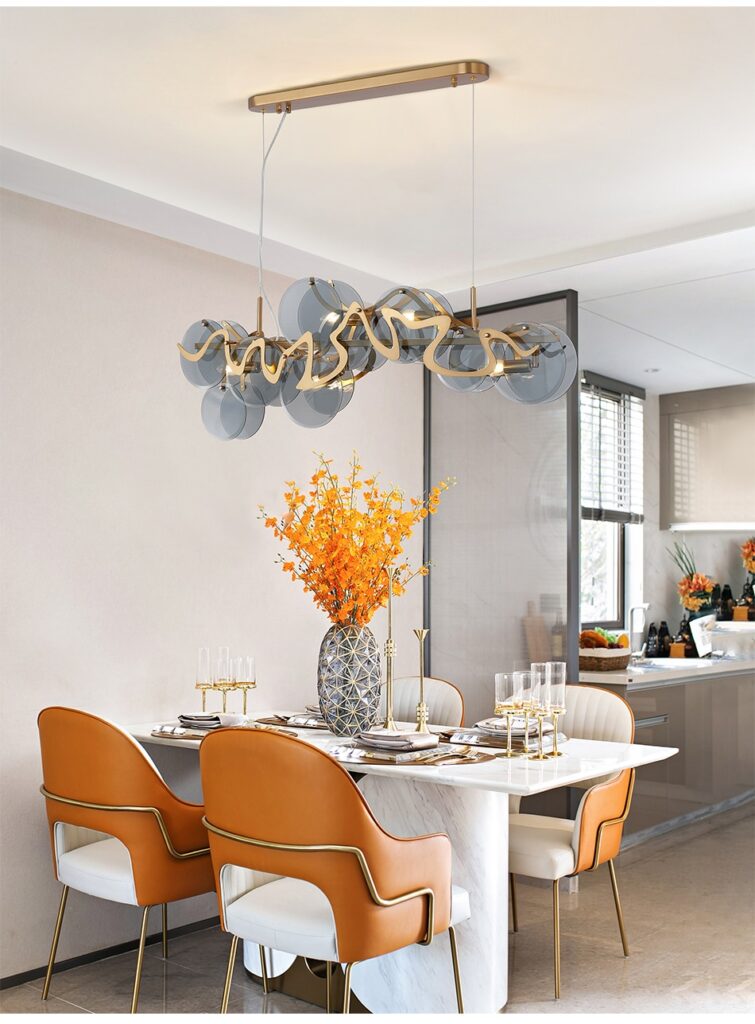 The installation of a big hanging lamp low over the table was a bold design decision. In effect, the finished result of the design of the lamp looks fantastic against the kitchen's vivid orange tones.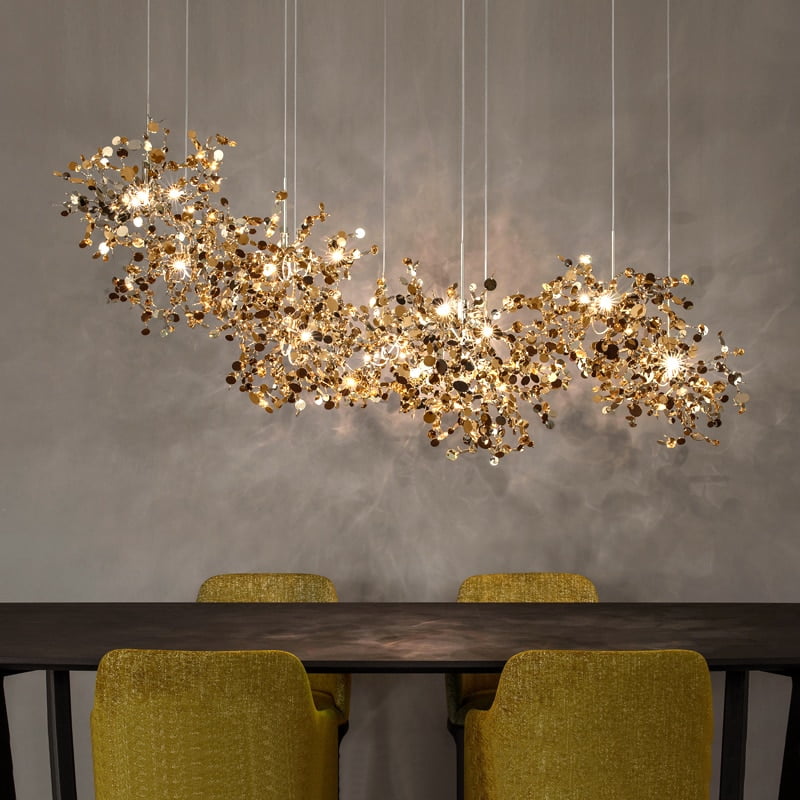 In this decor, the room's highlights are flawlessly executed. Thus, the gray wall and traditional wooden table go to a second plan, but a bright gold color pendant lamp draws attention to the center of the space.
23. Kitchen Lampshade Ideas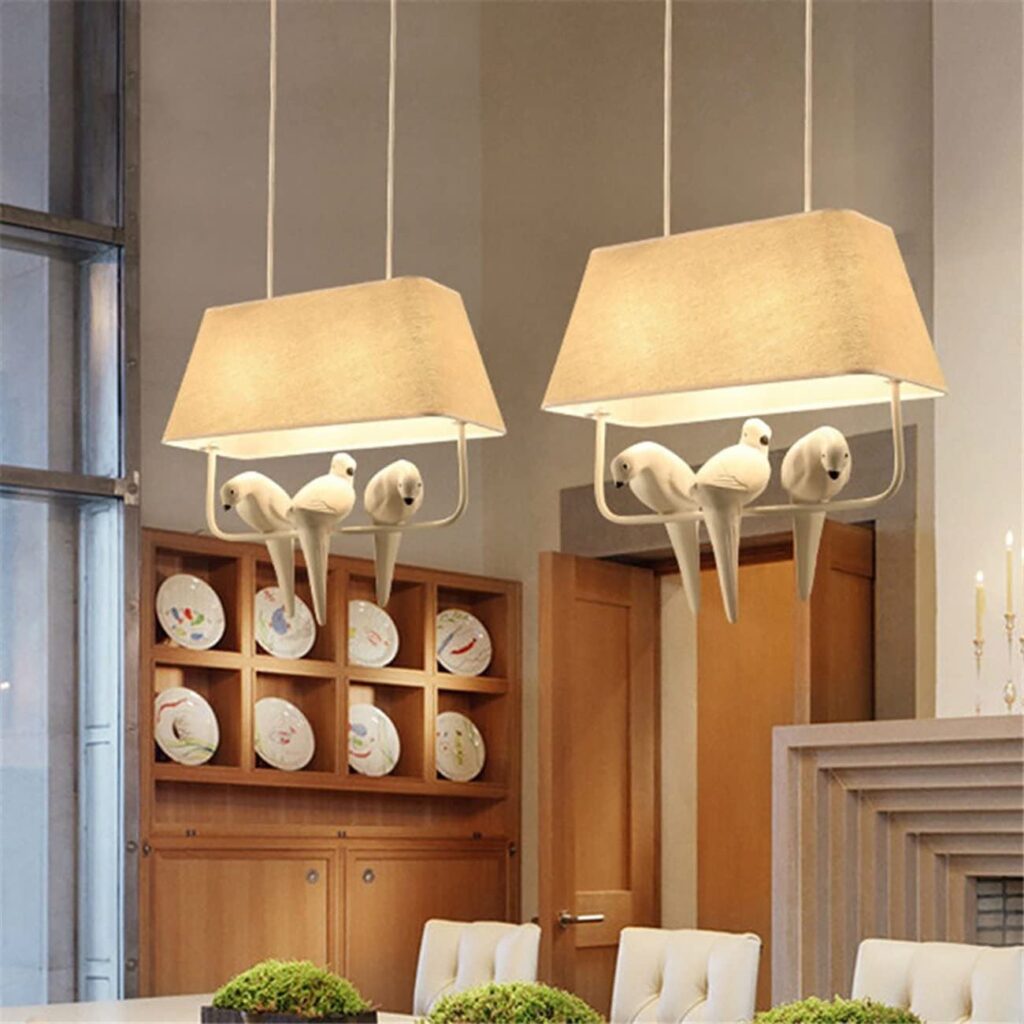 These two lamps create an atmosphere of spring and comfort. In addition, calm, diffusing light gently envelops the entire room.
The eating area is brightened by an airy ceiling lighting constructed of thin straws. Furthermore, the other additional lighting point-by-point compensates for the primary lamp's lack of illumination.
24. Kitchen Worktop Lighting Ideas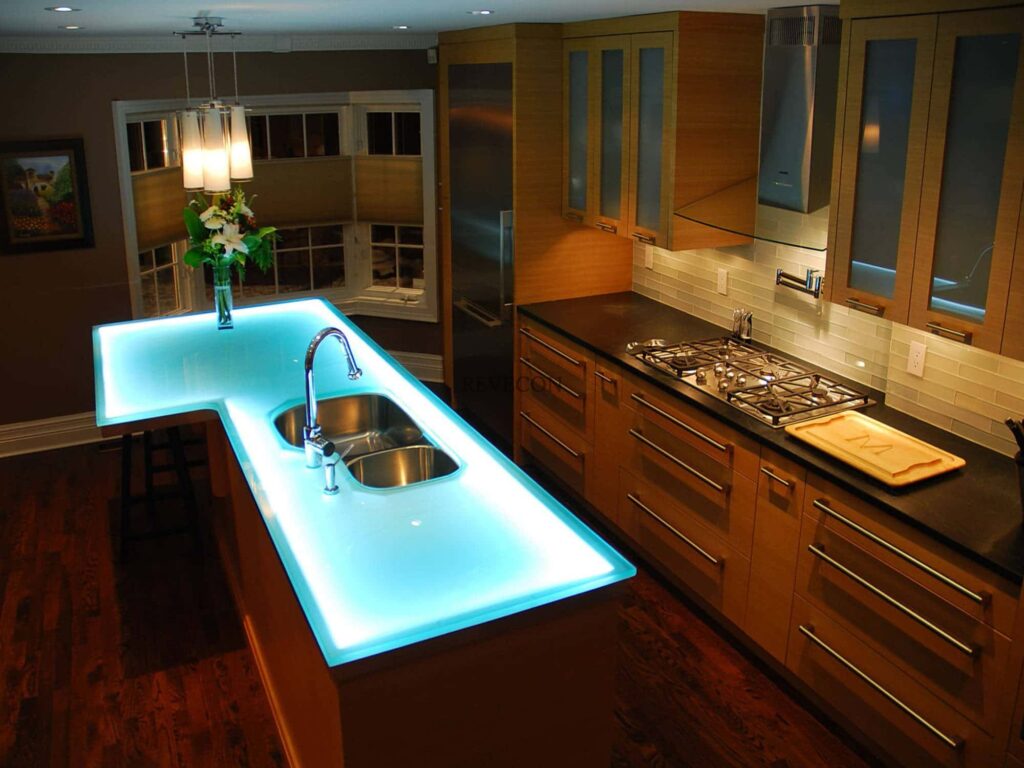 Look at this cool kitchen tabletop lighting, it seems that you're cooking on the blue cosmic surface. The countertop creates a light sense of space, and the shades of blue used on it not only create a contrast with the wooden interior but also look like seawater.
Deep blue LED shades perfectly combined with a soft wooden interior. Due to the transparent epoxy worktop and ceiling decor, the blue light makes it similar to ice, it's an interesting design idea.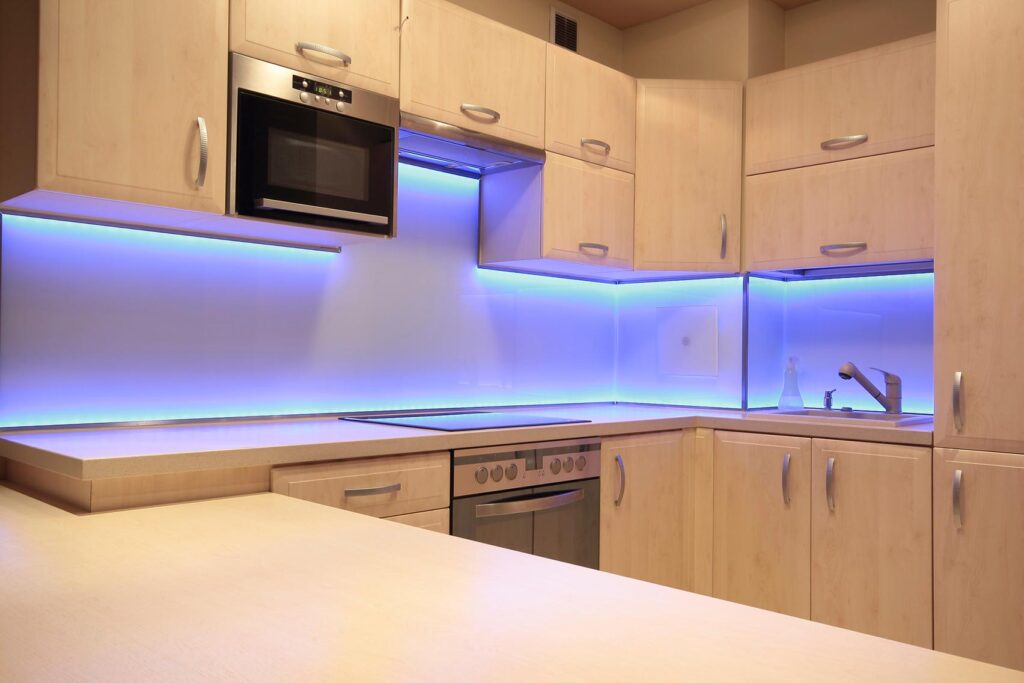 In bright kitchens, it's important to choose the right light, because warm or cold lighting can create a different perception of the interior. In such an example, the designer chose a warm main ceiling light and made an accent with a cold LED light in the kitchen splash back area.
25. Kitchen Island Bench Lighting Ideas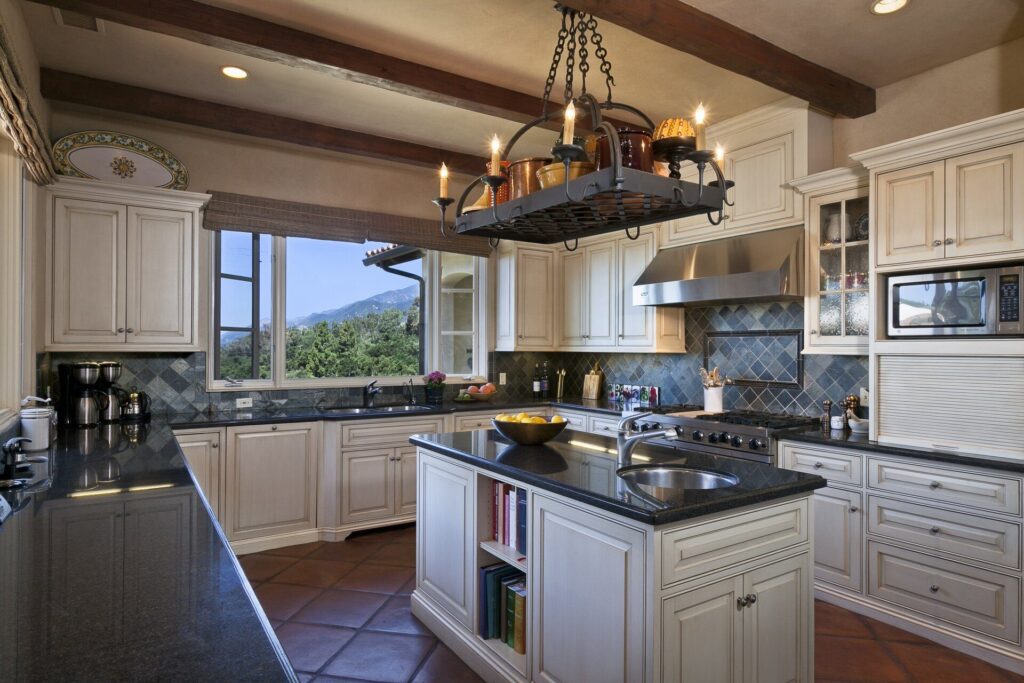 This kitchen design immerses you into a rustic atmosphere due to its antique-style lamp. Moreover, such a practical lamp has a dual purpose as the shelf for many kitchens tools.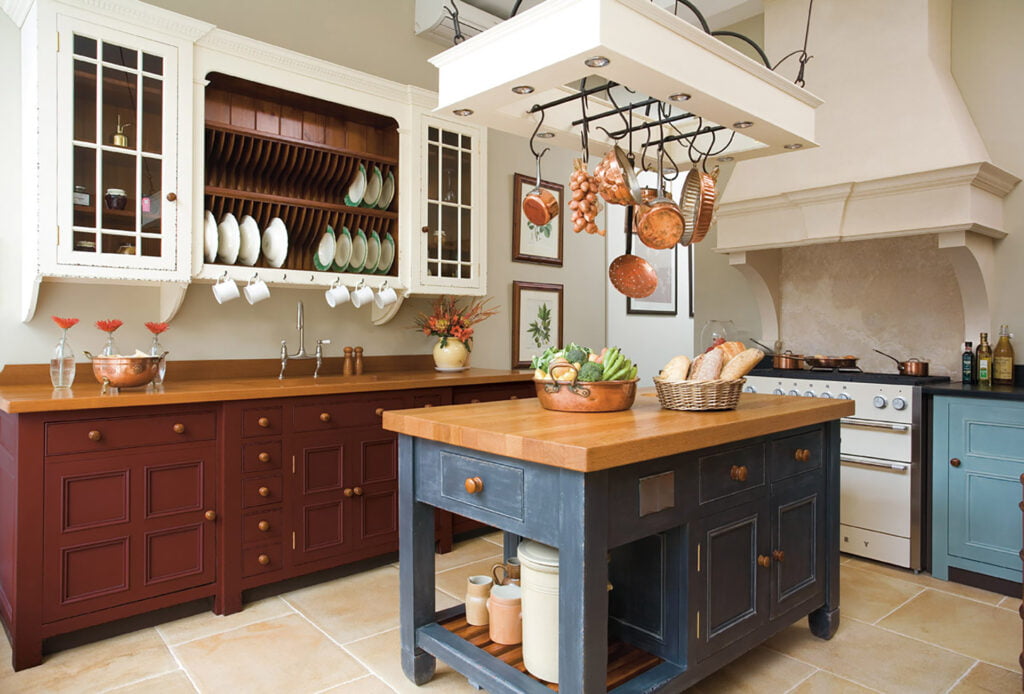 It's not easy to pick up the light among a wide variety of lamps for the kitchen island bench. But if you want a lot of light for cooking, then a few deep recessed bulbs in the pendant kitchen special shelf will be a great idea.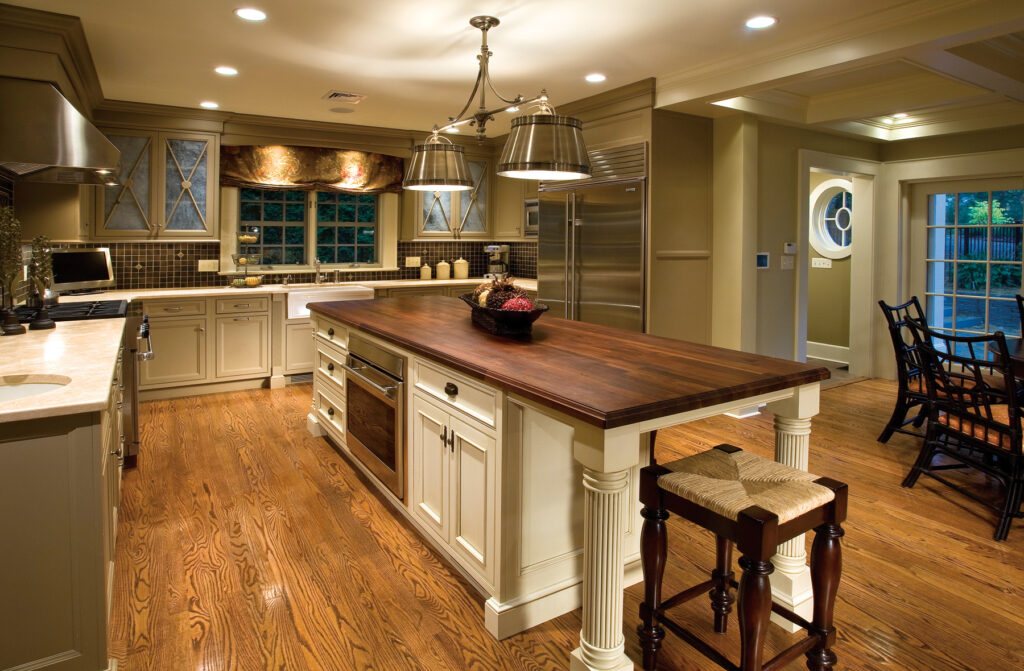 So, how about big metallic lampshades that provide you a lot of light? It looks gorgeous and the same time strong.
26. Open Plan Kitchen Lighting Ideas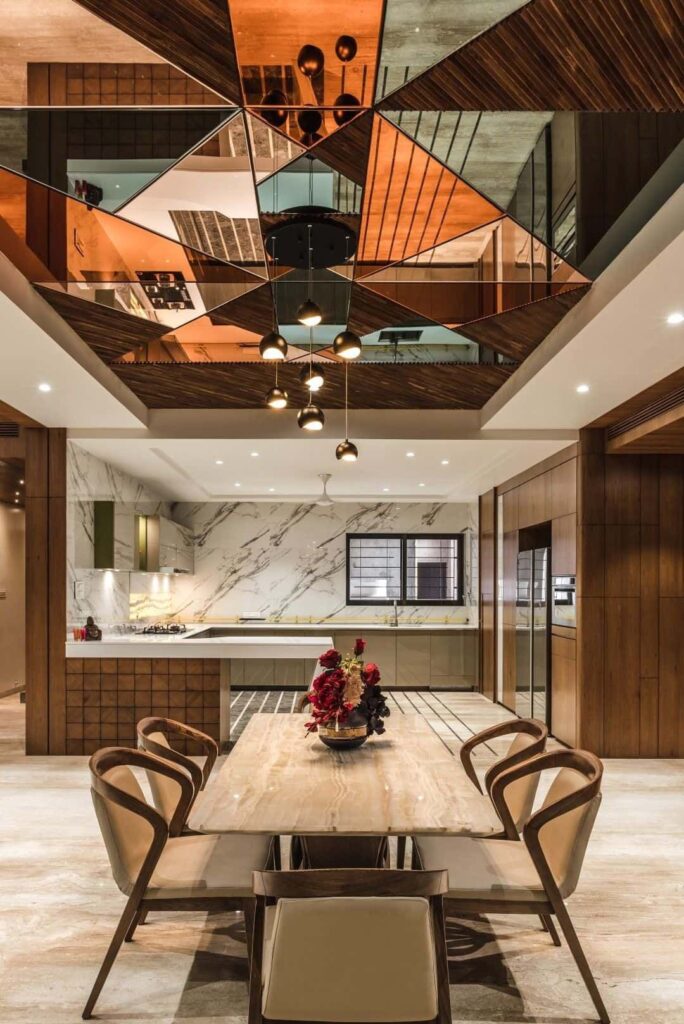 A wonderful idea to use a mirrored ceiling with pendant lamps since the light reflects from it, creating additional lighting to the open-plan kitchen.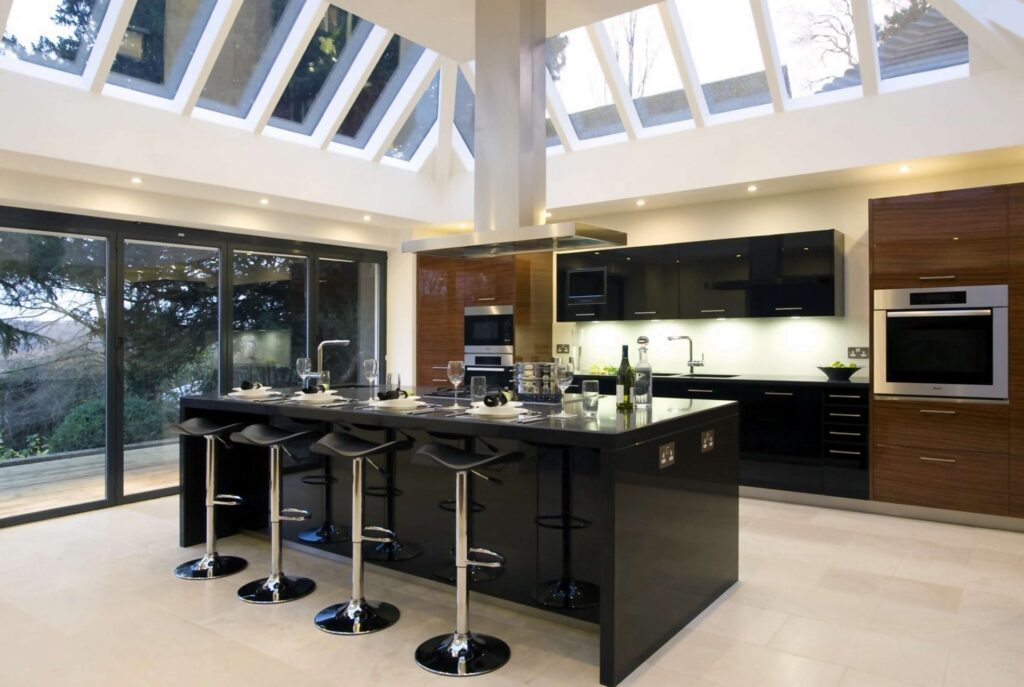 In this design, due to big glass doors and roof lanterns, there's a feeling that you are out of the house. There is enough of natural lighting, so designers used only some recessed lights.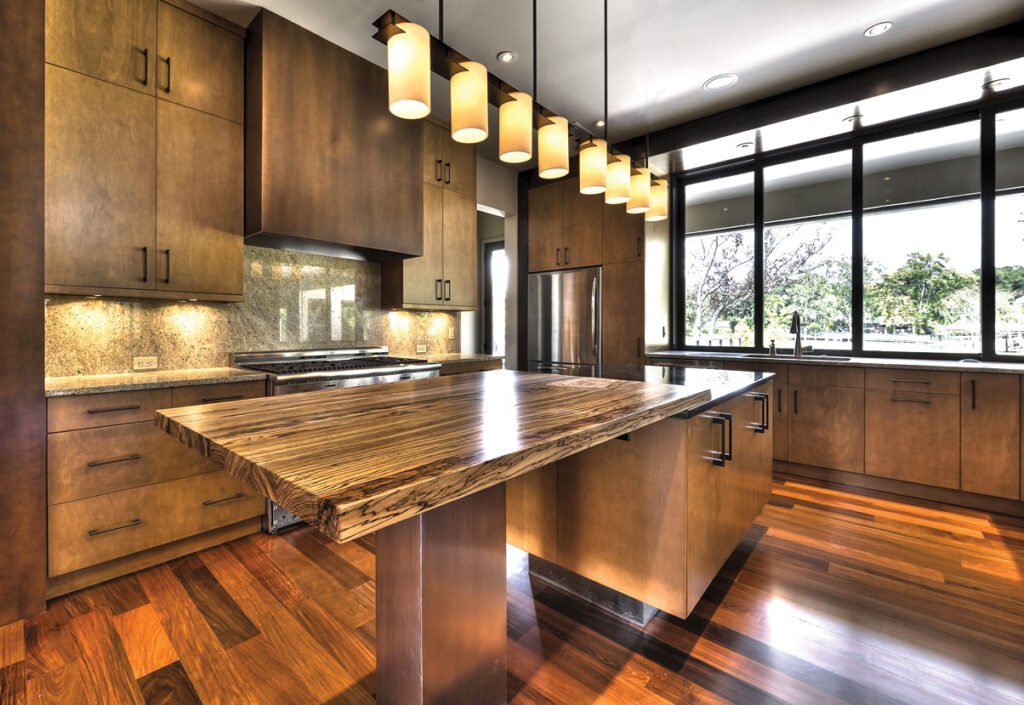 If you want to make your open-plan kitchen stand out, then consider purchasing a long lamp that will light the entire length of the kitchen island. It was critical in this design to illuminate the kitchen's work surfaces.
27. Dining Hall Light Design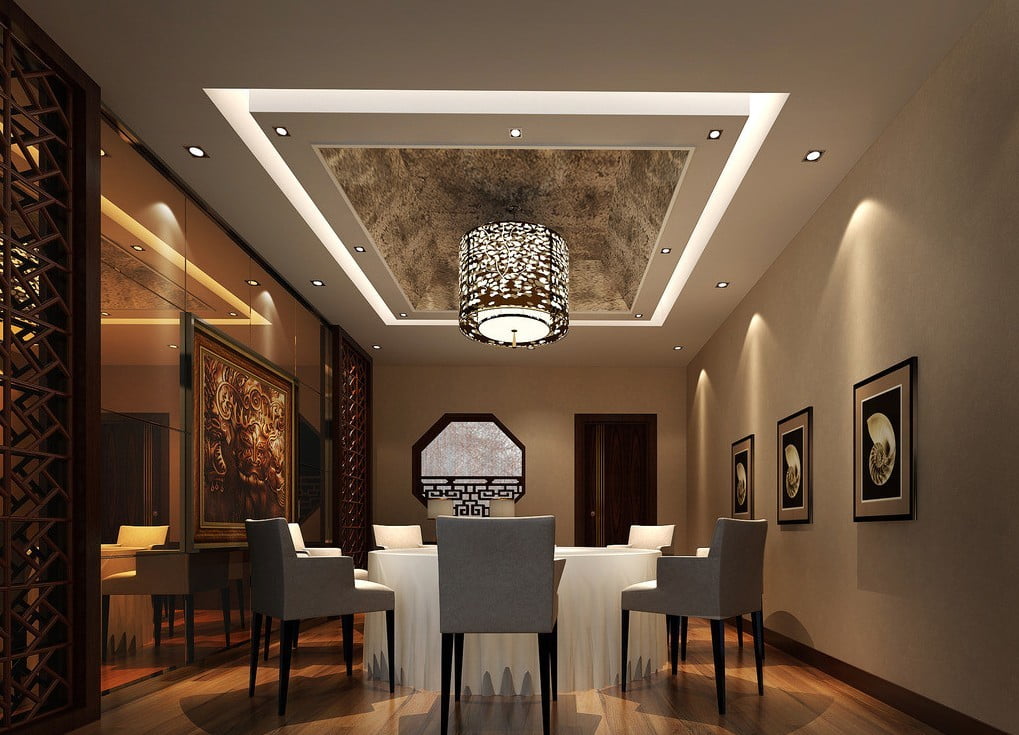 Take note from this lighting design, the main light is located in the center of the room, and a few recessed lights supplement it to make an accent on the walls.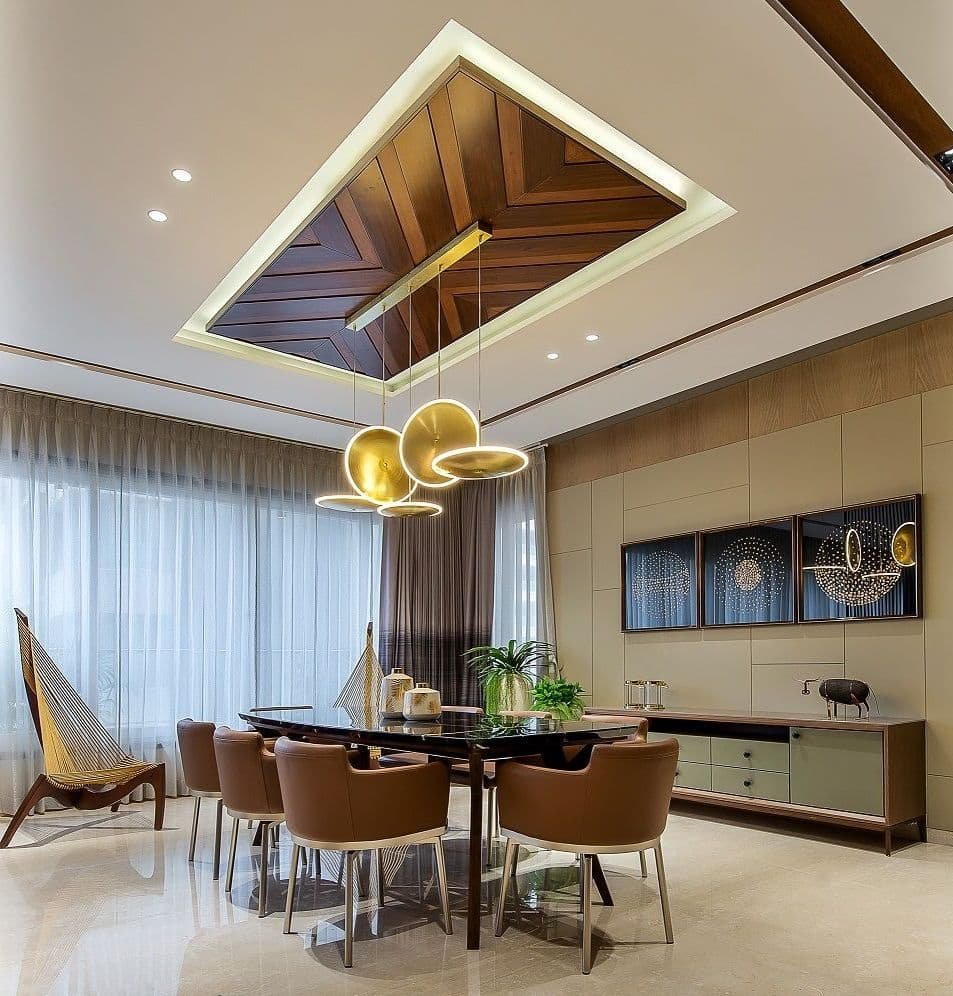 As everyone knows that LED strips are a popular way to light spaces, so here the lamp consists of five round objects which have LEDs along the edges.
This is a very interesting ceiling light design. The cut-out holes with hidden LED strips produce beautiful warm light. As the result, diffused lighting envelops the entire room.
For this dining hall, a low hanging big lamp is used, and the ceiling is made from the colored glass. There's hidden soft light which helps to illuminate the room evenly. The addition of scone lights will work even better for large spaces.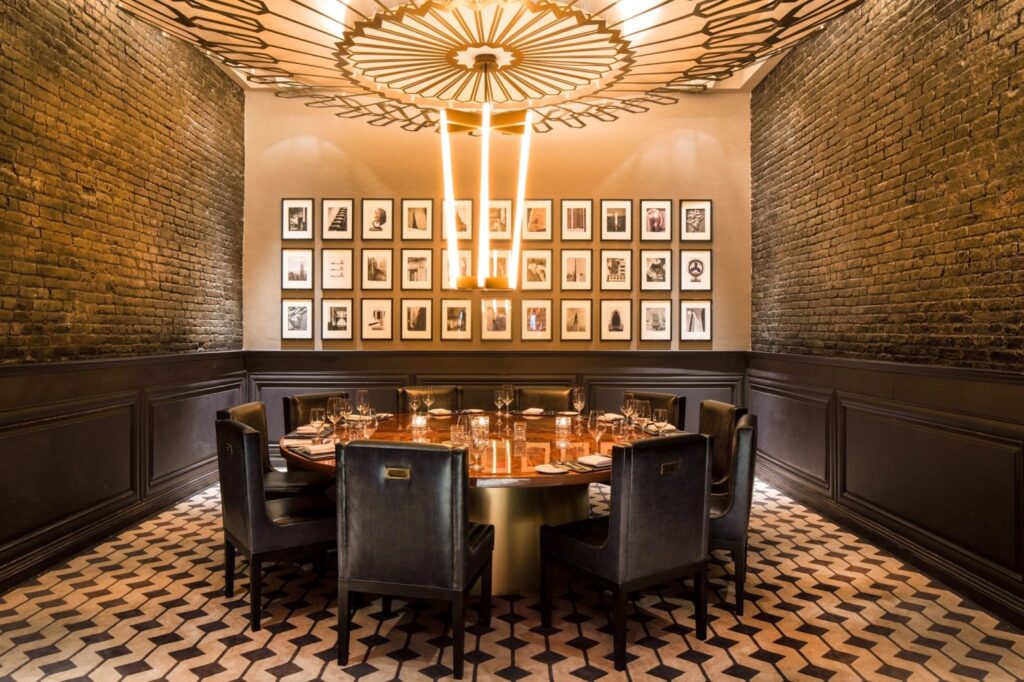 You can use extended lamps to visually connect the ceiling and the rest of the room, ensuring that high ceilings do not detract from the overall picture of the dining area.
28. Twin Recessed Downlight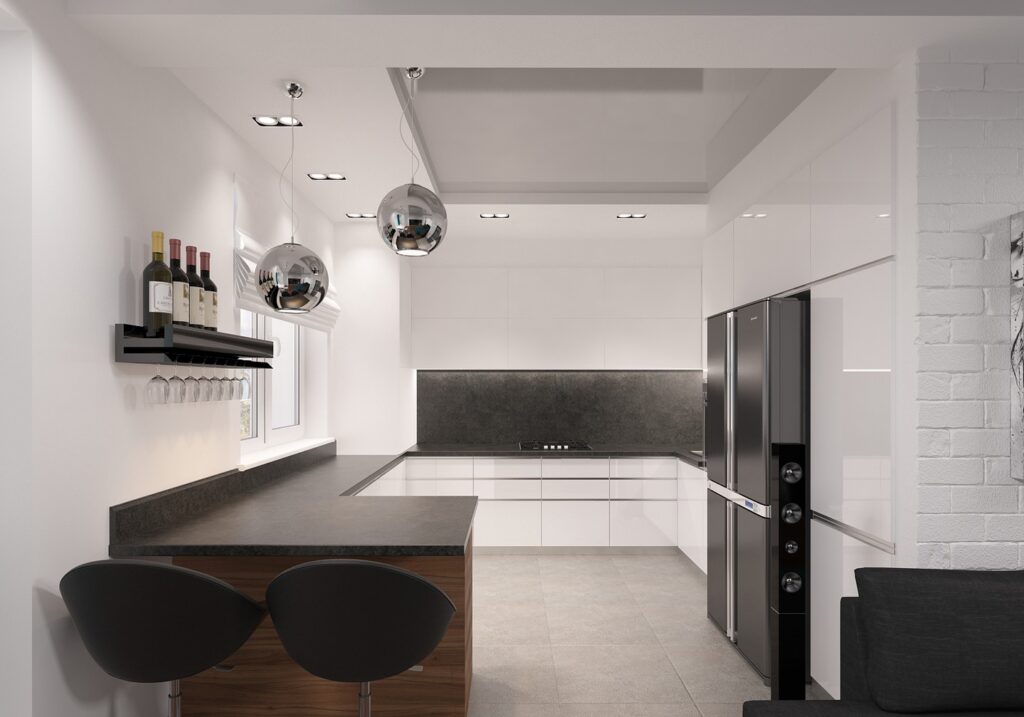 If you have a slightly curved or angular kitchen, it will be great to use twin recessed downlights along the kitchen bend. Some deep twin recessed lights are moveable, so you can turn them facing the walls or the corridor.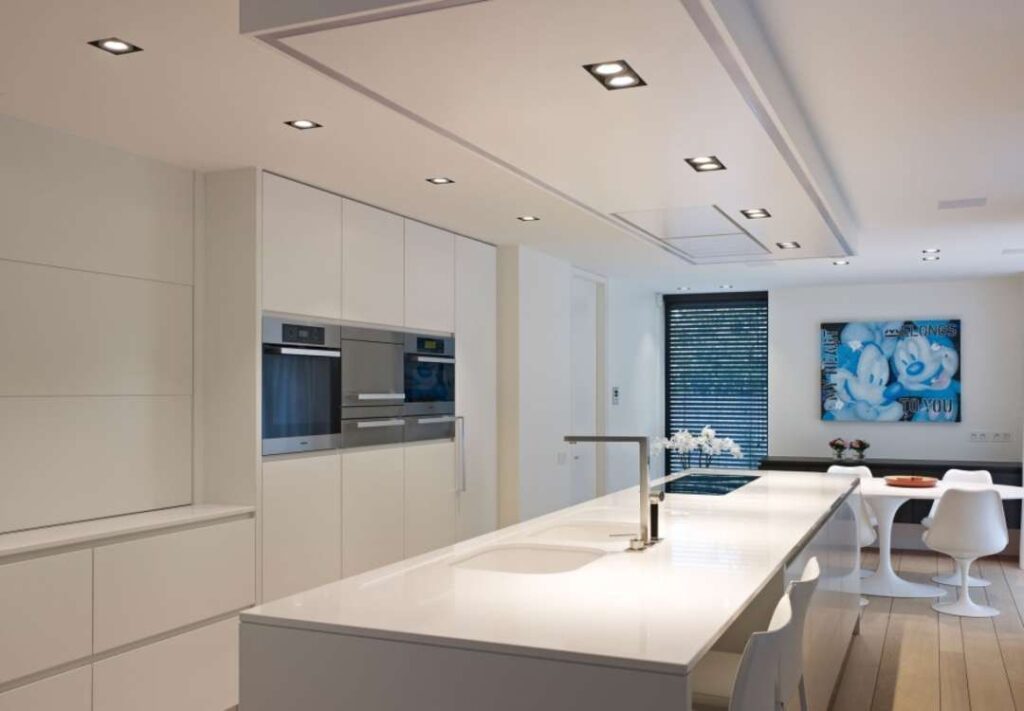 Do you want a simple and minimal art design in your kitchen? Using twin recessed downlight can help you to achieve that because they are not so visible and provide good ambient illumination.
29. Recessed Mounted Downlight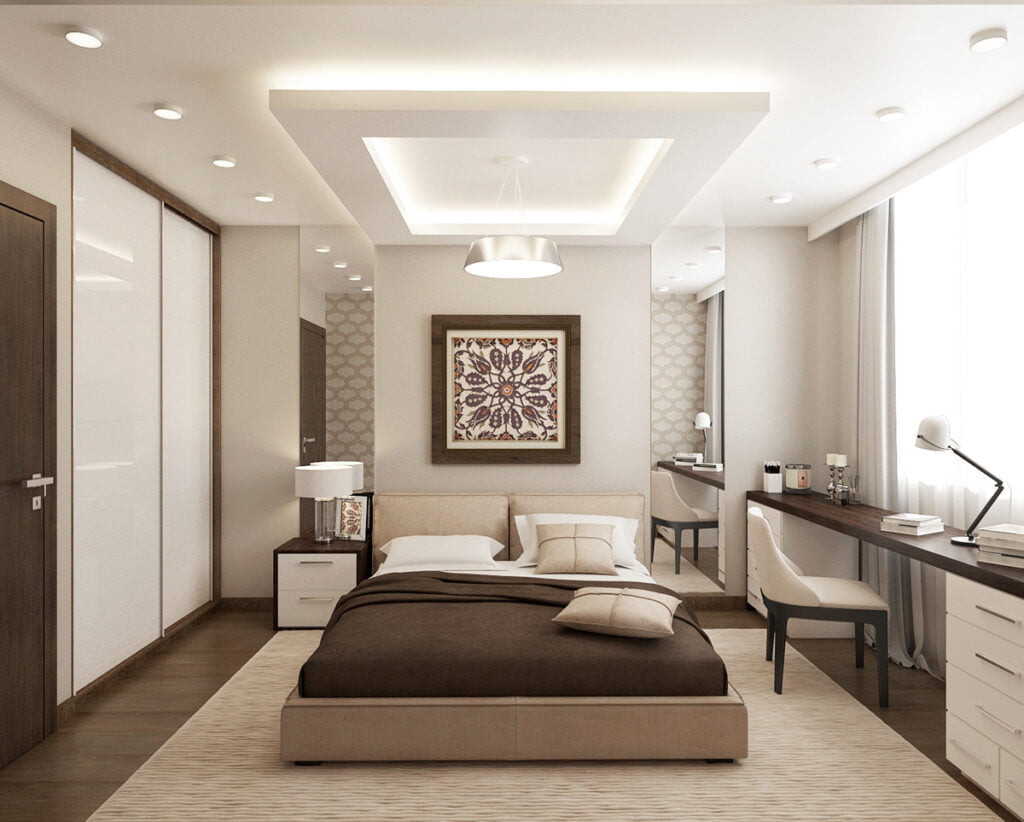 The recessed mounted lights are a perfect complement for the quiet atmosphere of the bedroom, as they don't draw a lot of attention to themselves.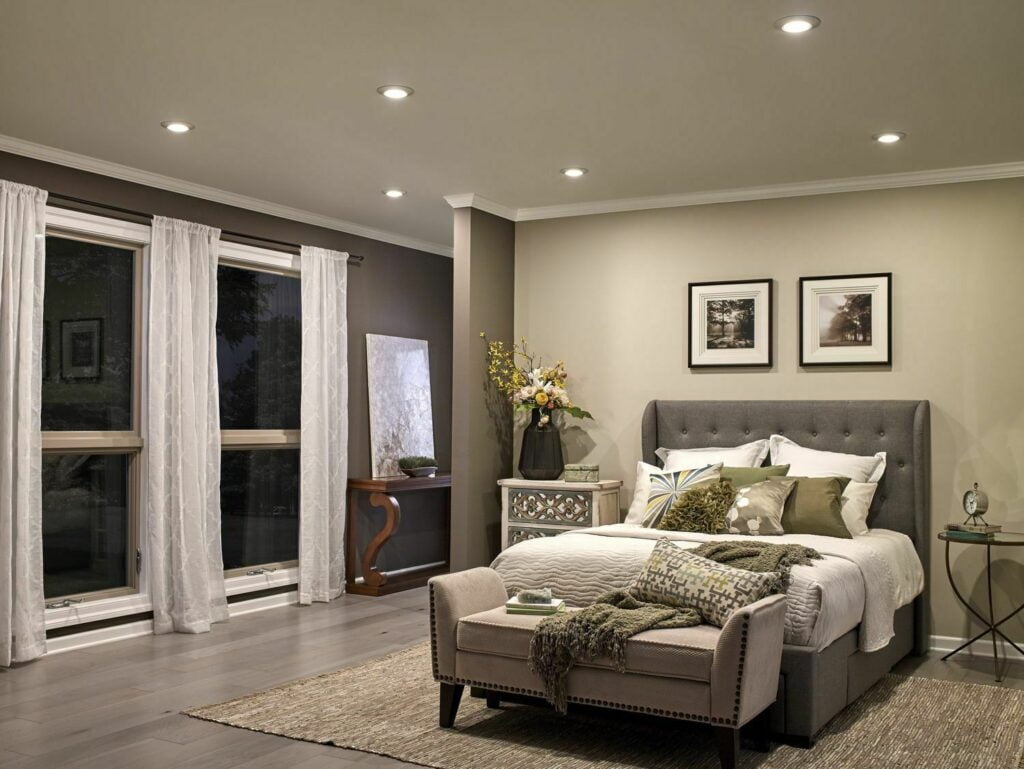 If you don't like the look of enormous hanging lights or don't want to clutter up your bedside table with table night lamps, then these recessed ceiling lamps are exactly for you.
30. Deep Recessed Downlight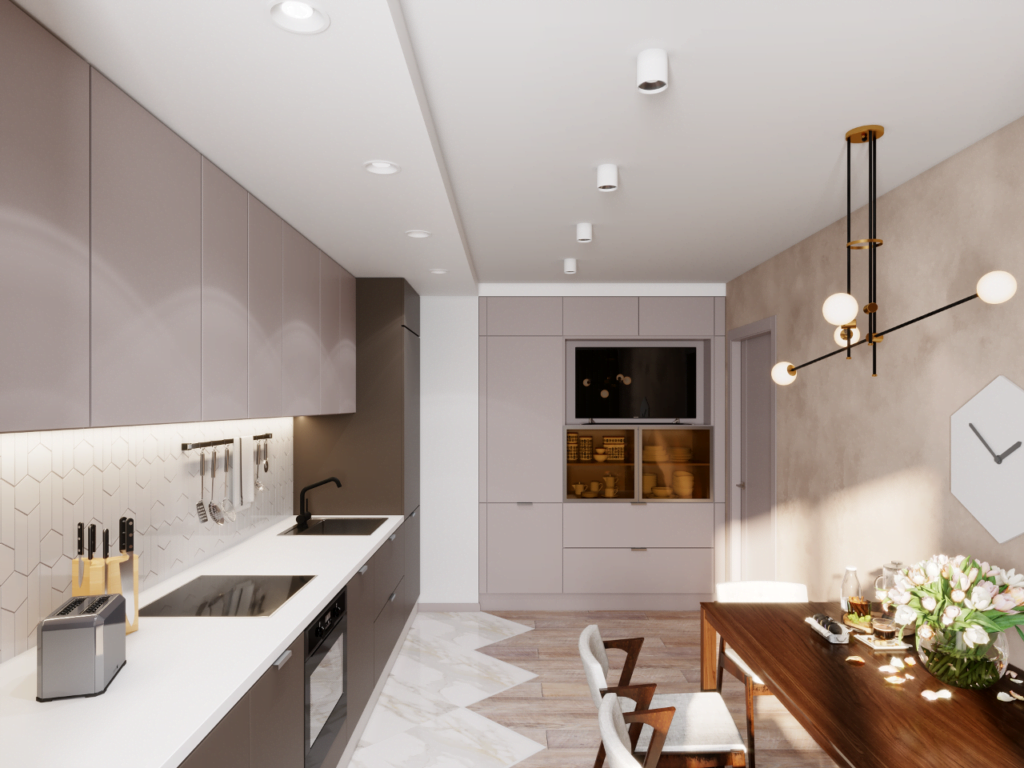 Every housewife dreams of a spacious kitchen where you can relax and cook delicious dishes to your heart's content. Accordingly, you should choose lamps that take up a minimum of space. Deep recessed downlight is what you need.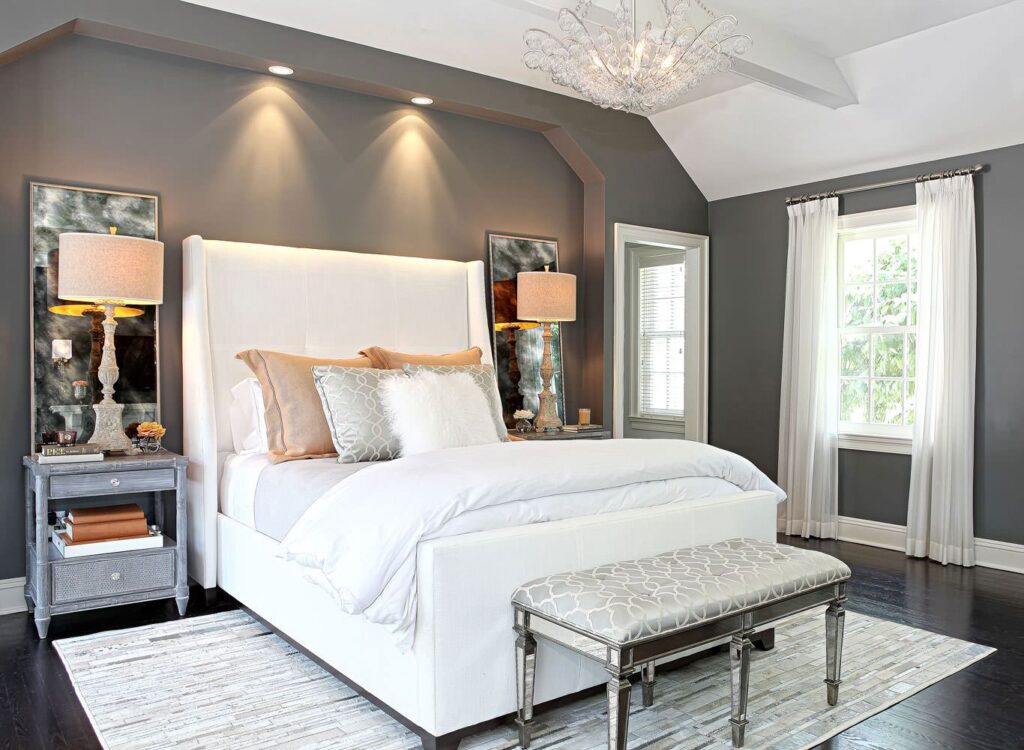 In this bedroom, two main colors fighting for your attention, and designers emphasized the dark wall with recessed light to make the wall more noticeable.
31. Recessed Garden Wall Lights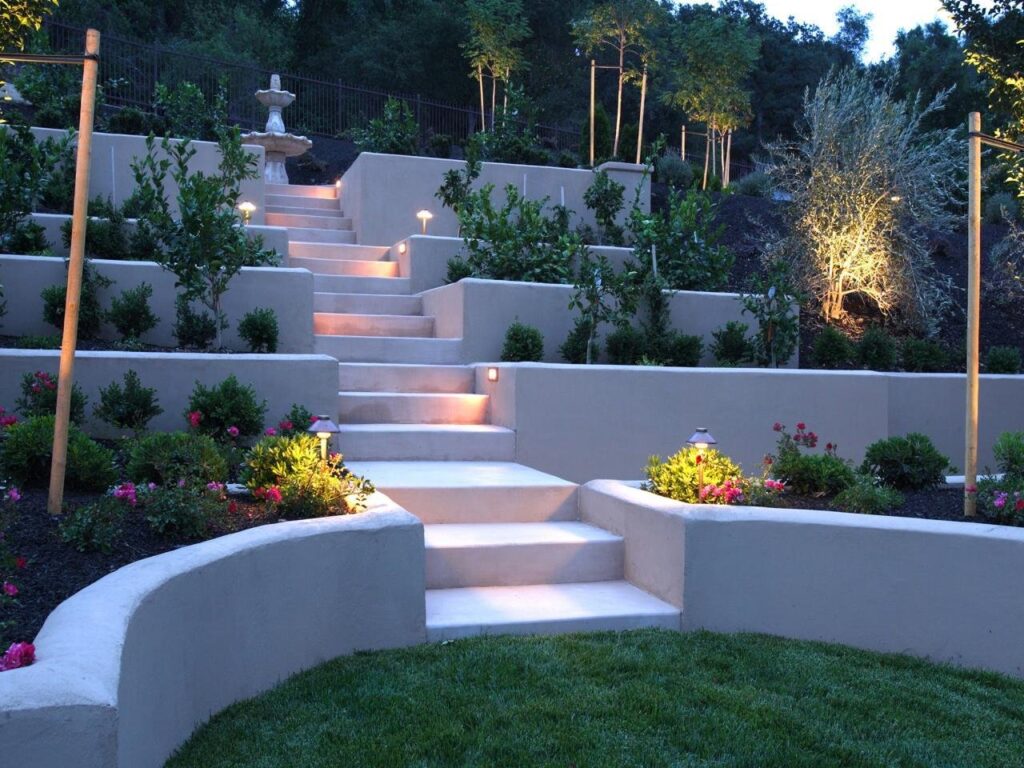 On a warm evening, take a stroll through the garden, listen to the wind, and dream. However, because it is dark in the evening and some lighting is required, the recessed bulbs into the wall will softly illuminate your garden route.
The exposed brick walls and recessed wall lights in your garden can emphasize trees or bushes.
32. Back Garden Lighting Ideas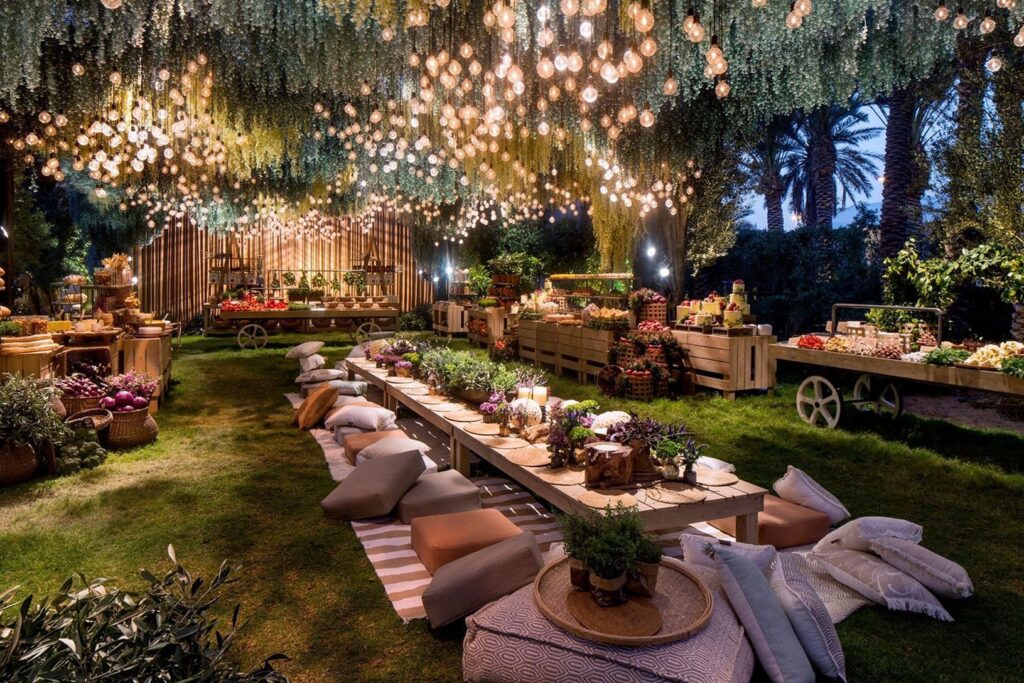 A back garden is the most comfortable place to spend holidays with your close ones. Therefore, it's important to choose the right lighting, not too dark and not too bright, it should be pleasant to the eyes. This huge amount of small pendant bulbs looks fairy and fantastic.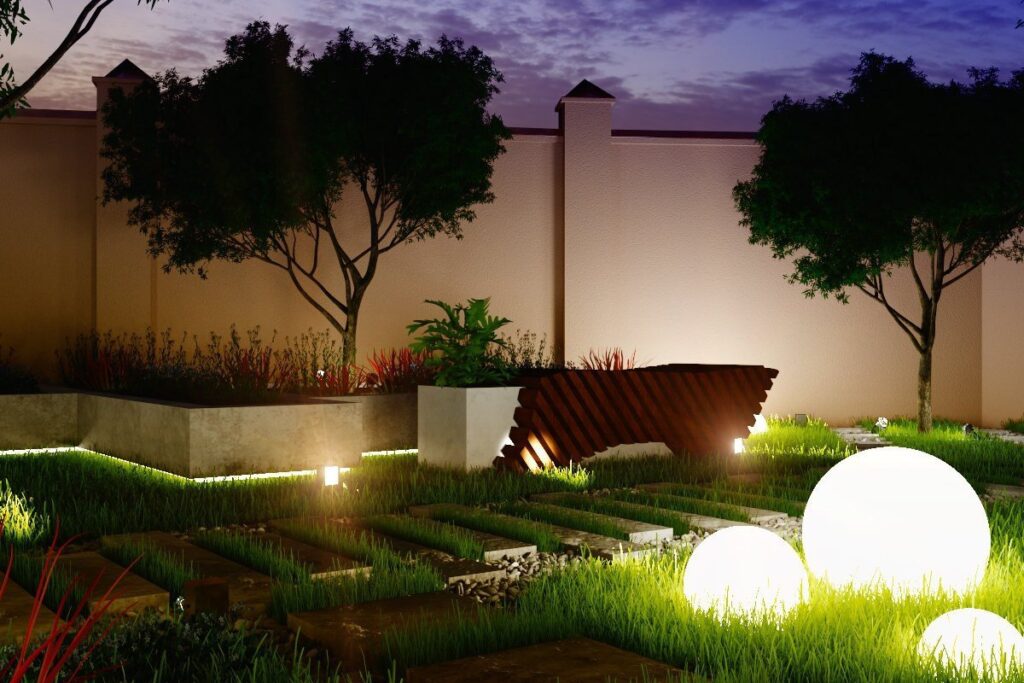 As seen in this quiet back garden, the lighting is presented in the form of round balls located directly on the lawn. In fact, it looks breathtaking.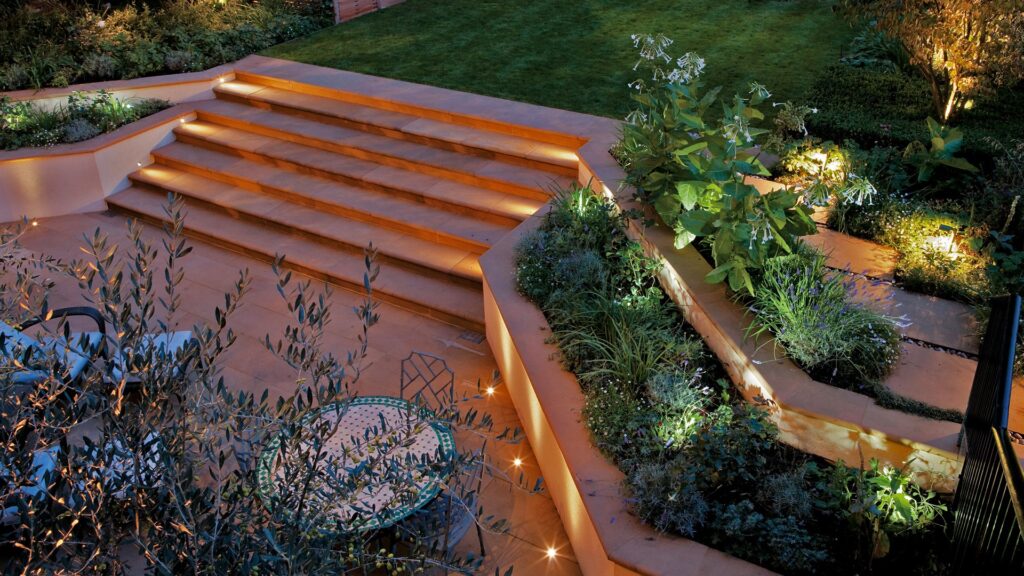 The recessed outdoor stairs lighting is a modern way to add light to the back garden.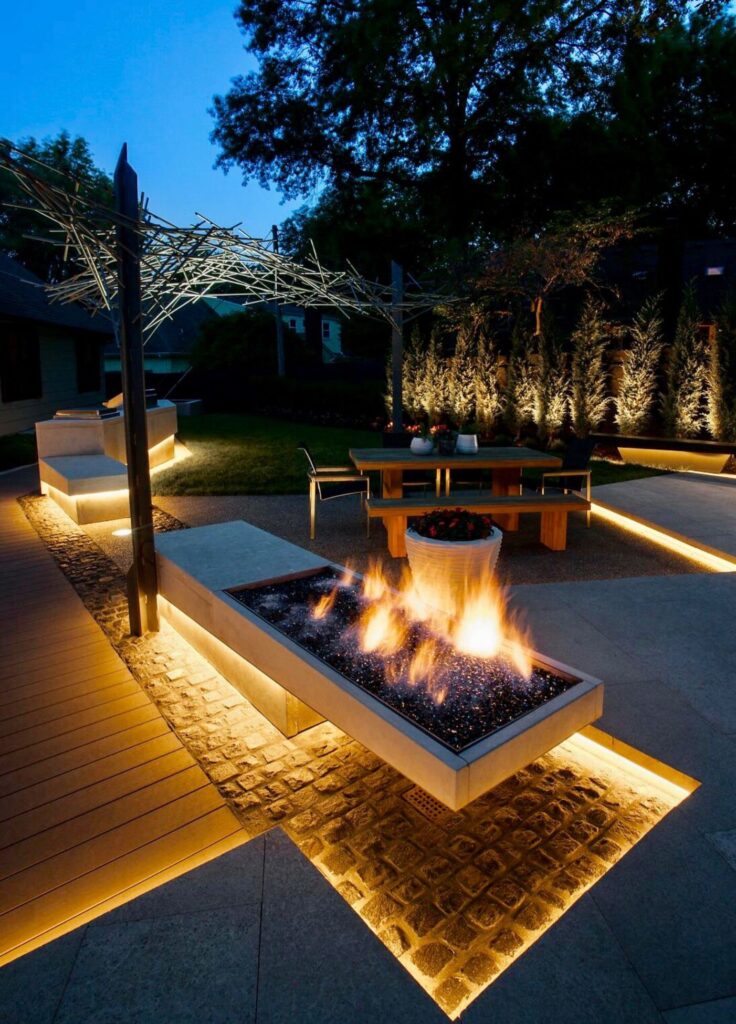 Have an enjoyable evening with your friends in the beautiful back garden, which is full of warm LED lights mounted under special floor panels.
33. Terrace Light Decoration Ideas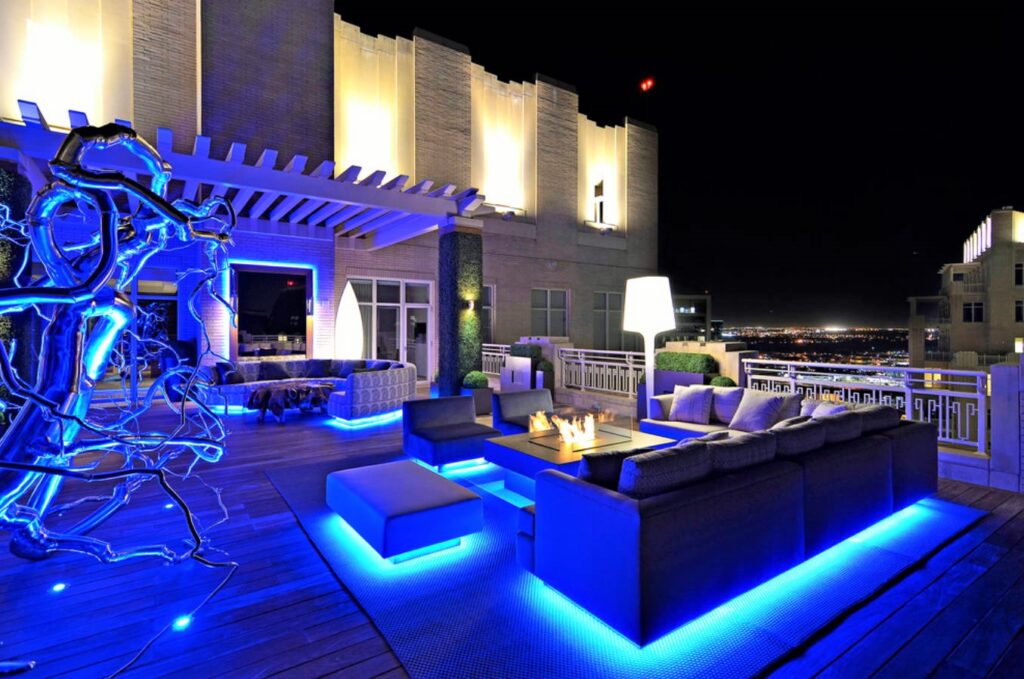 Instead of the usual bright yellow light, experiment with cool blue neon LED lighting. If you're in the mood for a party, this will help you to create fun atmosphere.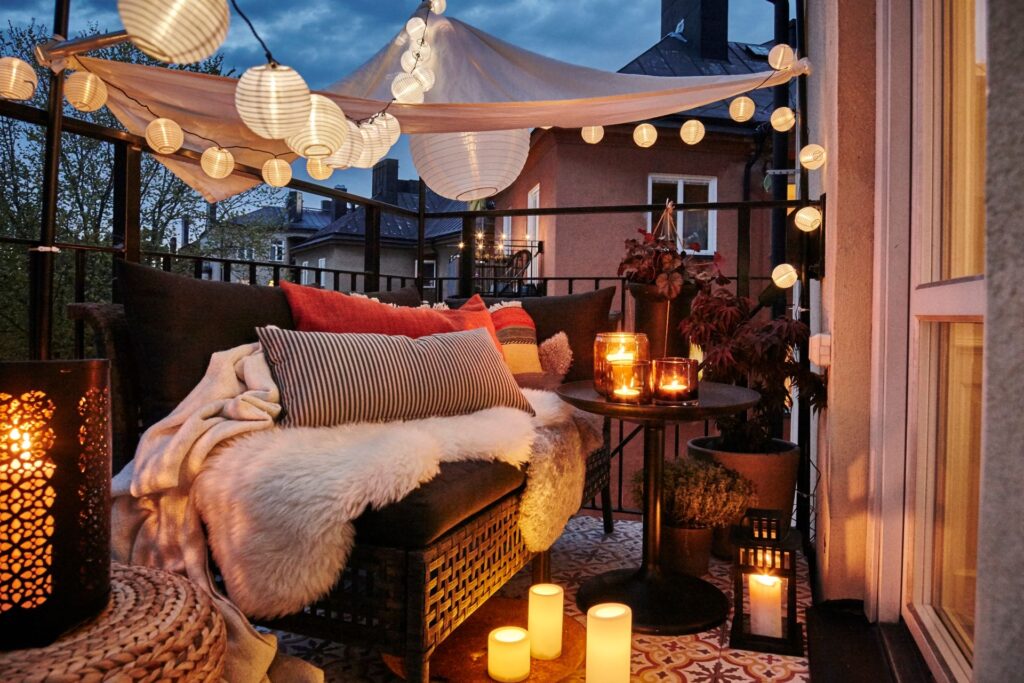 If you prefer a calm and relax atmosphere on your home terrace, then consider the lighting chain with pleasantly diffused lanterns. In addition, a few candles on the floor and table can add more comfortable feelings.
34. Orangery Lighting Ideas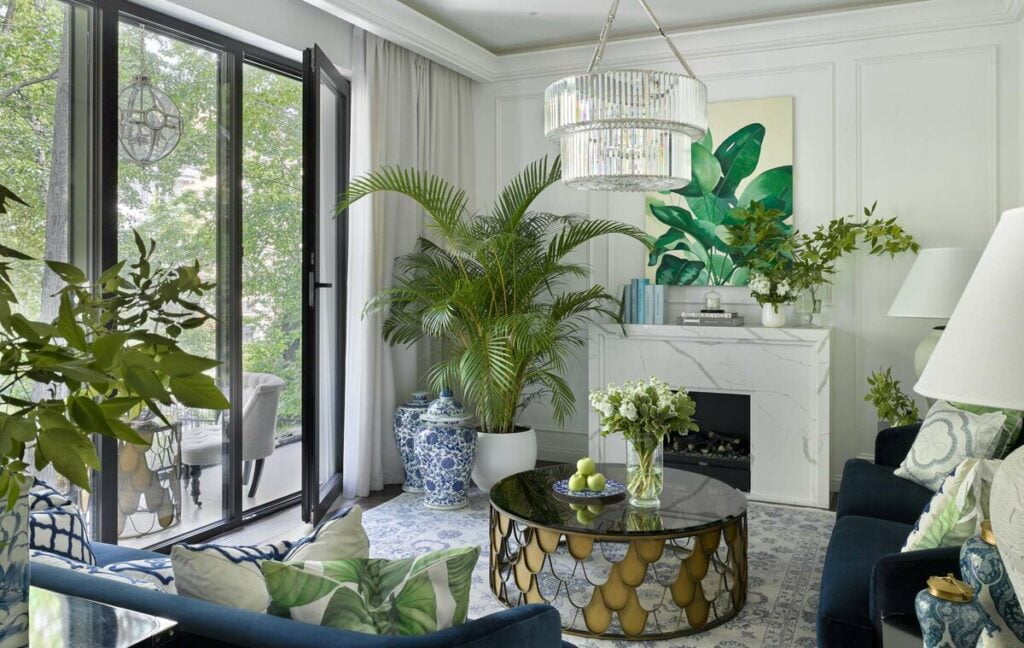 An orangery is a place where you can have a rest after a hard and long day. Right above the coffee table is a big pendant lamp and on the right side of the table two nice table lamps.
The rustic style pendant lamp is proudly hanging on the ceiling to make your orangery more unusual. Look to the right, there's a floor lamp with a wooden base, which adds romantic notes to the room.
35. External Bollard Lights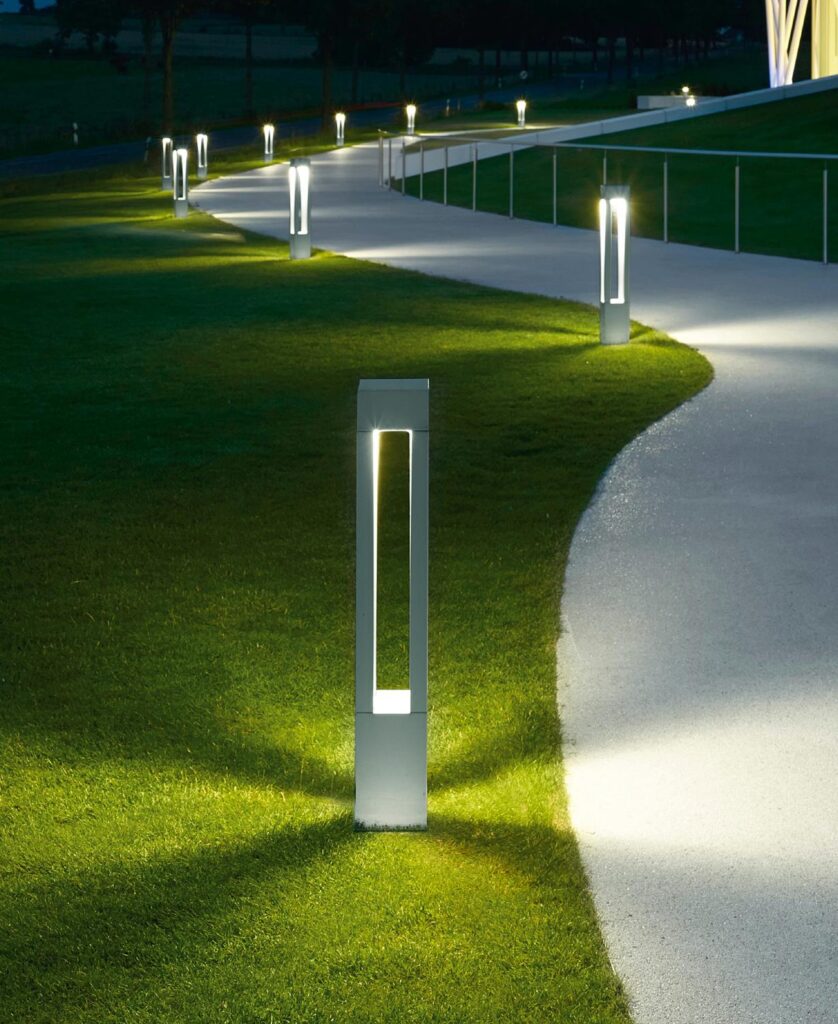 What types of lighting can be for adorning the path leading to the front door? For example, you can pick up external bollard lights to beautify the path with modern outdoor lighting.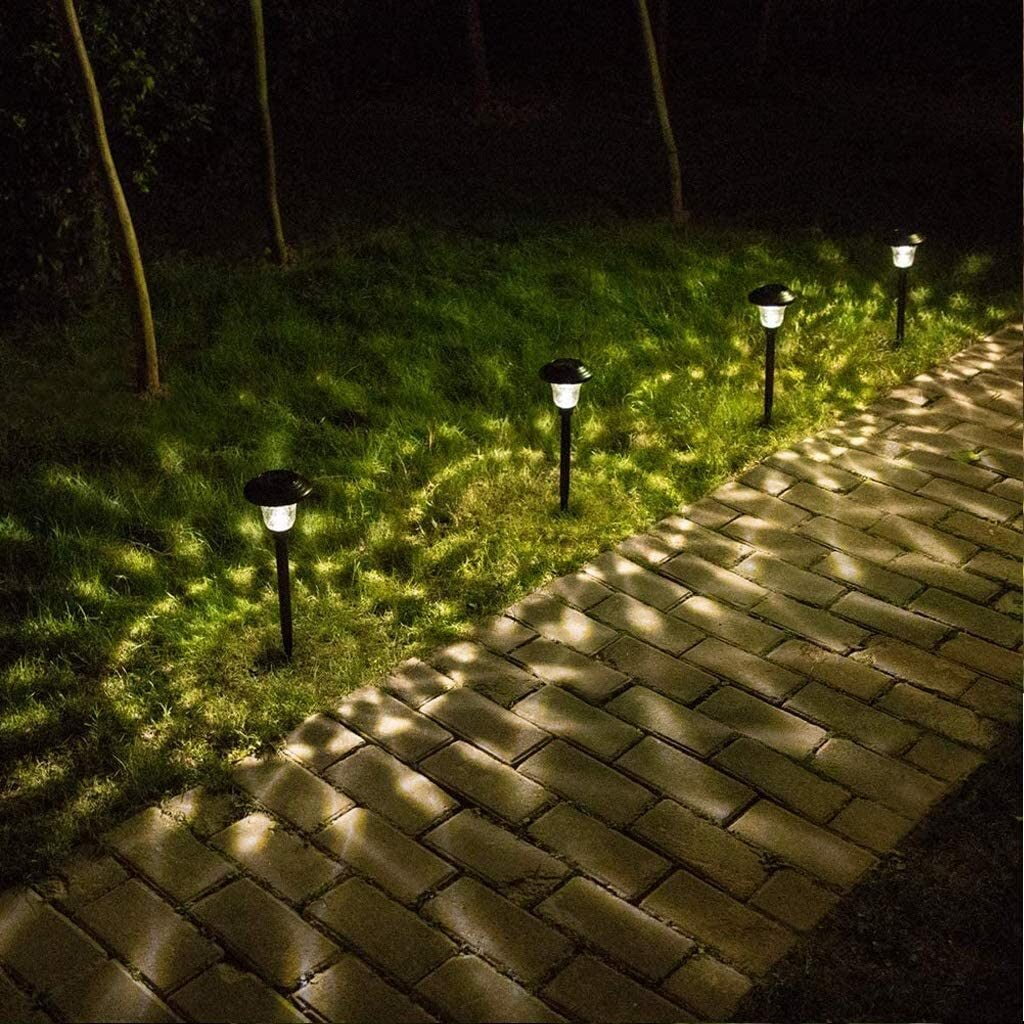 Pay attention to these bollard lights, they project patterns to the surrounding ground. It's adorable.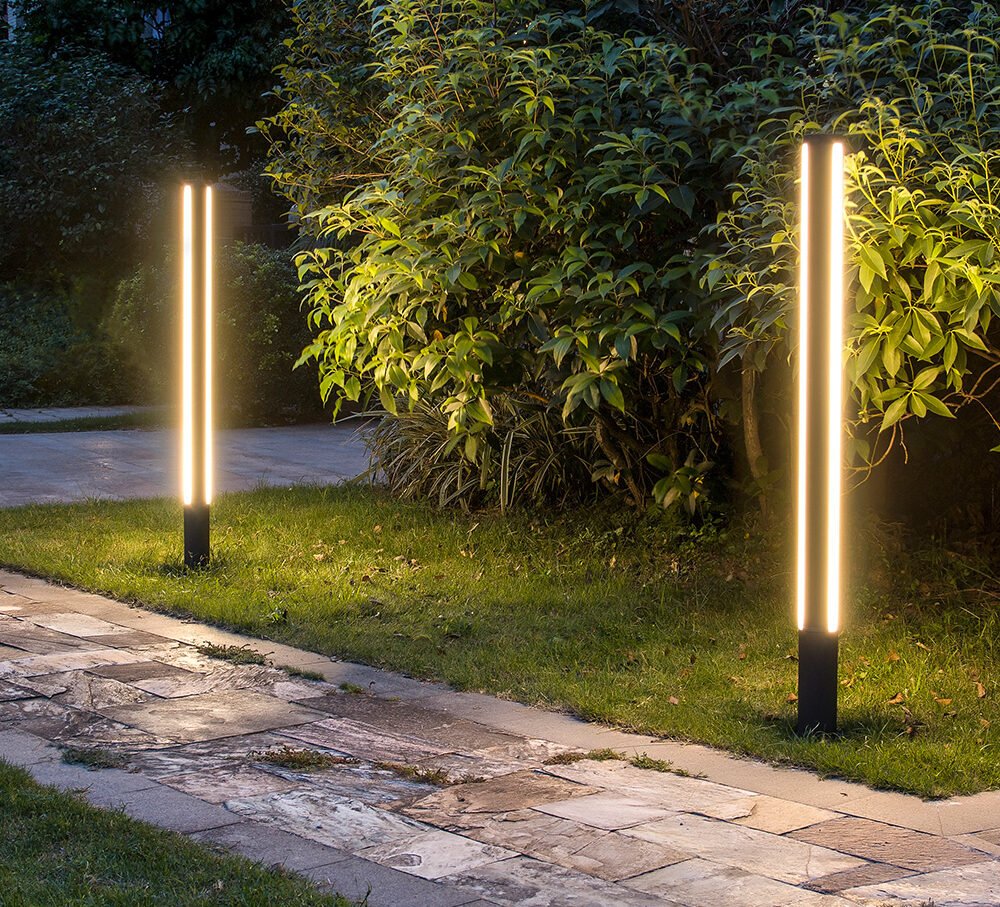 If you want a lot of streetlights near your garden paths, well, you can choose external bollard lights with long LED strips.
36. Stainless Steel LED Bollards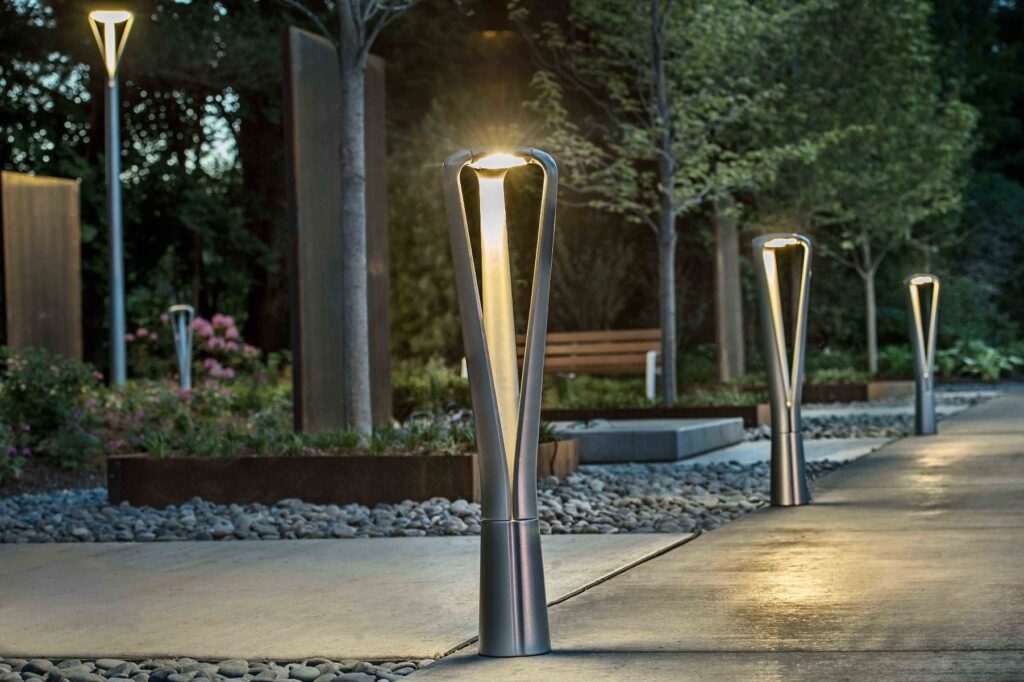 Cosmic stainless steel LED bollards create a unique charm of the design on the street. These bollards have three elegant curved lines creating the feeling of extraordinaire.
With such stainless LED bollard light, you will definitely get into modern trends of lighting. The bollard is made in flower form with a fiery core of the plant. Furthermore, such lighting works from the solar panel.
37. Facade Lighting Ideas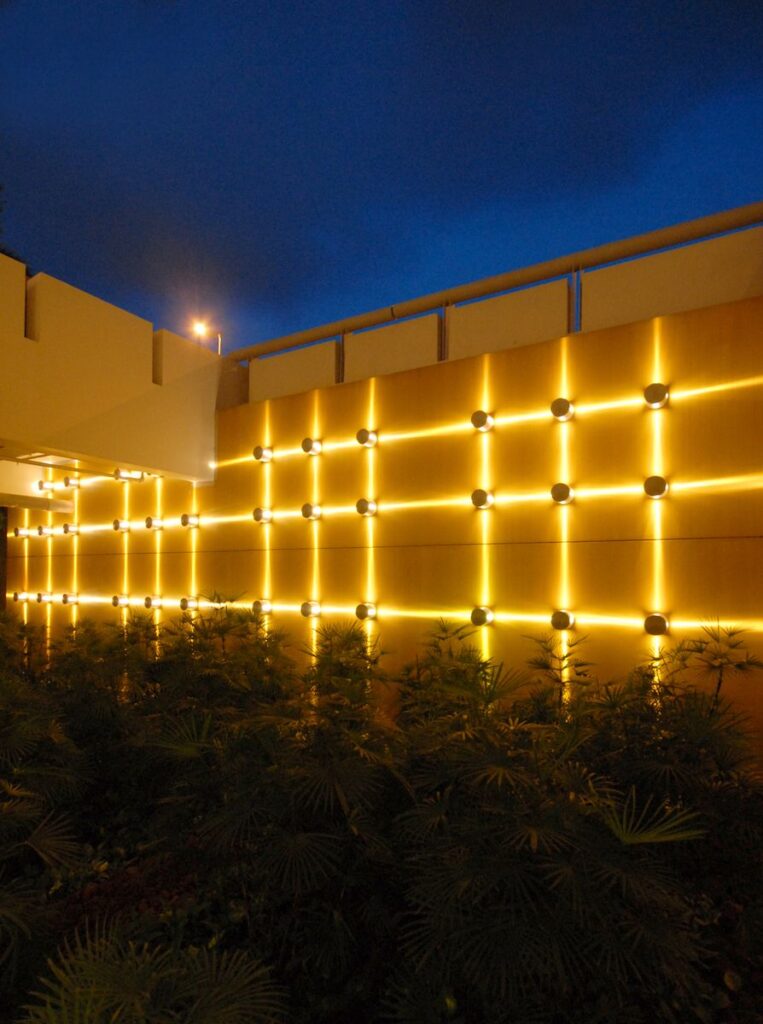 In this case, we see the lighting of special lamps, they're directing their yellow light to the wall, creating a mesh that decorates the facade.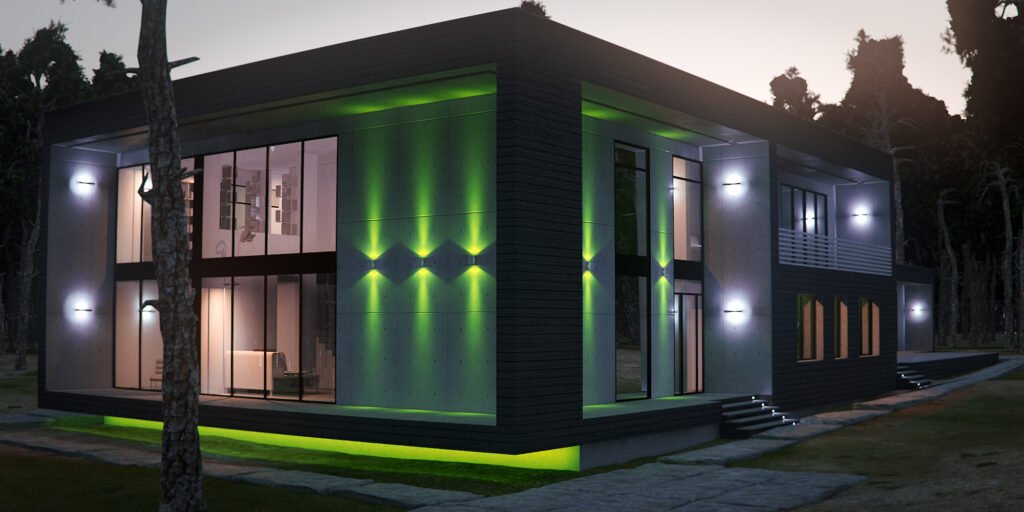 Here are wall light lamps, which create a green light pattern to the entire length of the facade wall. In addition, there's a green LED under the facade that adds more street lighting.
Use popular Christmas lighting along the upper line of the facade. As the result, you'll get a wonderful decorative line like snow effect.
38. Marquee Lighting Ideas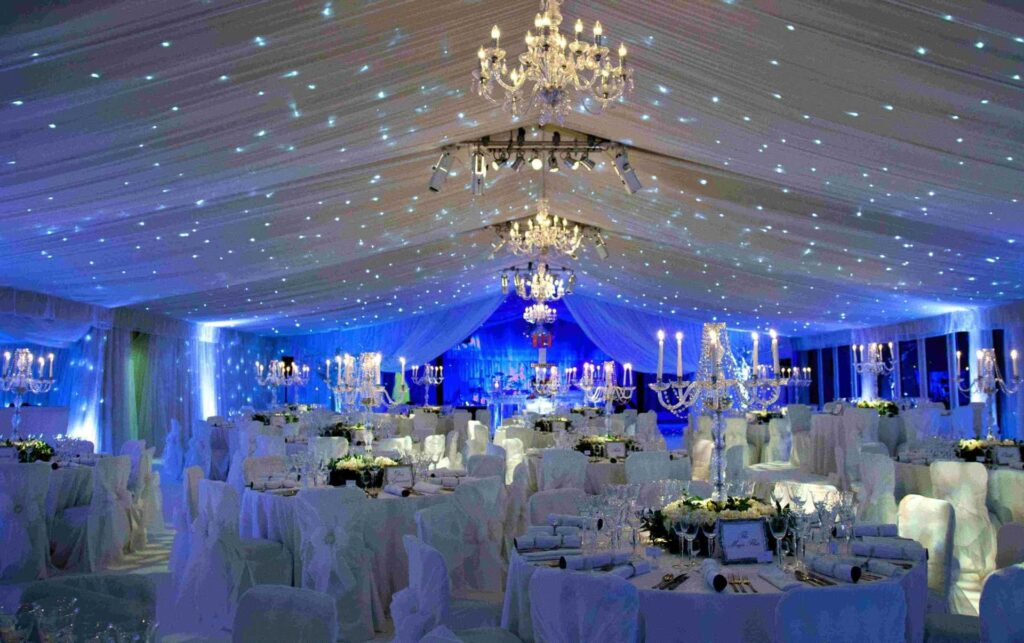 When your long-expected wedding comes, it's natural to amaze your guests with luxury marquee lighting. These big pendant retro-style lamps give you romantic feelings.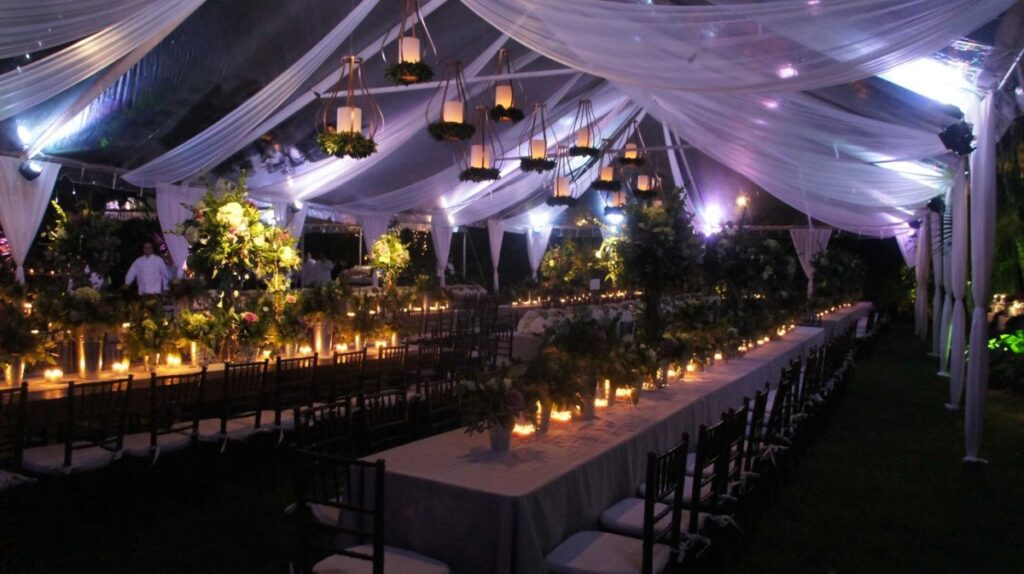 Look at this fantastic marquee lighting idea, the candles seem floating in the air. On both sides of the marquee, they're supplementing by track lighting.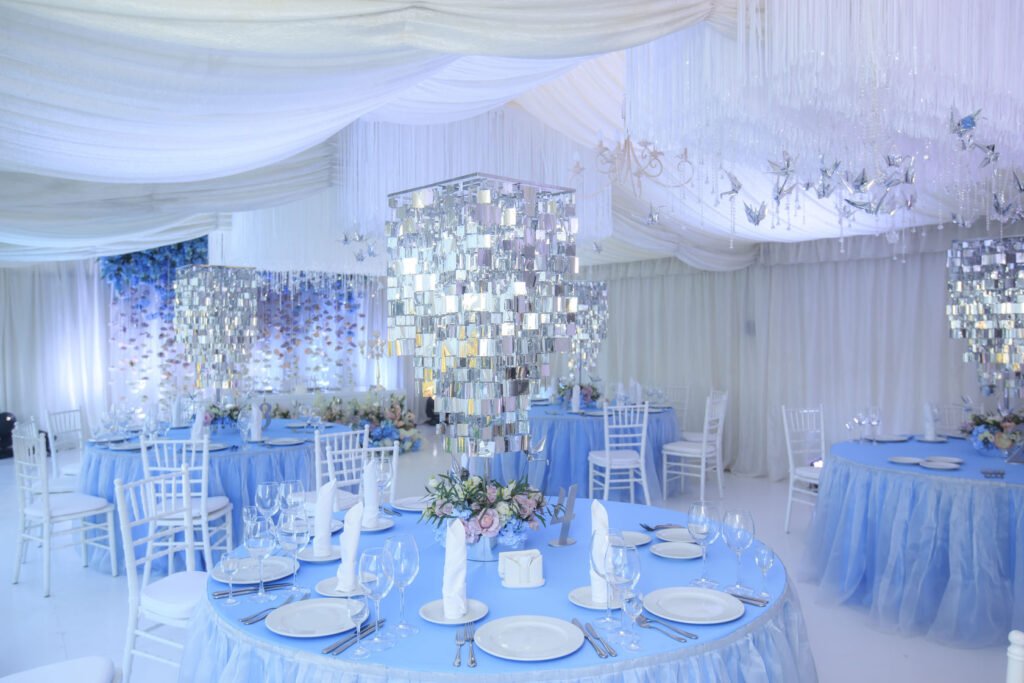 Instead of big main lighting in the center of the marquee, consider using gorgeous lamps under each guest table. Small crystals on the lamp reflect the light, creating a shine all over the marquee.
39. Icicle Light Ideas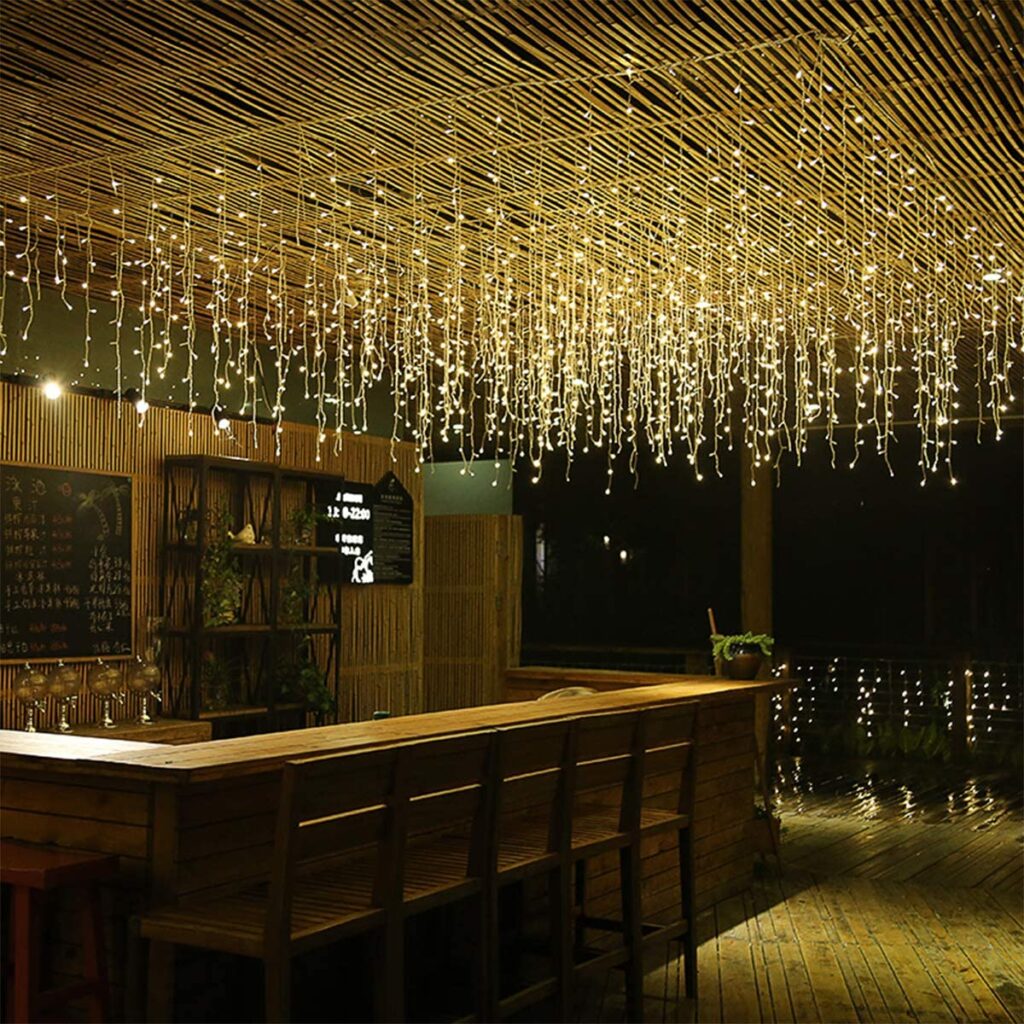 The icicle lights, which look like wild lianas hanging down with many bright fireflies. Due to such lighting, there is an atmosphere of relaxation and ease here.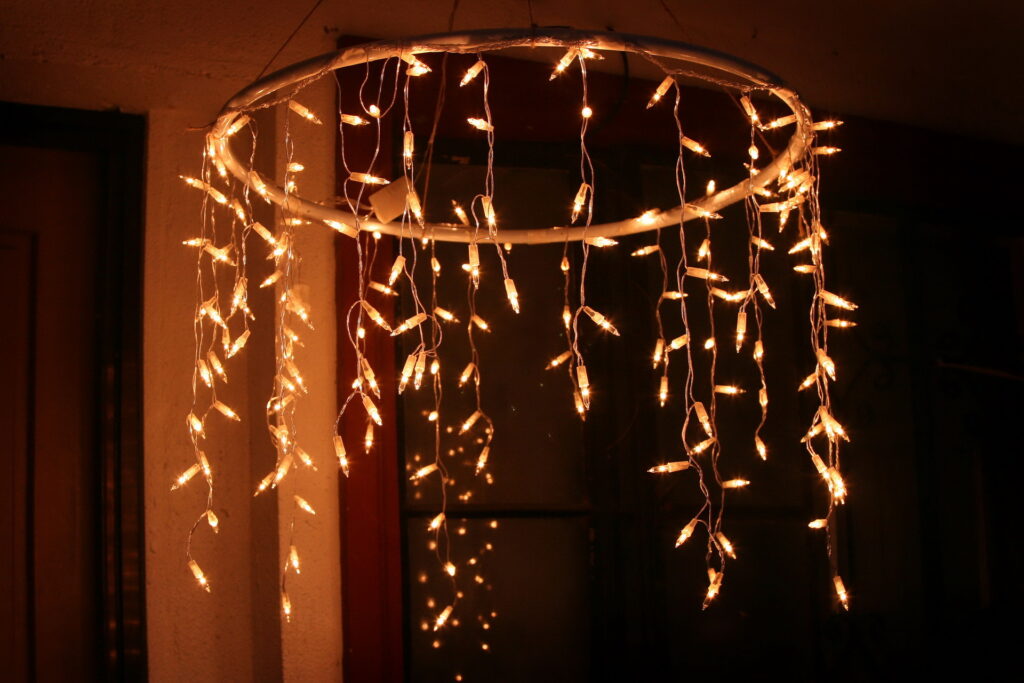 If you are a fan of handmade lamps, so this beautiful circle lamp with icicle lights will definitely suit your home interior.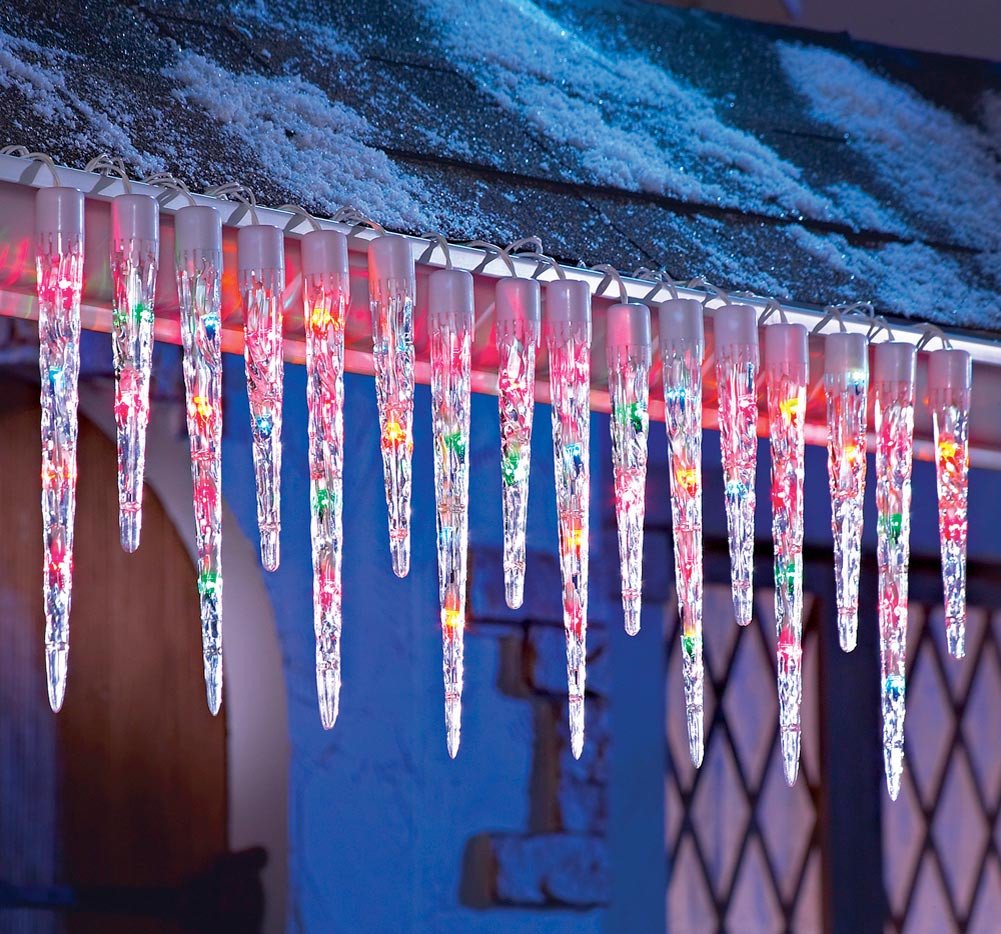 Winter – is a time to celebrate a lot of events, so decorating your home facade is an integral part of preparing for the holidays. How about these icicle forms of lights?
40. Christmas Lights Around The Door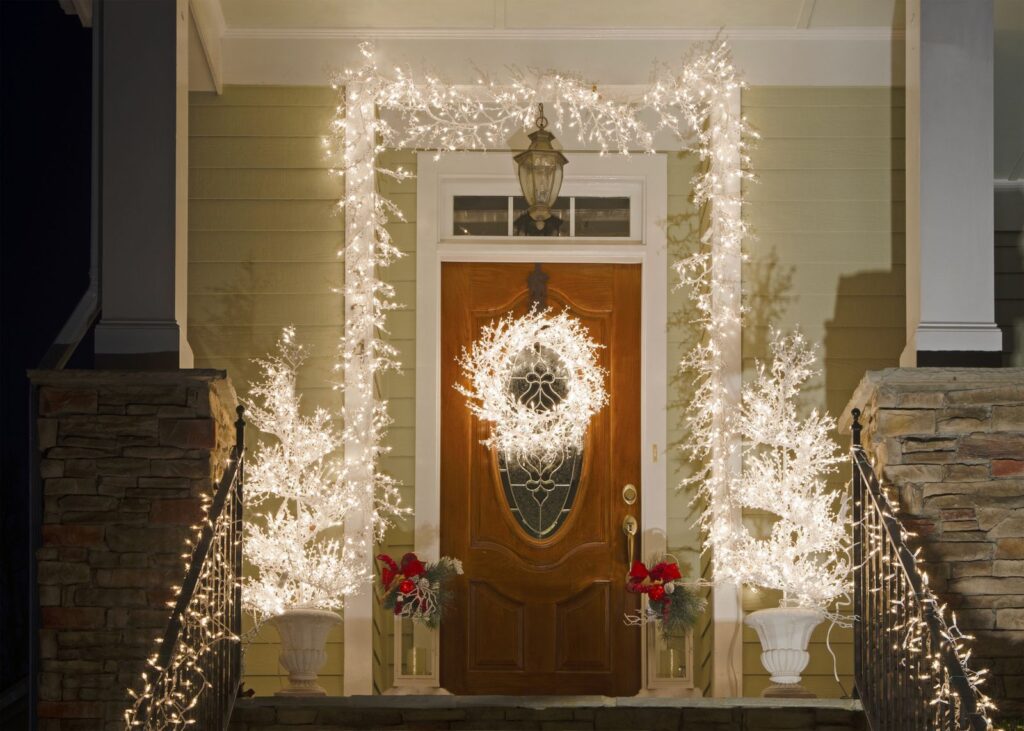 Each homeowner wants to be the best at decorating their home and show all the neighbors what beauty they made before the holidays. These creative Christmas lights are not so simple because the owner made two lovely herringbones from LED icicle lights.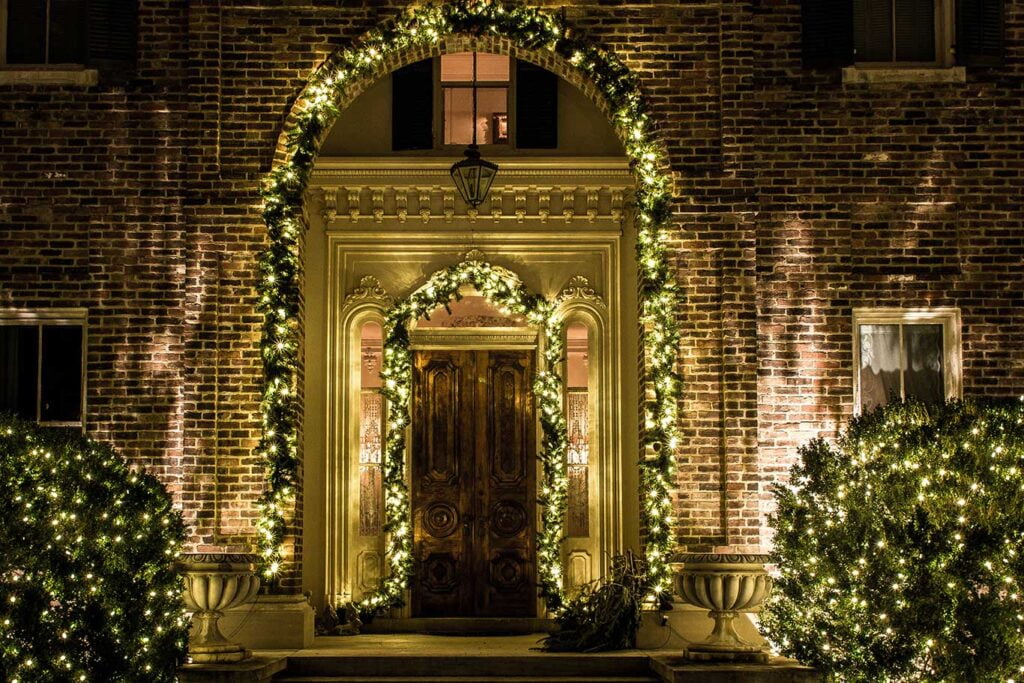 Many people decorate not only their door but its surrounded area too, for example, these bushes were being decorated with small yellow lighting.
41. Christmas Lights on Stairs Ideas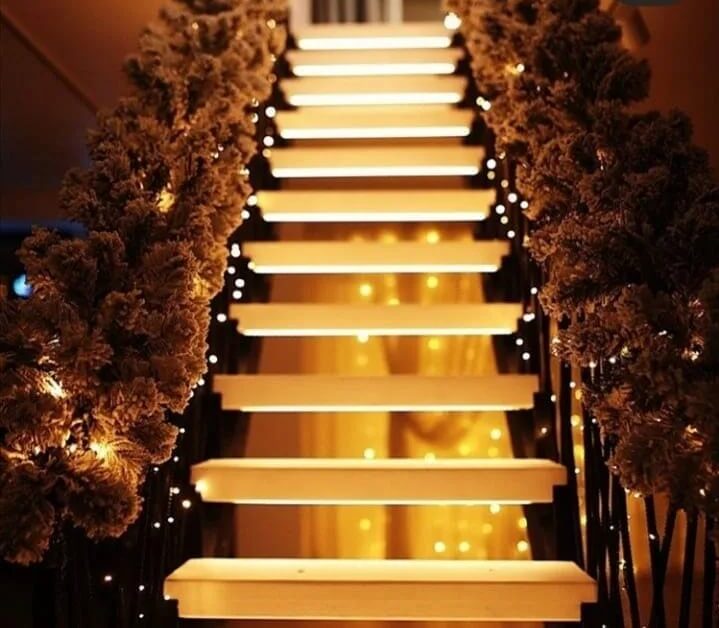 It's an out-of-the-box stair lighting idea. Natural sprigs of fur-tree wrapped with little decoration lights.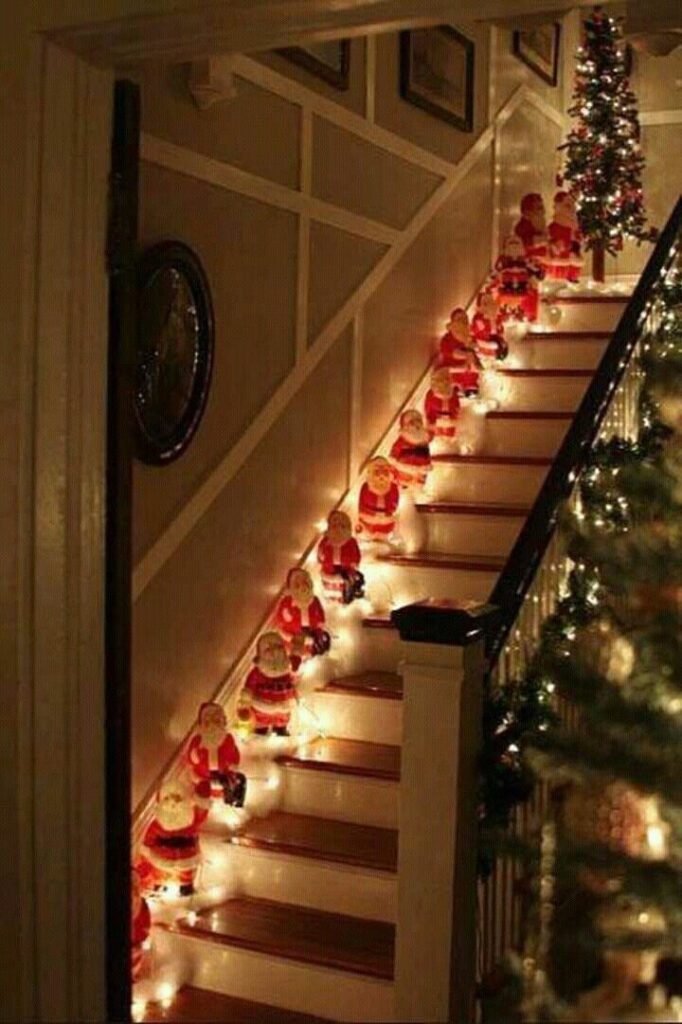 Aside from the design being funny and cute, having plenty of Santa guys and light makes the stair one-of-a-kind.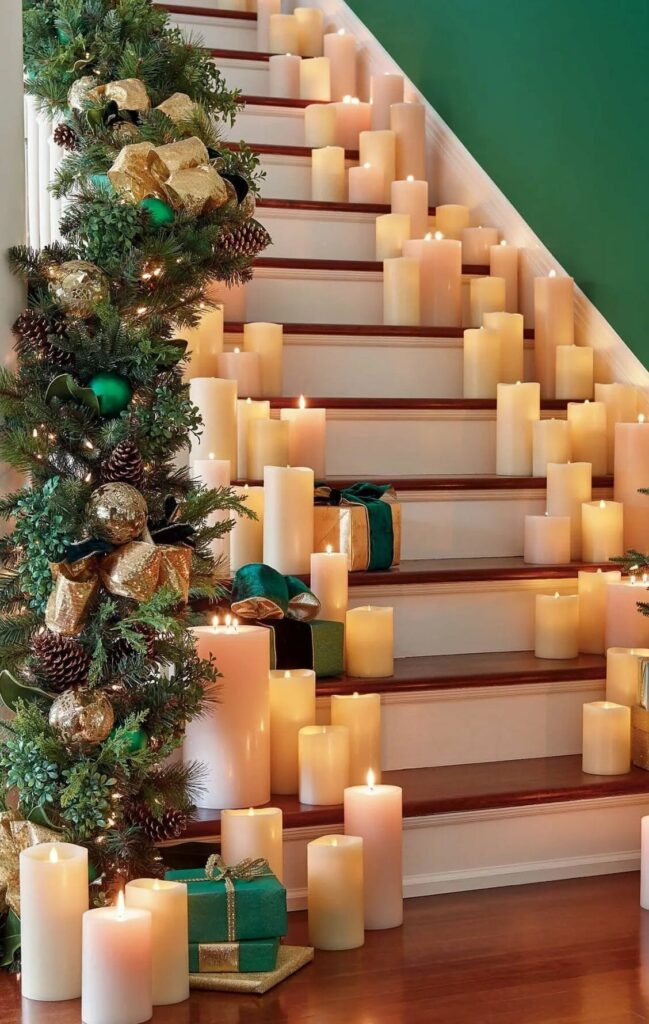 Big candles on each side of the steps are unexpected, but add a romantic touch to all stairs. A perfect idea for romantic candle lovers.
42. Stair Foot Light Design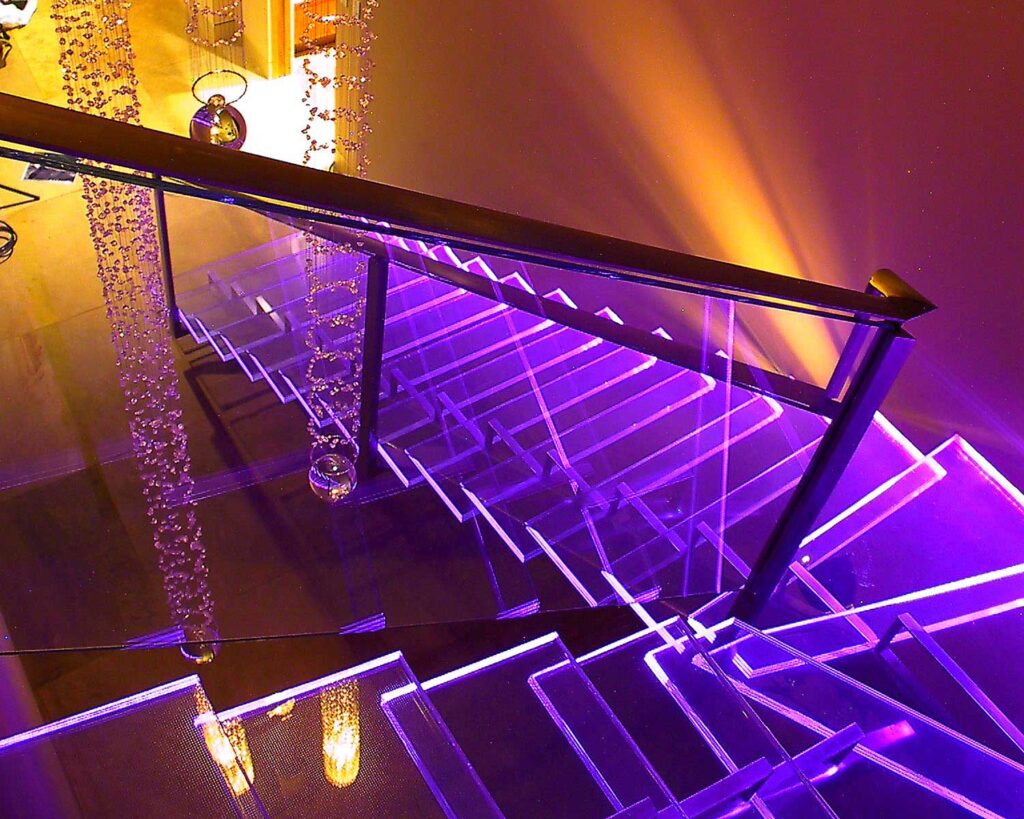 This is a fashionable stair footlight design, which will definitely pull in your attention since it has cool neon purple LED lights recessed into the wall.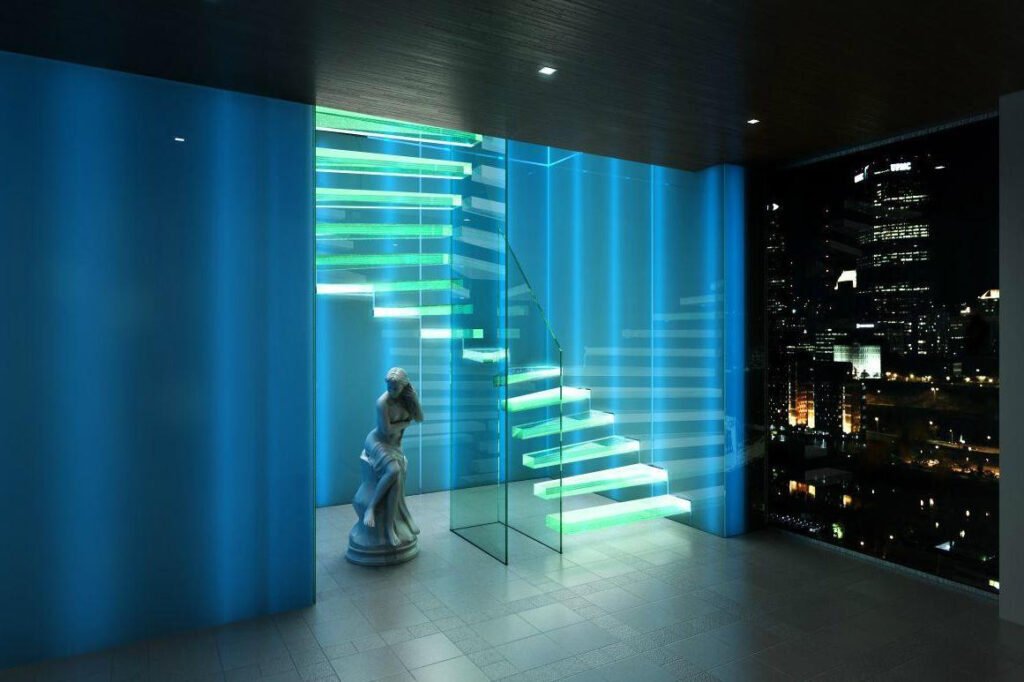 Due to stair foot's transparency, powder-blue LED light smoothly spreads on all steps.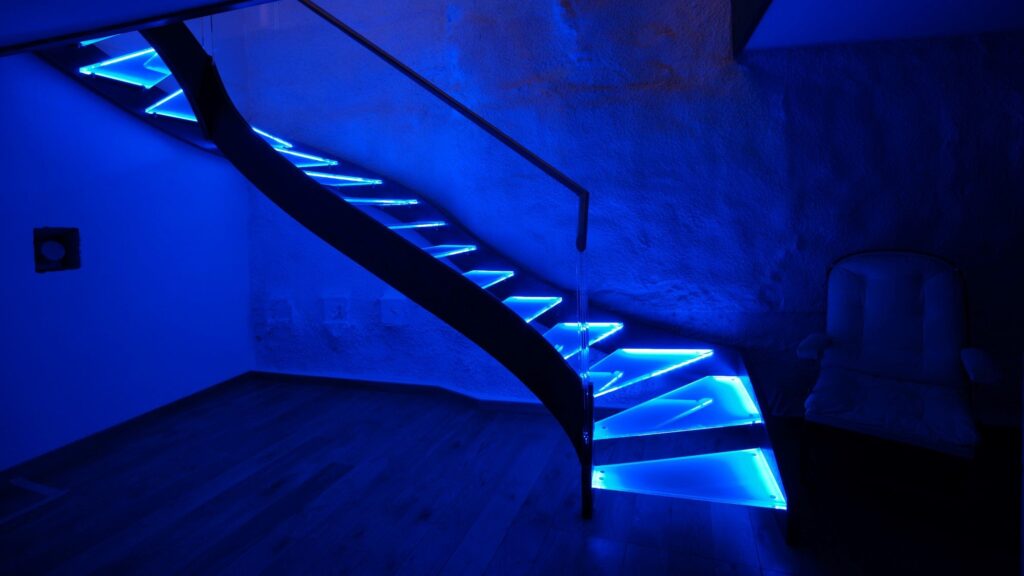 Going upstairs on this ladder will make you feel as if you're on a spaceship. This is due to the staircase's unique curved shape and brilliant neon LED light.
43. Blue LED Stair Lights
Create a starry sky stair with deep blue LED bulbs.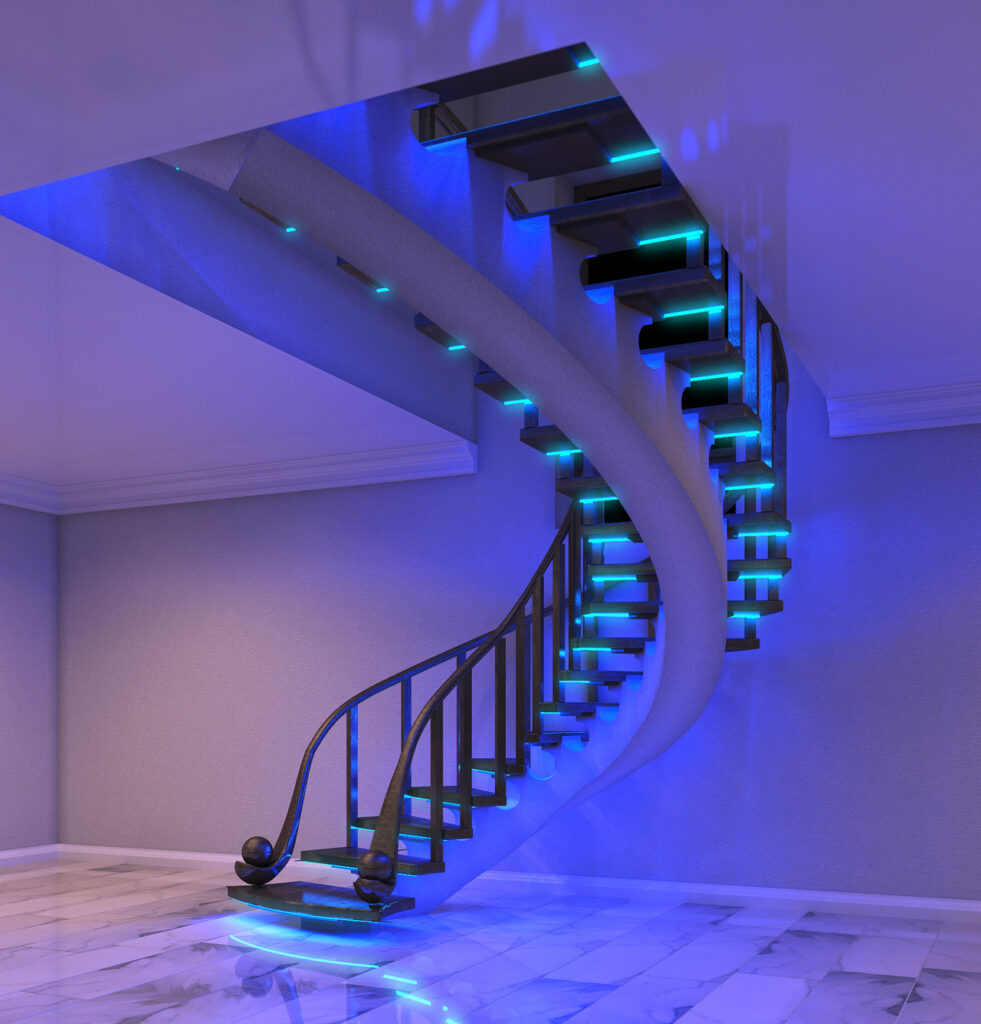 In this lighting variant, the LED line is glued along stair footstep edges. You can use such technique as a decorative nightlight, plus it looks very stylish.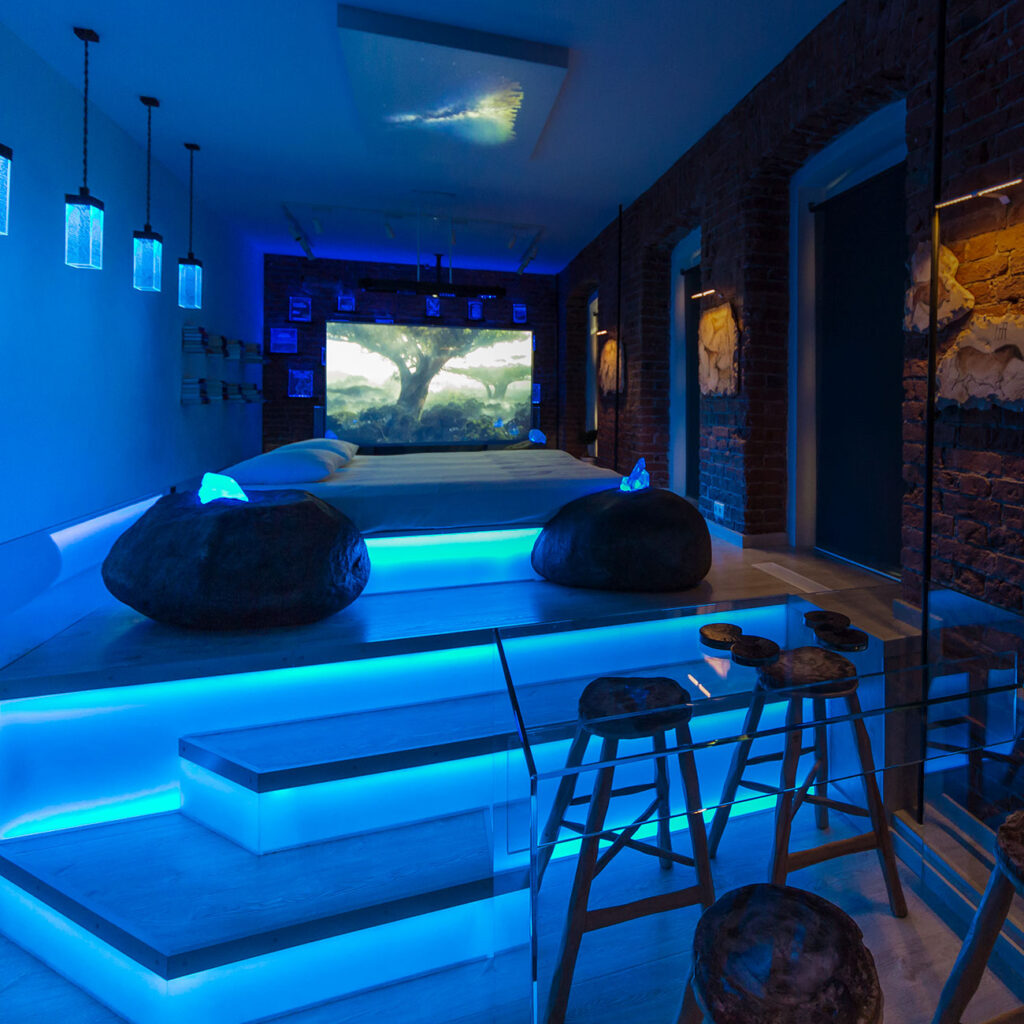 By combining wonderful blue LED stair lights with light beneath the bed, it creates a romantic living space that makes you feel calm and peaceful in a relaxed interior, perfect for yoga or meditation.
44. Stairs Lamp Design
Because of its size and splendor, this enormous Swarovski stair lamp lends luxury to the room. It perfectly lights the room and its crystals reflect the light to the walls.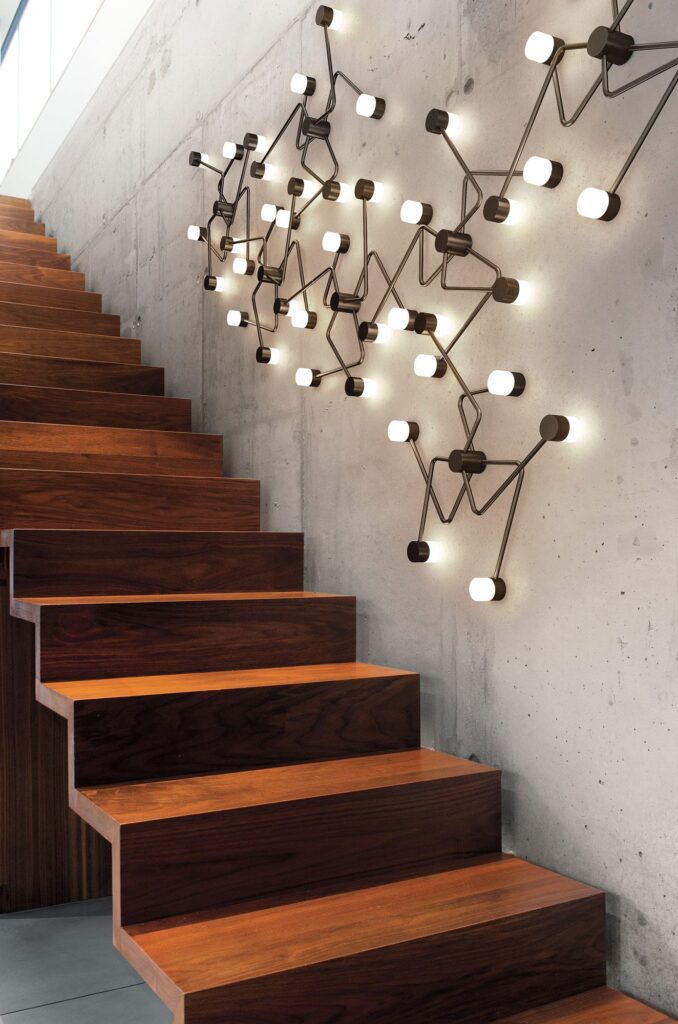 It's an extraordinary design decision to use such a stair lamp because it looks chaotic but still stylish and modern.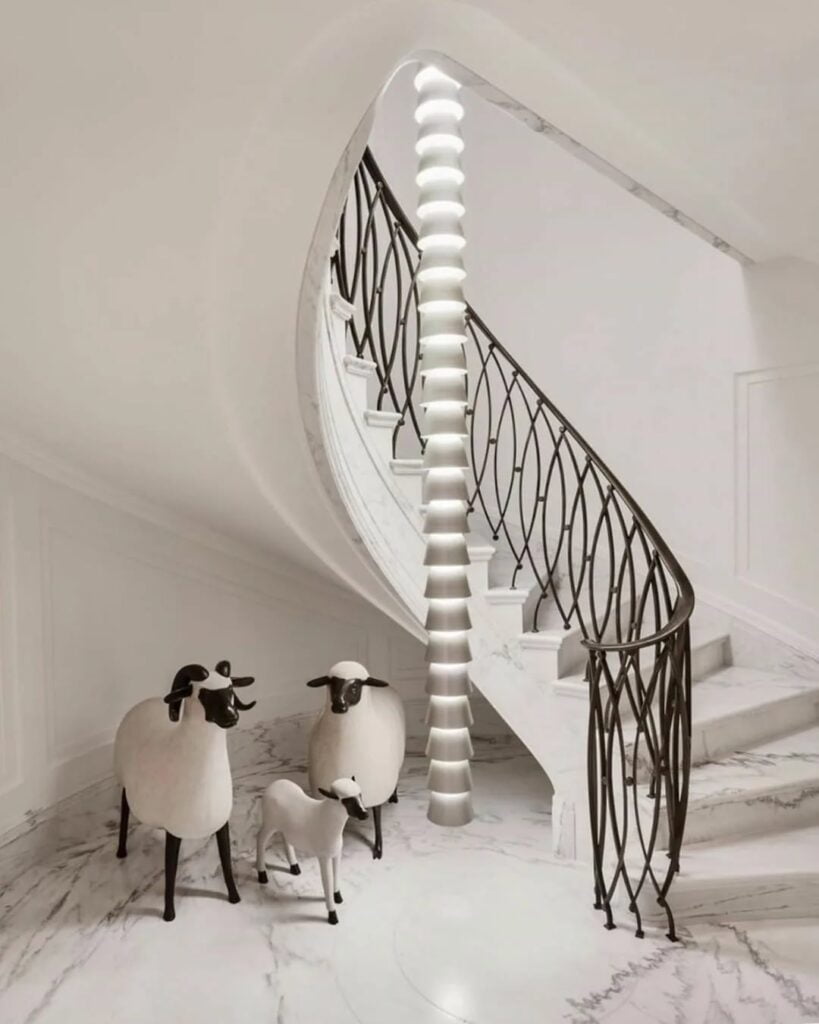 Everything in this interior is in perfect harmony. The designers decided to choose a stair lamp in the form of a column that stretches from the ceiling to the floor.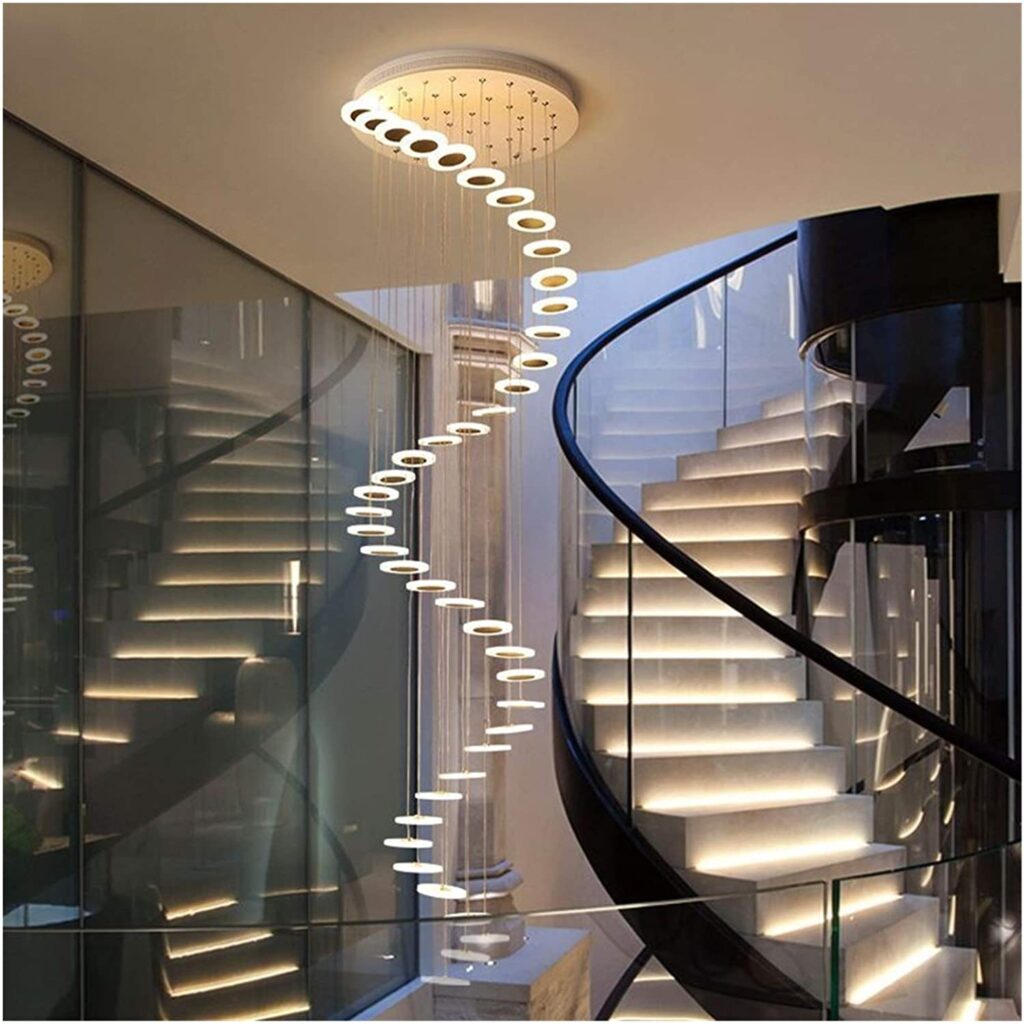 To compensate for the dark walls and stair railings, two ways of lighting were chosen to create a very bright and warm atmosphere in this space. Namely, the big unusual stair lamp and LED stair foot lighting.
45. Hall Stairs and Landing Lighting Ideas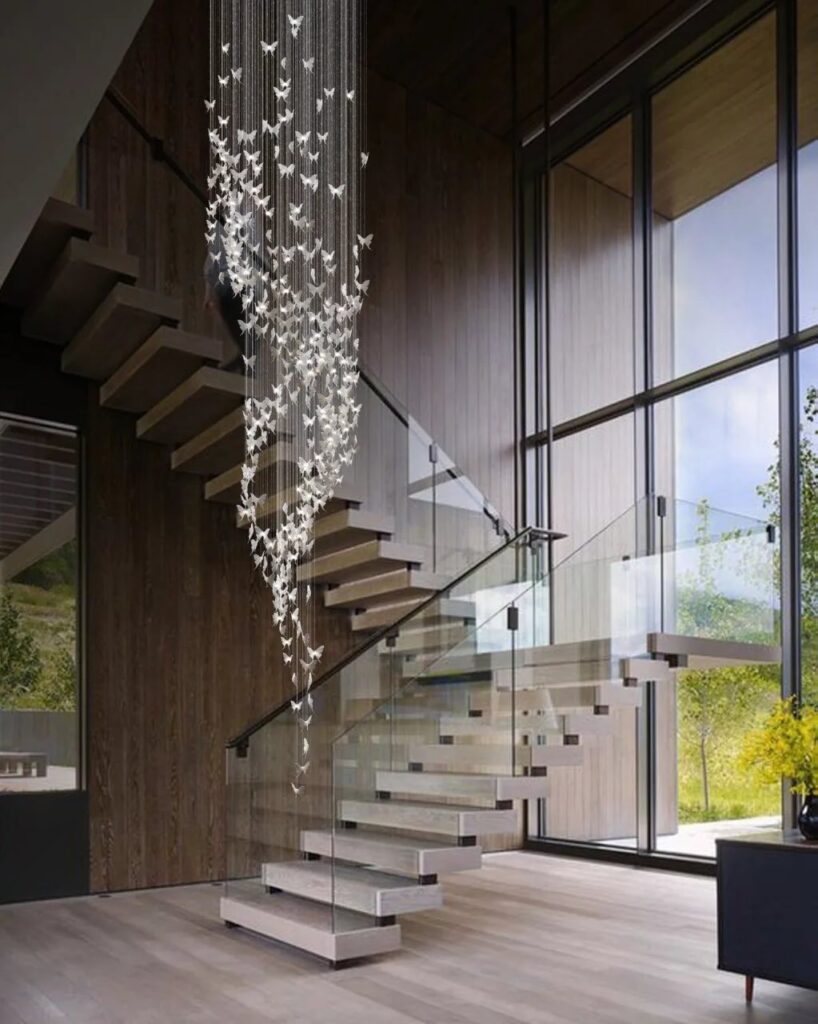 This formal hall has a lot of daylight from big glass windows for lighting the landing space and stairs. However, to add a zest to the large stair hall, a nice pendant lamp with decorative butterflies is used.
Combining lighting will be a superb decision in a multistory cottage. The first is a single long lamp with multiple little bulbs, as shown in this image. The second is recessed light on each floor.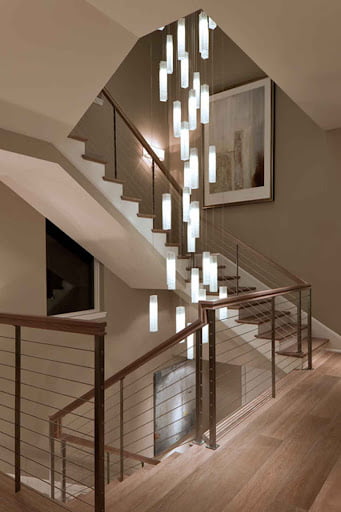 Nothing was ignored in the light design of the hall stairs and landing. A stylish lamp that provides enough light for such a large hall space. And there is also an additional wall lamp that illuminates places where light is not enough from the main lamp.
46. Under Stairs Cupboard Lighting Ideas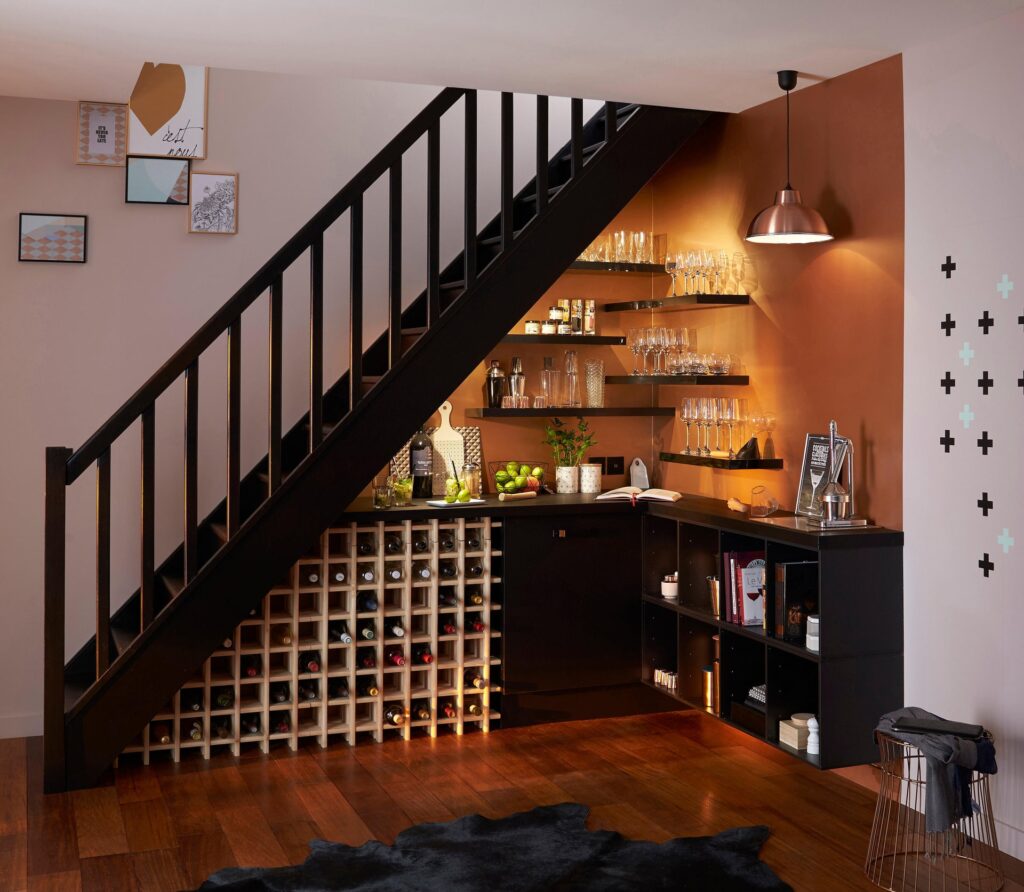 Hidden LED light and stainless pendant lamp make this under stair cupboard flaming and keep you in a bar atmosphere.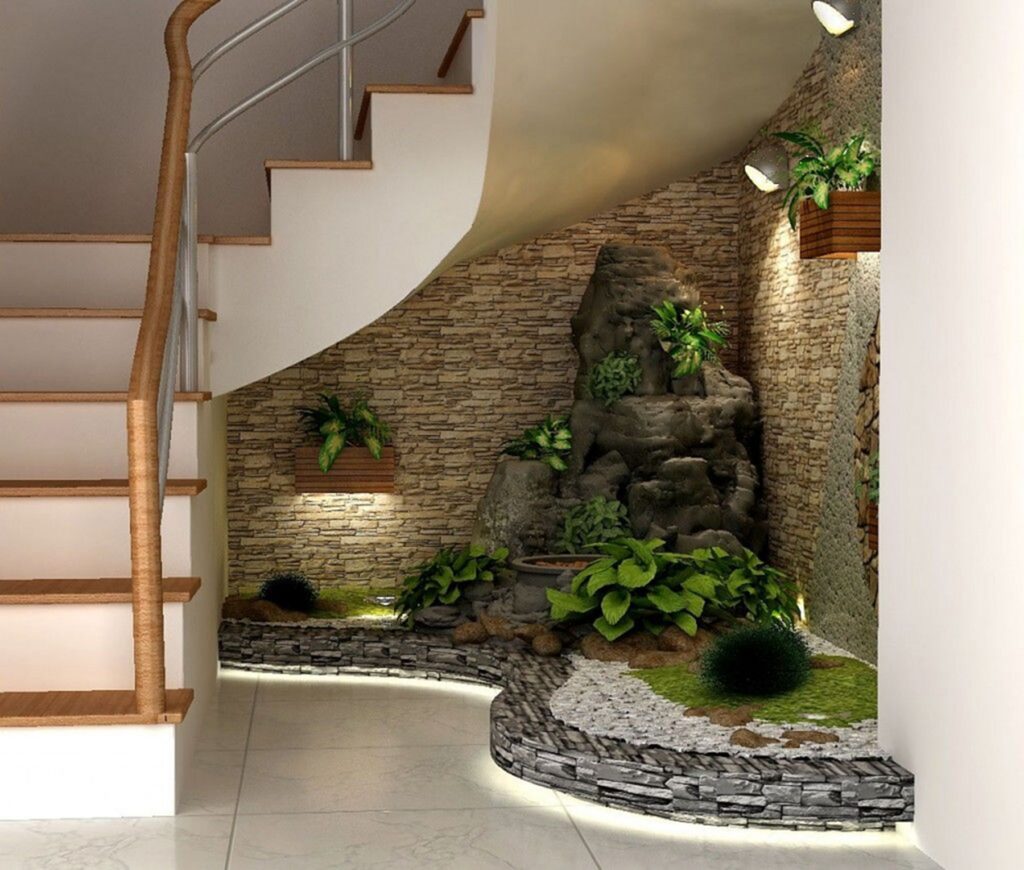 Do you want to have a piece of the wild garden under your stair? For instance, here, there's no need for a lot of light, just two spots: the wall lamp light and LED line under the pot with the plant, that enough to highlight the wildness of the small garden.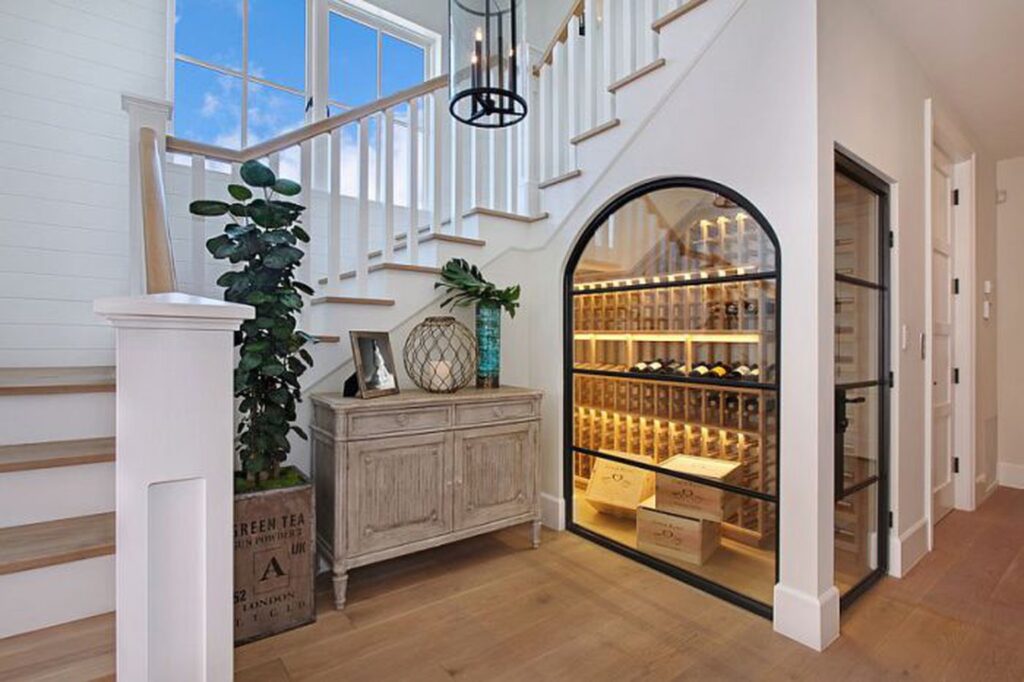 You can create your own under stair cupboard storage with a different wine, and set a LEDs under each shelf with wine.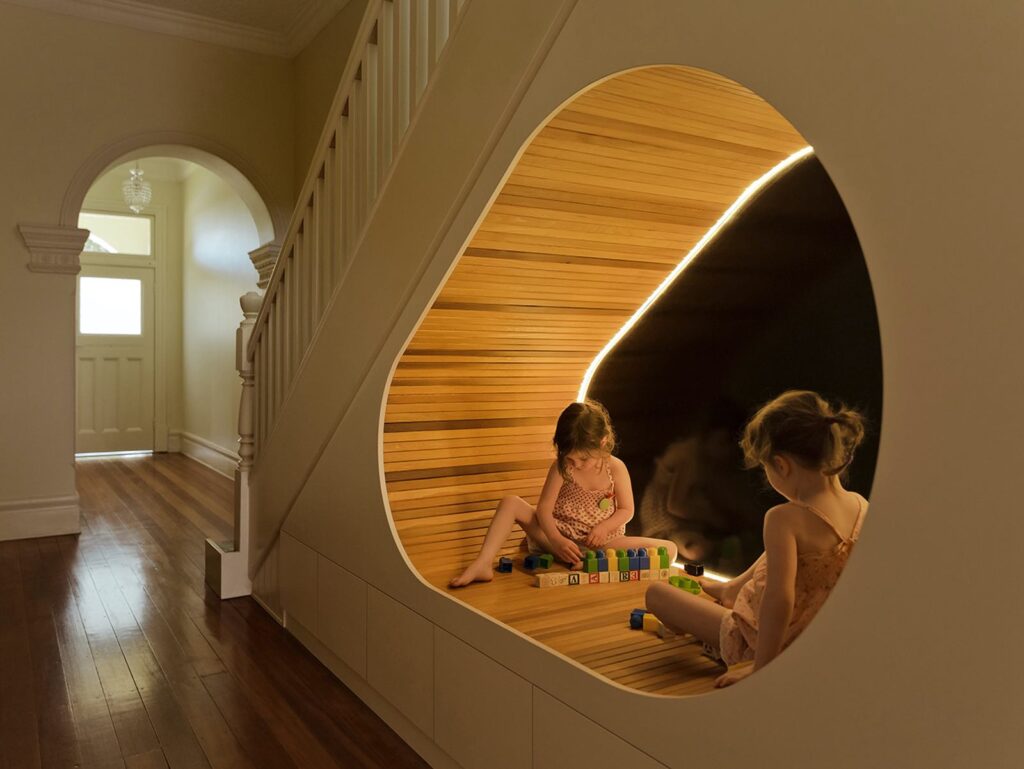 So, look at this smart cupboard lighting idea design. It's not exactly a cupboard, but it's a special hole with LED warm lighting for children to play.
47. Skygarden Recessed Lamp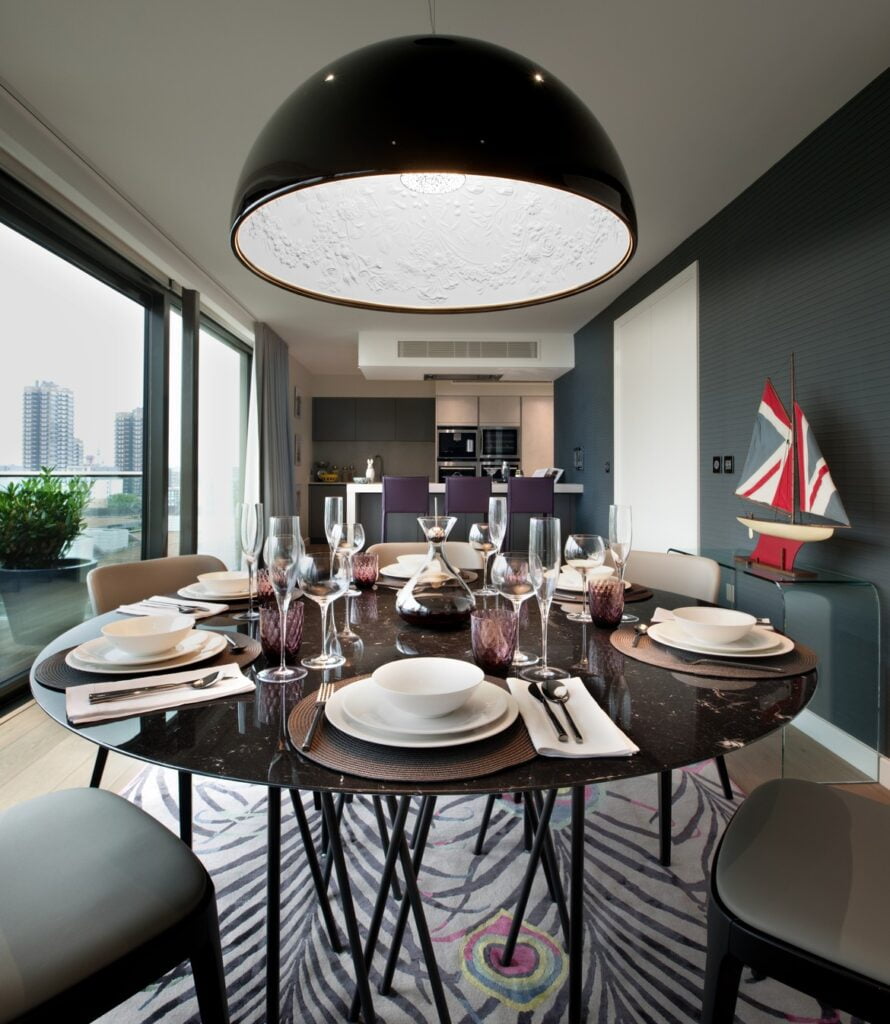 This style of lamp is special and unusual since they have a garden pattern recessed into the bowl shade of the lamp. In this example, the combination of black and white colors looks strong and formal, but the flowers in the pattern add softness.
Such ornamental sky garden lamps complement a whole interior itself to make it interesting and breathtaking.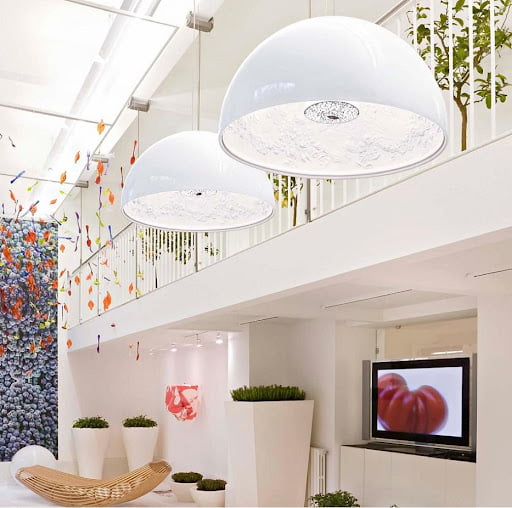 If you are a lover of bright and light shades in the design, white sky garden recessed lamps will definitely please you with calm and classic interiors.
48. Pendant Light for Balcony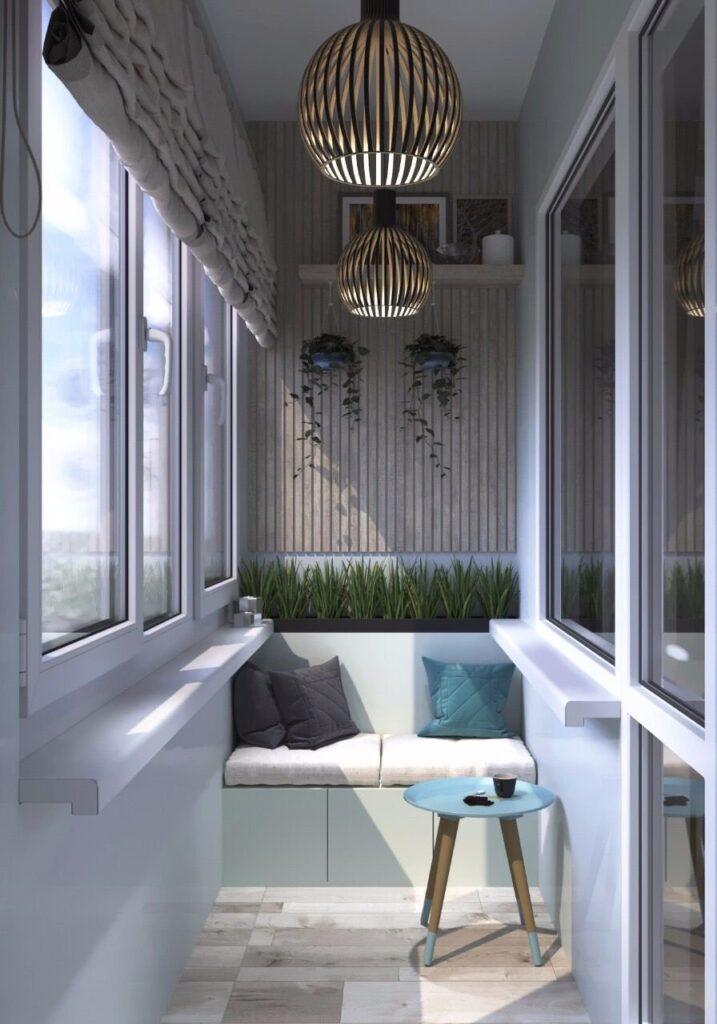 The shade of the lamp here is made of outside black and inside gold streaks, which complements the wall with wooden streaks for a balanced balcony design.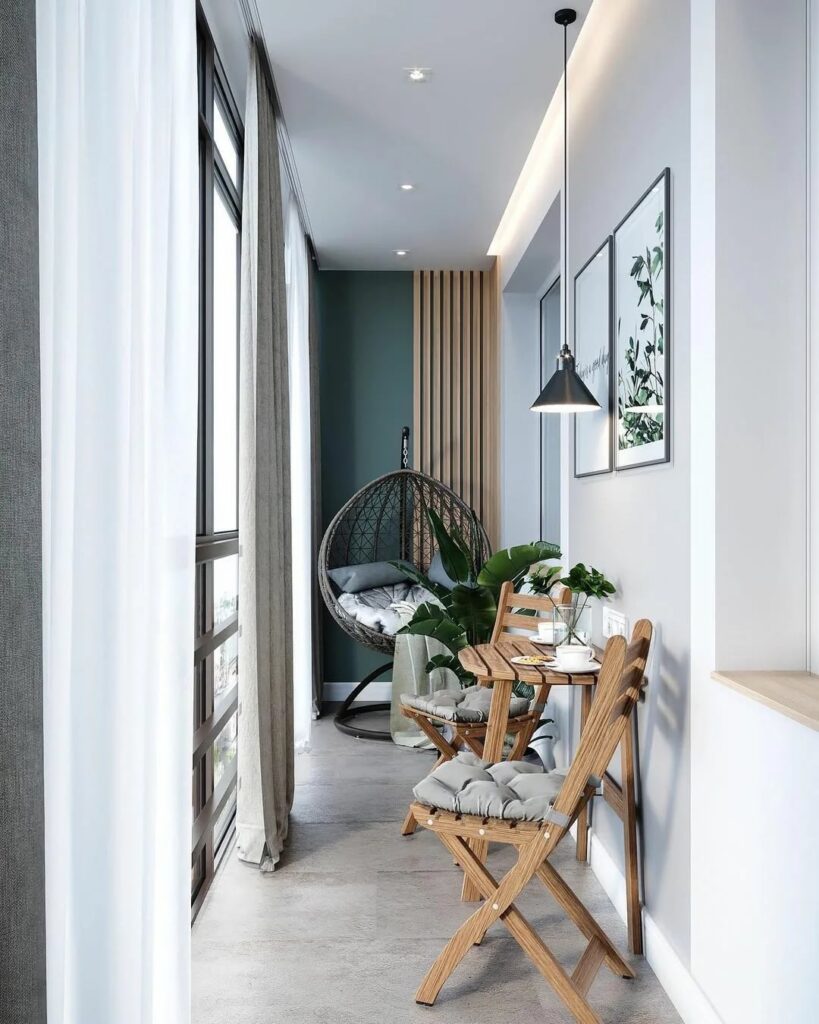 A lot of light gives a bright and warm feel to any balcony. Here the designers used deeply recessed lamps, a pendant lamp with a super long base, and a LED strip in the ceiling cove.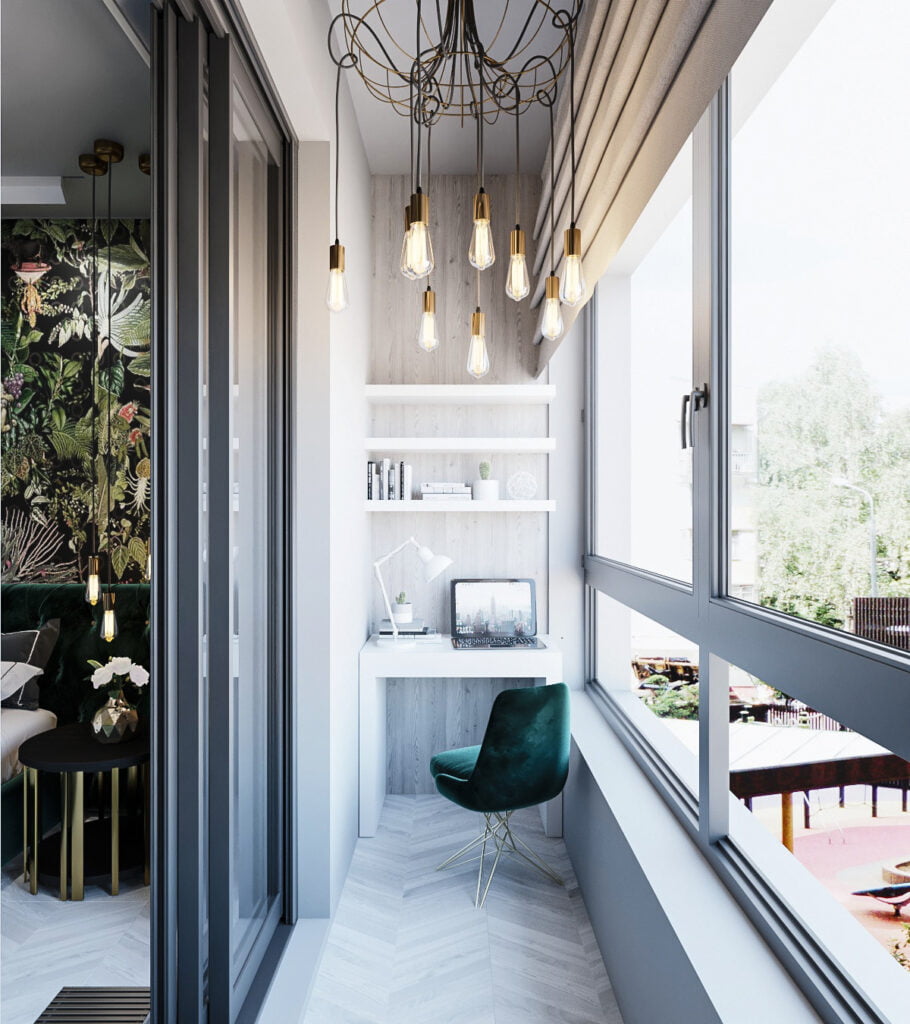 The lamp looks as if branches of the vine hanging down and give you illumination. It creates a visual illusion.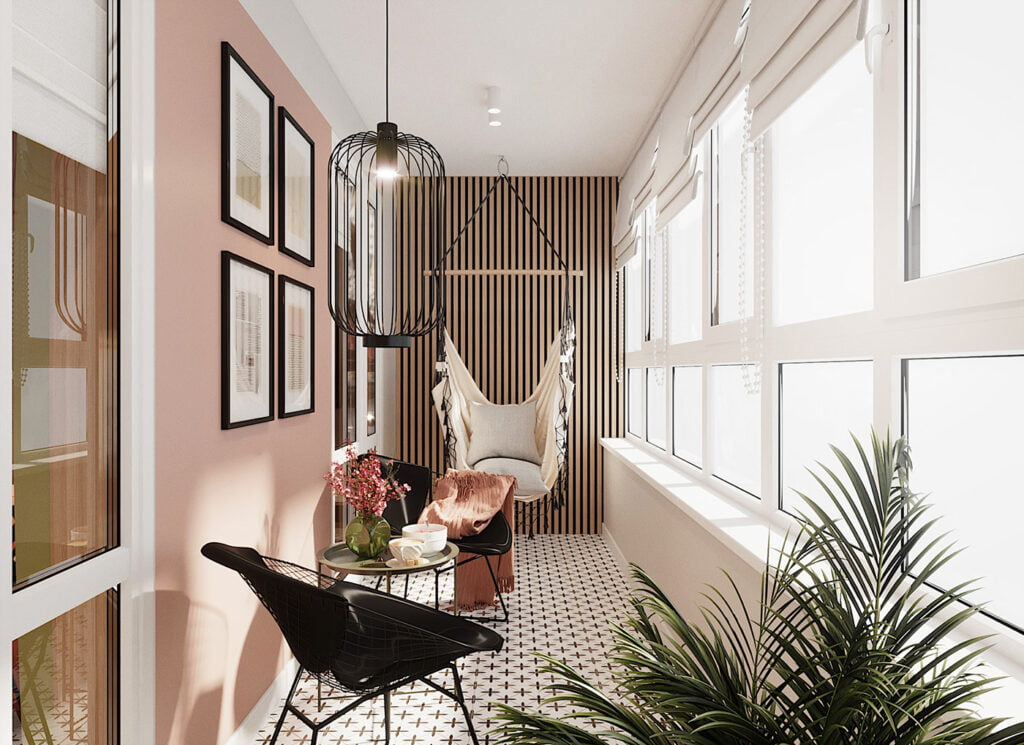 Alternatively, look at this interesting design idea – the wall and the lamps are in a striped style.
49. Bathroom Wall Pendant Light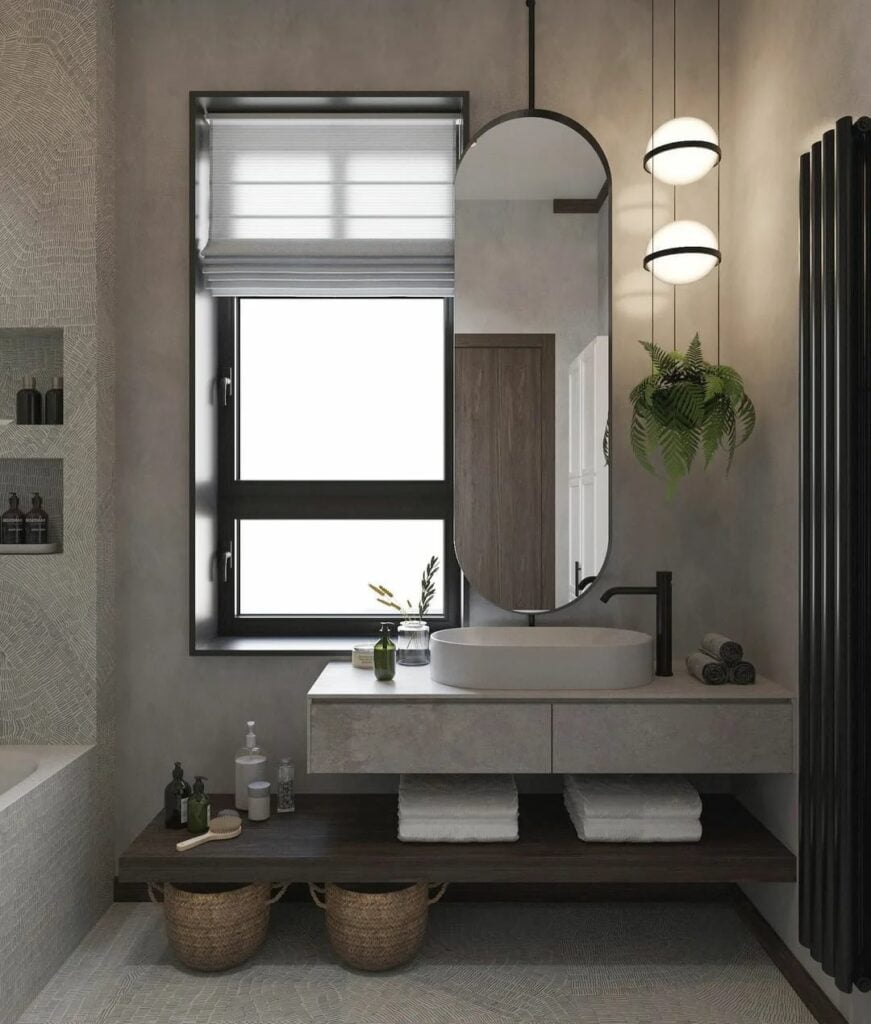 A classical bathroom space with a high pendant lamp, that has diffused light and the pot with plant beneath the lamp.
Here, in a dark wooden bathroom, simple pendant lamps are used, with similar effects to the candles.
50. Solar Wall Light LED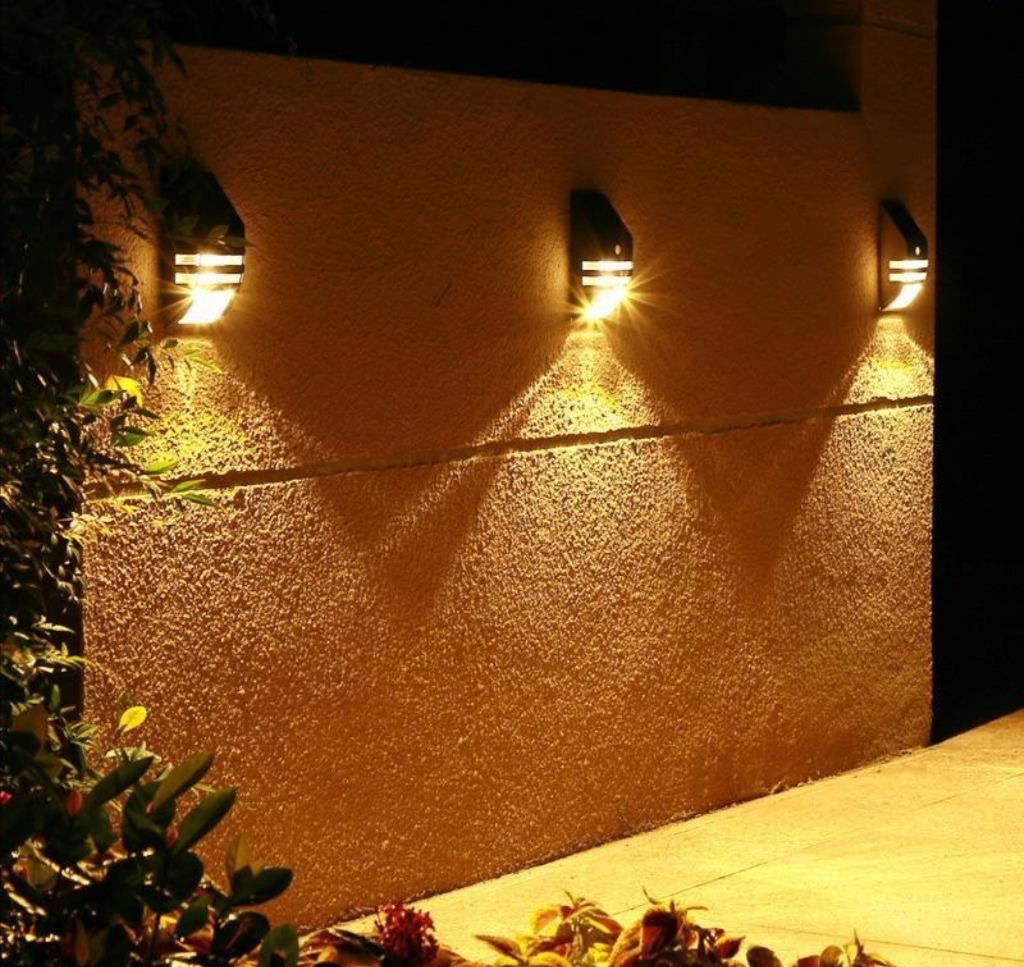 Are you looking for eco-friendly lamps to light up your outdoors in a cost-effective method? The LED solar wall lighting idea can be a very practical choice because the lamps work from special solar panels and have a modern look.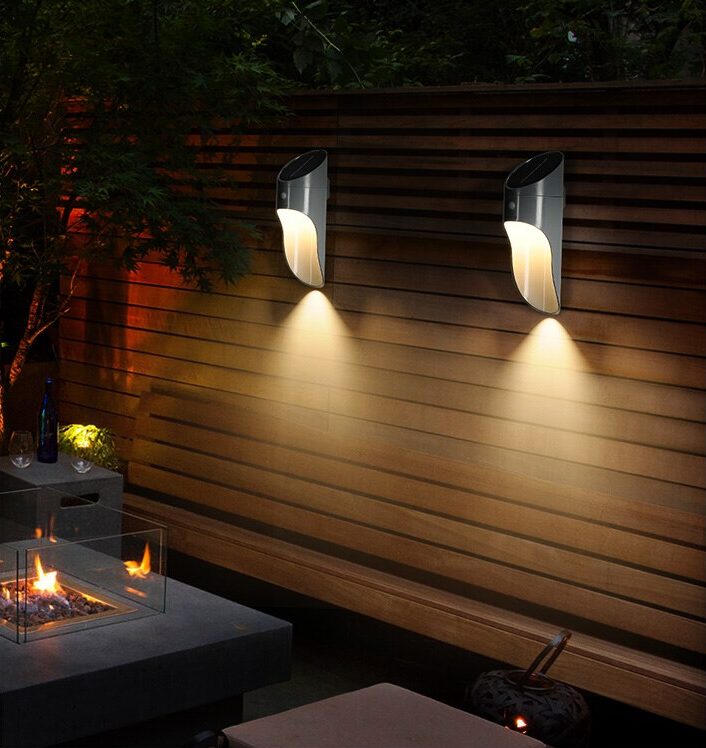 The most budget-friendly way to light up your back garden is to buy special wall solar LED lights, such lamps are easy to install and have low maintenance.

If you enjoyed this inspirational list, check out our design blog for more lighting ideas.