So what is a soapstone kitchen countertop? And why counters made of soapstone slabs are so beautiful? This article will shed some light on this quite rare and unique kitchen bench. We will discuss their qualities, benefits, and drawbacks to help you make the best decision when buying soapstone countertops.
Why It's Called Soapstone?
What is the significance of the word "soapstone"? "Talcochlorite" is the mineral that people usually refer to as "soapstone". Its name comes from the smooth surface, pleasant to the touch as if smeared with fat or wax, which is very similar to soap. Some homeowners like the stone because it has a milky and gentle look, unlike granite or quartz kitchen countertops.
The Composition of Soapstone
Soapstone is a type of steatite. It has an unusual color, which depends on the impurities in the soil. It's recommended to choose solid and durable steatite since the kitchen surface is exposed to moisture and mechanical stress. Talcochlorite is exactly suitable for use as kitchen counters. It's because talc chlorite can withstand high temperatures and is stronger than other types of soapstone. This rock contains 50% talc, 40% magnesite, and 8% chlorite.
Pros of Soapstone Kitchen Countertops
Durable Without Being Hard
Despite the fact that soapstone has moderate hardness, unlike quartz, it will not break when subjected to a quick mechanical impact. Soapstone is not brittle and rather sturdy. It is also non-porous, which is a bonus. Spilled wine or water won't ruin the soapstone countertop. For this reason, it doesn't need to be sealed and the risk of bacterial and mold growth is low.
Pleasant to the Touch
A soapstone kitchen worktop will naturally absorb heat from the surrounding environment because of its high talc composition. Thus, it is warm and very pleasant to the touch, unlike most natural stone countertop alternatives. But it's not advisable to leave hot pots, and grill pans directly on a soapstone tabletop.
Unique Texture
The texture of waxy soapstone is unusual, with each slab having its own unique pattern. As the result, you get a one-of-a-kind "piece of artwork" that cannot be replicated. This is why soapstone worktops are rare. Additionally, you can achieve a really warm and pleasant atmosphere when combining the soft and milky soapstone tint with wood in the interior.
Maintenance-free
Another advantage of a soapstone kitchen countertop is the ease of care. You can clean it with only a light soap solution and a sponge. Even universal kitchen cleaner is enough. Due to acid and heat resistance, they are great for kitchens.
Soapstone Worktop is Easy to Install
With a conventional circular saw, you can easily grind and cut the soapstone slabs. And it's possible to sand it with regular sandpaper, which simplifies the restoration of any defects. As a result, self-installation without the assistance of a professional team is doable.
If you choose to DIY, you can have a cheap soapstone countertop, but with great value for money. The cost of self-installation is estimated to be between $45 and $85 dollars for buying the tools. Hiring professionals will cost from $95 to $200.
Best Soapstone Kitchen Countertop Colors
Most soapstone slabs have delicate white or pink streaks that add beauty to the tabletop. Unfortunately, the stone has a limited color choice. According to our statistics, the most popular soapstone countertops are white, green, and black.
White kitchen soapstone countertops will suit almost any interior. It looks fresh, clean, and soft. White perfectly combines with other colors. White soapstone has a few greys or light black veins on its surface.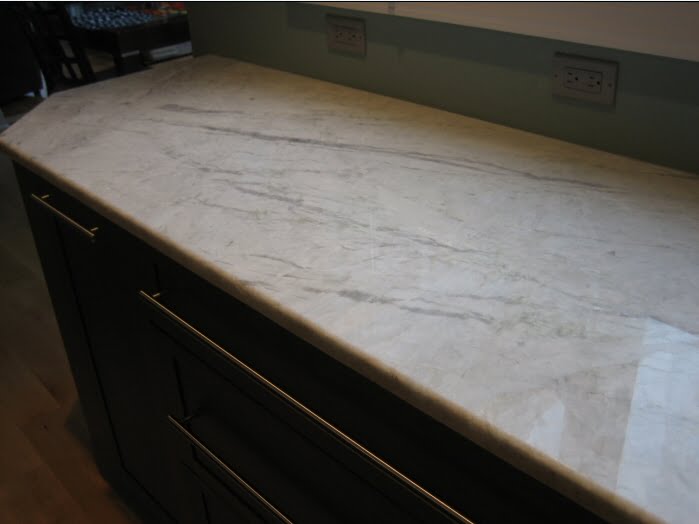 The green soapstone countertop has a special charm. It has a dark malachite color. It's a touch of the forest to the decor. Green soapstone has some dark and white veins on its surface.
Black soapstone kitchen countertops are the most popular. This color is classic and gorgeous and is frequently paired with white cabinets. Black soapstone has a small amount of uneven pale white veins on its surface.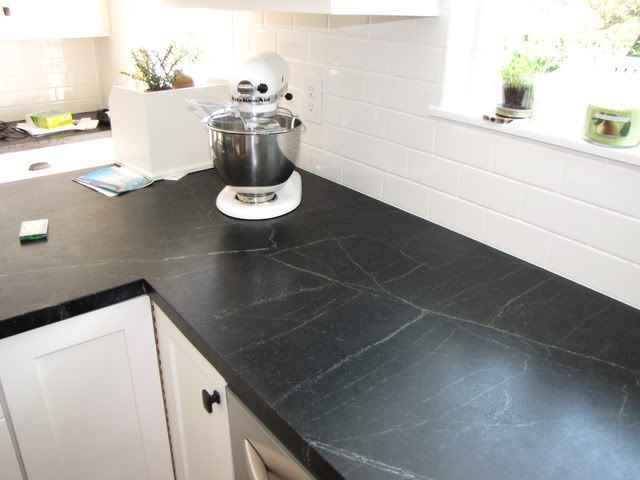 Cons of Soapstone Kitchen Countertops
Limited Colors
Soapstone benchtop only comes in a small selection of colors: gray, brown, green, yellow, white, black, red, and dark cherry. And they darken over time, forming a patina (a green or brown film on the surface produced by oxidation). So bear in mind that soapstone countertops will change colors.
Softness of the Stone
You should be careful when using such tabletop because scratches, chips, bumps will be visible. if you don't use cutting boards. The hardness of the stone depends on the amount of talc. The more talcum powder is in the stone, the harder it becomes. But the soapstone also gets more expensive.
Low resistance to temperatures
Even though it's warm to the touch, a soapstone tabletop in the kitchen may burst or crack from very hot objects. It is better to use hot pads and avoid sudden temperature changes.
Heavy
Another drawback of soapstone is its density – it is quite heavy for its size. As a result, working with soapstone will be tough. Many seams will appear at the joints of multiple countertops. If you want fewer seams, consider marble, or granite countertops.
Periodic sealing with special oil
The soapstone kitchen benchtop requires regular surface sealing with mineral oil. Spilled oil or grease on the unsealed worktop will leave a white spot. You must wipe it with a cloth right away to avoid discoloring.
Conclusion
Soapstone kitchen countertops are a good option for warm cozy interior designs. The beauty and milky softness of the stone makes it gentle and homely. But if you have children, it's better to go for alternatives. This is because soapstone is a soft rock and any scratches will be visible on its surface. Granit or quartz countertops will be better. On the other hand, soapstone tabletops are moisture-resistant, warm, and pleasant to the touch. If you follow the right care, they will serve you well for many years.